Virtual Speyside Whisky Fest 3: Walking the Speyside Way
Yesterday's musings on this virtual Speyside Whisky Fest looked at what 'Speyside' means. It brought back memories from more years ago than I care to admit when I joined a bunch of friends to walk the Speyside Way from Spey Bay to Cromdale. It was one of those adventures which opened up new thinking about whisky. 
It was the greatest distillery visit ever. We all realised that, grinning like fools as we wandered around. Worth all the pain. But I jump ahead. There had been two days of walking to get to this point. Let's head back to the start. 
Even two days had seemed ambitious, but the best way to get to grips with a place is to walk it. Use the senses. Sitting, reading, tasting, and listening is all very well, but you need the scents and sights, the birdcalls, and weather – the context which makes whisky stop being an academic exercise into something visceral.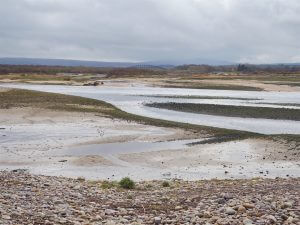 The Spey splits at the bay, duelling with the shingle, pushing itself into the Moray Firth. Fresh, then salt water on the lips, a wee reminder that Inchgower's just along the coast. The path leads quickly away from the rich loams of the coastal plains which now help serve the needs of the distilleries inland. The coast comes into play later in this story. Whisky first coheres upstream in thinner soils, but its story meanders, pieces form, reconfigure, shift again.
We passed Fochabers (memories of its old tourist slogan featuring an owl saying 'Too Whit Too Whoo, Tae Fochabers Wi' You! It wasn't a success) then onto a long slog up the forestry track on the side of Ben Aigen. Pine woods, the smell of sap. Ruined cottages with daffodils and geans in bloom on the front lawn. 
Below was the river, the colour of light off salmon skin. Rothes inched into view and in a field at the foot of the final hill a table, complete with linen cloth, candelabra, and Champagne in an ice bucket. You can always rely on Ronnie Cox to know how to treat weary hikers.  
The afternoon hike was easy after that interlude. Over the bridge, a quick sharpener in the Fiddichside Inn, another in the Highlander then to the Quaich. Nothing quite like the Craigellachie pub crawl. 
I caught up with an old farmer friend, complaining, as many did in those days, that we whisky writers obsessed about Islay and forgot about this place. 'I don't get it,' he said. 'We are whisky's heart'. It struck home and I wonder now whether it still holds true, does our whisky compass still point west? Is Speyside harder tp grasp as an entity and easier to see as a clutch of brands?
The level of the bottle [I don't often remember specific whiskies at such a distance but vividly recall it was Glen Elgin 12 year old White Horse] dipped as gently as a candle as the chat started to link whisky and farming, to estates and hotels, revealing a complex rhythm only fully understood by those who lived here. It was a lesson on how whisky didn't sit separate, but, like the river, was a thread running through it all.
For some reason best known to himself, our ostensible leader (whose name shall remain secret) had the bright idea that the second day – already a hike in excess of 20 miles – should include a 'quick walk' to Dufftown and back. I think he'd only ever driven there and didn't appreciate that the extra 10 miles would prove somewhat problematic later in the day.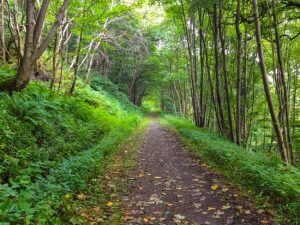 Equally bizarrely, he'd also decided that this extra jaunt would be in the company of parliamentary candidates for the forthcoming election. I can't recall any meaningful political conversation taking place, but do remember the wood asphodel, the musk of fox mingling with wild garlic, the sound of a woodpecker drilling. It kept my mind off my sore knee which I'd wrenched in some way the day before. By the time we hit Glenfiddich I was hirpling badly. 
A quick tour saw us ending beside the solera vat. 'I'll sort you leg out', said Ian Millar filling a sample tube and pouring it over the injured joint. Amazingly, it worked. "Praise Glenfiddich!" I cried as I skipped out the door, patella reeking.
Back to Craigellachie we went, and onwards. This section of the Speyside Way is on the old railway track making for easy walking. We were heading back in time. The coming of the railway in the 1860s opened the area up, bringing in coal, casks, tourists (the Craig Hotel was built specifically to cater to their needs) commerce, and capital.
The whiskies changed in flavour – becoming less smoky, getting longer ageing in ex-sherry casks, lightening, but also broadening as distillers sought out their own signature. 'Glenlivet' went, and 'Strathspey' emerged. 
Did this change in name, I now wonder, also shift the meaning? 'Glenlivet' was a known entity, suggestive of a flavour, for older drinkers of the time memories of 'that true contraband gout'. The distilleries grew in size and number, but shrank in terms of visibility. 
Blends had taken over. Distilleries' names were only known to blenders and the thick bearded people who made it. Strathspey was famous, yet unknown. 
The railway's liquid children lined our pathway. Names that were now familiar thanks to the arrival of single malt: Aberlour, Knockando, Cragganmore, yet even then Speyside still retained its secrets: Dailuaine hiding in its woods, Imperial shuttered (even now as Dalmunach it has a sequestered air). At that point, Tamdhu was locked up and seemingly forgotten – or not even known.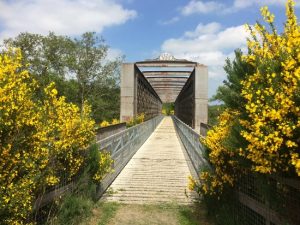 We had clung to the banks of the Spey like a security blanket, but after Cragganmore the path veered uphill, through blackthorn, past Tormore, and onto moorland. As the landscape changed, so did the whisky story. That cluster of railway stills spoke of Scotch's global success. This place was different. The river, now far below us changed from being this broad and confident stream into a narrow belt river, finding its way through these wilder lands.  
Whisky's roots lie in these scant soils and peat hags. Lower yields, lower returns. Grain used for feeding the beasts, or maybe distilling to help pay the rent. 
We know the story, but to appreciate it you have to get out there, and look around. Could you live here? Feed your family? There was no romance about illicit whisky making. You did it because it was your grain, but also because you had no other option.
I missed a waypost and took us too far inland. We could have gone deeper into the moor, then cut over the shoulder of a hill into Cromdale, but the effects of the Dufftown detour were beginning  to be felt. We headed back to the road, then onto the old railway track which now included a frustratingly frequent amount of gates which had to be climbed over.  
Sore of leg, conversation spent, we staggered into Balmenach – itself an old smuggling site and still one of those distilleries that's on a need to know basis. 
'Would you like a tour?' asks our host. 
It would be rude not to, but the thought of more walking … He clocks our faces.
'A dram then'. A belter which doesn't touch the side. 'Another?' We all nod. It disappears as quickly. 
'So…' I say. 'What about that tour?' 
He winks.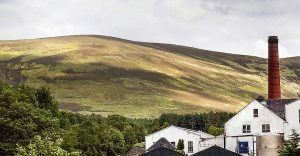 You know when you get to a distillery that there's always some part of the process that's just finished, or not started? Not here. The mill was rattling, the mash tun steaming, the washbacks rocking with the energy of the ferment, spirit was flowing, the worm tubs steaming. The place was filled with the smell of meat and sulphur, apples, and sweet mash. The best tour ever. There was also a sense that this was always the way it had been. Upscaled certainly, larger, more bells and whistles but inextricably rooted to this place.
Just as the the Spey's landscape moves from coast to wood, farmland to high moor, so its drams are equally diverse cover everything from light and malty to rich, fruited and heavy. Smell them, then walk the land. There's the coconut aroma of hot gorse, sharpness of pine resin; spring grass and fruit tree blossom; heather blossom and dry bracken; autumnal woodland fruits and nuts, claggy peat and the savoury stink of old woods. 
It was there that things took a different turn. The place was in the glass.