Two brand new whiskies: Ardnamurchan & Nc'nean
The first releases from two west coast distilleries. For more musings – head over here and indeed here  
Brand: Ardnamurchan AD/09.20:01, 46.8%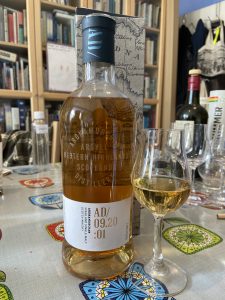 Nose: Warming and surprisingly weighty. A mix of clam juice, sweet leather, hessian and Jaffa cake. As it opens so a more honeyed, baked peach, quince element comes though alongside a touch of smoke and hot oyster shells. Water pushes the oils forward, but there's also super-ripe pear, and this intriguing mix of damp peat fire and vibrant fruit.
Palate: Thick and oily (rapeseed), there's apple skin, ripe peach, a tickle of smoke, and a maritime hint. Think of a palate-coating mix of membrillo, and vongole-like creaminess. Add water, and there's some raspberry, honeysuckle, white pepper, then this gentle brininess. The smoke now starts to make its presence more obvious, while there's an added a piney/coriander-like element that reminds me, oddly, of an aged genever. Complex, balanced, characterful.
Finish: Smouldering embers. Bay leaf. Salt.
Conclusion: Quite a debut. Amazingly keenly priced as well. One of the year's essential purchases. Buy here
Rating: 5
Brand: Nc'nean, 46%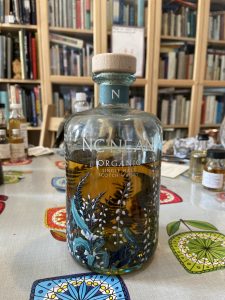 Nose: Fresh and lightly fruity – gooseberries, yellow plums, with some Brazil nut/almond maltiness, caraway, then green grass/bracken and the satisfying warmth of toasted coconut. A mix of the sweet, the tart, the dry and the rounded.  With water there's some brioche/cookie dough, grapefruit, green grapes, orchard fruit and, in time, some white chocolate water. With time you get a bready/fresh barley element, then crisp linen.
Palate: Very gentle, yet still spicy – there's a ginger beer like quality which adds to its immediacy. At the core however lies a thicker sweetness, mixing tinned pears, nectarine, and strawberry. Water sweetens things further, adding in a little hint of lime, and lemongrass before some darker fruits emerge shyly.
Finish: Nutty, then a tiny resinous element. Fizzy.
Conclusion: Gentle yet with substance. A great start for this remarkable distillery. (Also try it as a Highball). Buy direct here
Rating: 4