Peninsular whiskies Part 2: Ardnamurchan
In the first part of this duo, I visited Morvern's Nc'nean distillery. Now it's time to head to the next peninsula and Ardnamurchan
Back along the road, through Lochaline and the road around Loch Sunart. Leave Morvern and enter Ardnamurchan. Back into the woods, Scotland's rainforest. Time-warped oaks, the floor thickened by moss. Through Salen and along the shore. Past Glenborrodale castle to Glenbeg and the Ardnamurchan distillery.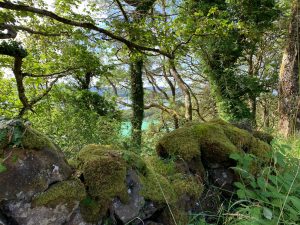 There's commonalities here with Nc'nean: a drive to sustainablity, a woodchip boiler fuelled by trees from the estate.
'We want to be sustainable,' says owner Alex Bruce. 'The last thing you want to be doing commercially is ordering oil to come down a single track road. It makes no sense. So you look to your local resources. 
'We are fortunate of having an abundance of forestry around us. It's chipped two miles away and delivered in tractor and trailer. That makes sense.'
Fuel from the estate, barley from the Bruce farm in Fife, another community in a remote area being regenerated. There's plenty of similarities with Nc'nean and yet the whiskies are so different. Established by cult independent bottler Adelphi in 2014, there's now 10,000 casks maturing, the first legally whisky now ready.
While Alex and group sales manager Connal Mackenzie exhibit a certain nervousness – who wouldn't be with the launch of their first whisky? – it becomes clear when walking around with them of a sense that, six years in, Ardnamurchan has bedded itself in. 
There's the quirks of the maturation – the differences apparent between one cool (almost)  underground cellar and a warmer upper storey – cask experimentation, the fine tuning of the two spirits: one peated, one unpeated.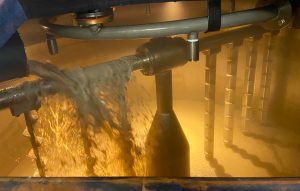 That's not to suggest there's any complacency at work, sitting back and letting things look after themselves. Rather there is a feeling that this is now the start, the base having been established, it's now the time to see what 'Ardnamurchan' means. 
'We want to make an honest west coast whisky at an affordable price,' says Alex as we start a warehouse tasting. It is a bolder spirit and it takes on elements of where it is from.
'Ardnamurchan is a small, remote, place. It was obvious we should be as symbiotic with the estate as possible. That's why we went down the sustainable route.
'It had a huge impact on our decision for locating here. We looked for water quality (and quantity) and the potential to benefit from the best possible maturation climate. It's why we've stuck with traditional dunnage warehousing. It will ensure that our own microclimate and proximity to the sea can aid an even and steady maturation. We want to get some salinity in the whisky.'
We're sniffing and spitting (and let's face it occasionally foergetting the latter and swallowing as well). There's a game of noun tennis going on. Bungs are popping, commonalities emerging: the fruit, the oily weight, the light smoke, the grunt and maybe just that saltiness – or is that auto-suggestion? Then Connal pours one. It's defiantly salty in a jump off the jetty into the loch kind of way. 
We repair to the decaying splendour of Glenborrodale castle. The west coast chat continues. What is it? 'A whisky made on the west coast!' says Connal. 'We tasted all the whiskies from Campbeltown out to the islands – bar Islay. We liked the weight on Springbank and Glen Scotia.. Ben Nevis even, the lighter smoke in Talisker.'
So there's an element of engneering an idea of 'west'? 
'We've engineered it to make it as local as possible,' says Alex, 'but we're not trying to mask it, or force chnage on it. I know that if we did exactly the same thing in Fife as we're doing here it would be a different whisky.' 
Aiming at a memory, finding waypoints. Crafting or allowing? Allowing both to exist is the creative tension at work here.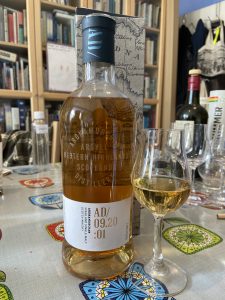 They pour the final vatting of the new whisky. An equal split between peated and unpeated, 65% ex-Bourbon, 35% ex-PX/oloroso. There's fat quince-like fruit, preserrved lemon, oiliness, clam juice, pepper and light smoke … then the maritime lift at the end. [there's fuller notes here]
It's taken time. This isn't a dram rushed the moment the 3rd birthday candles have been blown out. They waited until stocks had been built up ensuring continuity and with the spirit into its next phase of maturity.
It's also ferociously well priced. There's no playing around with an expensive inaugural bottle that will be flipped and never consumed. 
'It's just our whisky,' says Alex pouring another.
The west coast – what is it? I'm leery about leaping on the regional bandwagon – the distillery is what speaks. The idea that the whiskies from here all taste the same is siply untrue. Ardnamurchan is a westerly malt, but it's clearly not Nc'nean, so who makes the whisky – the distiller or the place?
The west coast gives markers, waypoints, possibilities. A sense of place is about belonging, community, and wanting to be here. The flavour is incidental. The fact that it is from here is what matters. 
And yet … for all that the analytical mind says don't be influenced by the location, you can't ignore the salt, the weight the oils. There are no quince trees here, but there is the sea and it's here in the glass. Ardnamurchan is about the knotty complexity of the west.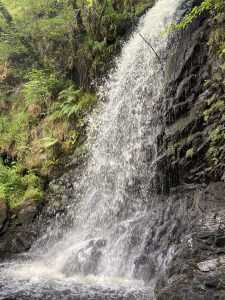 That afternoon we'd trekked up to the water source so that Connal could do arty things with his new drone camera. Alex then told us of a hidden waterfall further down the river. We try to find a way down, sliding down the mossy slope, grabbing birch trees for support.
We can see the torrent but there's no clear way down. 
Alex ploughs on, heading over what seems a precipice. Connal and I hang back, unsure. 'Can we make it?' we shout down to his disappearing head.
'Er… probably,' he calls back and goes on. We follow him, making a new path to the foot of the falls. There's Ardnamurchan for you.