After the smoky bunch which appeared earlier this week (if you missed that click right here), let's redress the balance with a batch of recent/new ones from the Spey's watershed. A few crackers.  
Brand: Aberlour 25 year old (1993) 54.1% TWE exclusive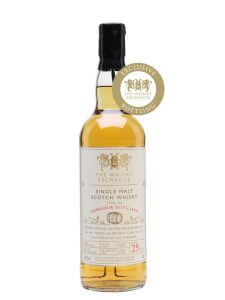 Nose: Styarts off on the sweetly malty side that brings to mind barley sugar sweets, with some blackcurrant leaf (an Aberlour signature) running along behind. It has decent weight meaning that in time you get more heavy, syrupy fruits than you might expect from 25 years of slumber. There's a smear of boot polish adding some depth, while dilution increases the subtlety on show by adding in quince and mirabelle.
Palate: As you might expect from all of this, the start is very fruity with a slow ongoing movement,  the whisky hugging your tongue. Although a little hot, you can pick out light tannins, (cooled) Darjeeling first flush and, once again, the blackcurrant. It's the feel which is the killer element here –  some glimmers of peach, drying malt, light beeswax. Just lovely. Water once more ushers in the quince-like quality and tightens the strucrture a little. It's probably best neat.
Finish: Sweet orchard fruit. 
Conclusion: I prefer Aberlour like this, rather than having it blootered by oak. Top notch.
Rating: *****
Brand: Glenburgie 21 year old (1998), 55.4%, TWE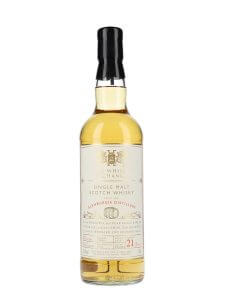 Nose: A slightly different style of 'Burgie than usual (or maybe more precisely, than I've encountered before) with a dry earth element, some cereal notes and even a little dried fruit loitering around at the back. That said, it's slightly musty with some nose burn. Water dulls things down, so though it fattens out, it also loses definition. There's an odd whiff of coal gas.  
Palate: Quite what that nose was about I have no idea because the palate proceeds in a more conventional fashion: fresh, light, estery with plenty ripe banana, pineapple, and honey (on wholemeal bread). It's thick, but that higher hit of alcohol here works to its favour, adding some energy. You get strawberry tart, some dried fruit, while with water there's more buttery elements. 
Finish: Sweet black berries.
Conclusion: A distinctly odd nose, but saved by the palate
Rating: ***(*)
Brand: Glen Elgin 24 year old (1995), Asta Morris, 49.1%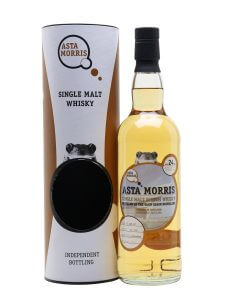 Nose: Basil, parsley stalk, then high-toned citrus, then William pear. And lots of cooking apple. I mean LOTS. There's very low cask influence here, some green (bitter) melon. Water shifts things up the scale of intensity to acetone and pear drops. 
Palate: More concentrated and though still on the appley side, there's also some peach kernel and a leafy quality. Its fresh and distillate-forward, with most of the action taking place in the middle of the tongue: apple syrup, unripe pear, and a nodule of sweetness. Water saves it. A dram to chill down and extend into a highball.
Finish: Sweet. Celery and elderflower.
Conclusion: I wonder if this is from the period where the distillery was running with Pombe yeast. Clean, quite simple and fresh.
Rating: ***(*)
Brand: Glen Moray Distillery Edition, Chardonnay 2003, 58.3%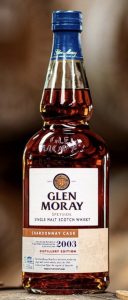 Nose: Some nose prickle with lightly spiced wood, a hint of cassia, then more apricot-like elements mixed together with hazelnut butter. It becomes more mellow with mature notes, but to be honest it's hard to get past the alcohol. Water firms things up. There's more hard candy/travel sweets and honey and lemon … then cedar balls.    
Palate: It smells mature and tastes the same way with an almost waxy, liquorous feel. Now you can pick out some banana, but again water is needed. Now the fruits become more compressed, with Spangles, the honeyed elements, and ripe melon and, if only a drop or two of water is added, an extra silkiness to the feel. 
Finish: Spicy and slightly tingling. 
Conclusion: The water is needed to calm the heat, but getting the balance right is important. Too much kills the texture.
Rating: ***(*)
Brand: Glen Moray Distillery Edition, Burgundy Cask 2004, 60.1%

Nose: This is the chewiest of the three strong series trio (the Chenin doesn't appear here as it was heavily sulphury), with fairly dry oak coming into play as well as an almost smoky back note. Once again, water is needed to shake it into action. Things become more serious, albeit wood-driven: antique shop, sandalwood, tobacco.
Palate: Now there's some apple elements, and although very hot and spicy to start, by the middle of the tongue there's sufficient weight to round things out. Water is your friend here, allowing you to see rather than sense the underlying lightness of the spirit. Now things have moved into tart, greengage-like fruits, berries, orange and rhubarb, backed with fresh acidity and then dry oakiness.
Finish: Zesty!
Conclusion: Attractive when diluted to the right level, and oddly low in vinosity (which is no bad thing).
Rating: ****
Brand: Glentauchers 21 year old (1997), 54.5% TWE exclusive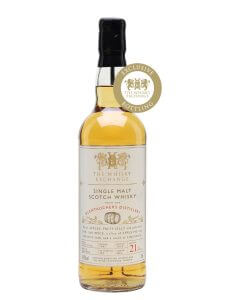 Nose: Fragrant and floral: hyacinth and freesia blossom, very light almond/meadowsweet elements. Though shy, you can pick out rhubarb and custard (sweets). Water continues to move things along in this sweetie shop vein, as well as adding in greener elements: lime cordial and ginger beer. 
Palate: A confected start, with lots of raspberries and rosy apples. You do get more of the almond now. Water once more ups the slightly confected quality, but also introduces a sharper acidity.
Finish: Cinnamon balls. [settle down at the back].
Conclusion: Very low cask action here. All very Enid Blyton.
Rating: ***(*)
Brand: Miltonduff 20 year old (1999), 50.7% TWE exclusive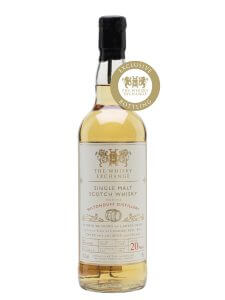 Nose: Pale and, once again, distillery forward. Candy floss, Opal Fruits (sorry, Starburst) lemon blossom, then some cider vinegar, soor plooms and pineapple jam. With water added, there's more of the last of those, with an added almost fuzzy frutiness and a milky, yoghurty quality which was previously hidden.  
Palate: As with the nose, things are bright and now almost effervescent. There's slightly more of the cereal element that pushes things towards sweetened porridge, then nectarine. Water makes things very soft and more caramelised. Only now do you get a little more of the cask and the maturity is revealed as hedgerow fruits come into play. Unhindered by wood and aged by air.
Finish: Fragrant and fresh. Light pineapple.
Conclusion: Very summery.  Vivacious and immediate.
Rating: *****