A romp through some of the smokier new releases which have come my way recently 
Brand: Aird Mhor [Ardmore] 9 year old (2009), 58.5% TWE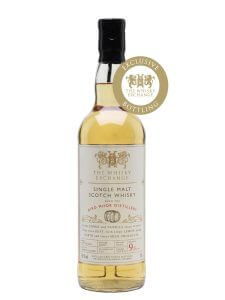 Nose: This is a big smoky Ardmore. It strikes me as being smokier than usual, thanks to the combo of its relative youth and the use of ex-Laphroaig casks. There's the smell of a smoored bonfire mixed with hot sesame oil and a lightly dry maltiness. The phenolic elements continue to rule dragging you by the nose to moorland bogs (while you are clad in wet tweed). With water there's a sake-like quality along with porky meatiness, and bubbling tar.
Palate: The peatiness appears immediately – wood chips in a home smoker, a meaty element before, finally, Ardmore's lighter elements emerge. There's the mealy pudding/suet touch of an old style Glen Garioch, then pot pourri, and poached pear. It's these sweeter  elements which takes charge when water is added.
Finish: Apples, pears and earthy smoke. 
Conclusion: A belter of an Ardmore that really shows itself at its most complex with that drop of water. 
Rating: *****
Brand: Ardbeg 5 year old, The Wee Beastie, 47.4%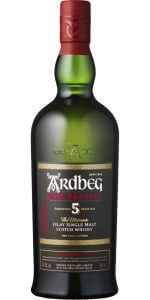 Nose: The name (and the age) makes you steel yourself in anticipation of being battered by peat but instead things start off being surprisingly sweet with then smoke sitting, coiled, tense, peppery behind. There's a medicinal back note (germolene) along with green olive and, with water, putty then curry leaf, lamb and char. There's an element of sophistication at work here. 
Palate: Intense for sure, with touches of freshly creosoted fences, linseed oil and then shoreline aromas, but the feel is rather plush and sufficiently sweet to give balance. With water there's more of the medicinal elements, some typical Ardbeggian soot, smoked fish.
Finish: Lightly oily. Bay leaf. Phenol.
Conclusion: When all is considered, this is a rather well-mannered beastie.
Rating: ****
Brand: Bw8, Elements of Islay 51.2%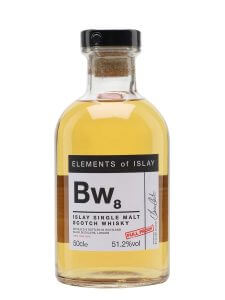 Nose: Cool and restrained. A distinctly chocolatey start: bourbon biscuits and drinking chocolate powder. There's some dried flowers then Lorne sausage [aka square slice] and low smoke. Add some water and there's a slightly sweaty/sour thing going on and a little more smoke.
Palate: Things get going here with more obvious smoky malt mingling with sweet tinned fruits, then a return of the sweaty notes in the middle then a mix of mocha, barley miso and a slightly vegetal element. It's… different.  Water allows things to perk up at the back and bring in a previously hidden brininess.
Finish: Drying. Light smoke,. Hint of ginger.
Conclusion: A vatting of '01 and '03 Bowmore's in a mix of ex-Bourbon and ex-sherry. The palate is intriguing, but the nose slightly off-putting.
Rating: ***
Brand: Caol Ila 8year old 'Wee Brother', Na Bràithrean, 58%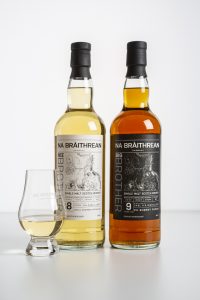 Nose: By the look of a greenish tinge this is from a refill cask. The notes of grass and unripe pear back this up as does the sensation of cool shoreline breezes through pine woods. There's no enormous smokiness. Instead when water is added, you get juicy fruit, limeade, grapefruit and peppermint with a back note of sweet draff.
Palate: Gentle and, initially at least, slightly simple, though what is there is well enough balanced. The pears are retained and there's now a suggestion of smoke, but nothing more. With water, Parkin biscuits with pork rillettes. Now the smoke start to bubble up ,along with some juniper. It builds and fizzes on the tongue and the longer it hands around the sweeter it gets moving into Caramac bars and some brought estery notes. 
Finish: Sweet almond, then prickly smoke.
Conclusion: A new bottler and one with an intriguing idea. This was distilled on April 5th 2011 popped into a refill hoggie and then bottled on my birthday in 2020.
Though it's quiet on the nose there's more presence in the mouth. 
Rating: ***(*)
Brand: Caol Ila, 9 year old, 'Big Brother' (PX quarter cask finish), Na Bràithrean, 60.2%
Nose: The finish has added colour and also that very PX effect of having a purple cashmere blanket thrown over the whisky. Plumped-up raisins and sultana along with light minerality. There's a repeat of the bright citrus (with more orange added) before the smoke breaks out. Water actually makes things punchier, so take your choice.
Palate: The smoke shifts away from the shore, mixing with the raisin, then tea leaf, and  hickory-like elements (nachos). This adds a certain crisp crunchiness to things before fat black fruits return. The smoke pulls clear in the middle and then softens into a thickening  finish. Water pulls those drying elements forward and amplifies the smoke but there's a new berry-like quality.
Finish: Blackberry tea.
Conclusion: The same whisky as Wee Brother but decanted off and given time in what is becoming an industry standby, the PX cask – this in this case a quarter size. I was worried about the impact this might have but it's worked. There's an air of a ready-made smoky Old Fashioned.
Rating: ****
Brand: Caol Ila 7 year old, Asta Morris, 60%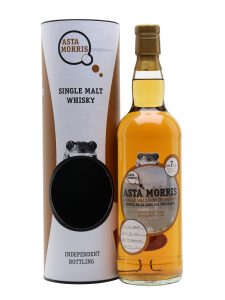 Nose: Fresh with a distinctly saline quality. It's light and young, but far from skeletal. The smokiness starts low down in the mix, but steadily becomes a more significant elements shifting from burnt sticks to a more carbolic quality. There's an underpinning of biscuits and hazelnut. Water shows a relaxed creaminess: vanilla sponge and muffins before the heady aroma of hot mustard seed. 
Palate: Light the barbie! Rub the pork belly with sesame, Szechuan pepper and caraway.  This savoury quality offsets what is a slightly steely element on the sides of the tongue. Fresh and lively but balanced with some complexity. As with the nose, water softens and sweetens and brings out more of the cask. There's a gentler flow, with the smoke now moving more towards the medicinal side.
Finish: Oilskins.
Conclusion: Another cracking young Caol Ila from Bert.
Rating: ****(*)
Brand: Cl13, Elements of Islay, 54.6%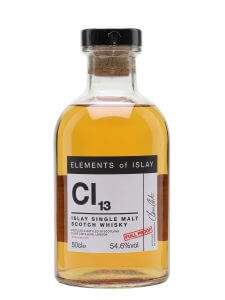 Nose: A slightly funky mix of lanolin, peat, sphagnum moss, sodden bog-soaked socks and wet bark. Lightly yeasty/Marmite. Then comes salt-tinged mirin and things start to broaden out. In time there's some oxidised notes (en rama fino) and a more classic smoky bacon element. Water adds in oak, and sea urchin but does reduces the impact.  
Palate: Quiet to start with, then a cold, salty spray which immediately begins to sweeten into a mid-palate which is mature and concentrated. There's toasty-warm oak, and a satisfyingly oily texture. The smoke now shifts to the more phenolic side and things start to dry. Water adds greater control and, for some, greater approachability. It depends if you want things conventional, or slightly odd. I'd go for the former, but that's me.
Finish: Salt and smoke.
Conclusion: Where would bottlers be without Caol Ila. eh? This is a mix of hoggies and butts from 2010 and 2013. depth and breadth as well
Rating: ****
Brand: Ledaig 13 year old (2005), 57.4% TWE
Nose: Meaty, oily/fatty. Some cereal and a farmyardy note. Liquorice. So far, pretty classic Ledaig. Then you get After Eight/peppermint creams and freshly polished oak. In time, wok oil, melting chocolate and, with water, more oak.  
Palate: This is from a sherry butt, but I get coconut cream from the off. Oily and tongue-clinging. The tannins are there, but there's some glimmers of orchard fruit. Water darkens the flavour spectrum into more standard chocolate, but there's a bite of slightly bitter citrus peel in there as well. The coconut is still there when water is added along with fat-laden smoke. 
Finish: Fruity/smoky.
Conclusion: Left field. Hey, it's Ledaig. 
Rating: ***(*)
Port Charlotte OLC:01, 9 year old, 55.1%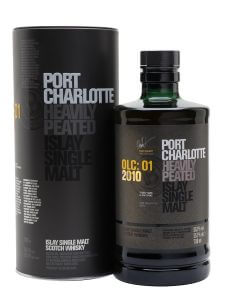 Nose: PC's richness to the fore albeit a little more tarry than usual, with an a-typical touch of saltiness. There's light oatcake, then sheep's cheese and keeping up with the ovine theme, smoked mutton. Elegant, fruit-laden and densely sweet, yet simultaneously smoky. There's some (black) fruit pastilles, fig jam mint, then balsam, eucalyptus, star anise. A lovely sense of decay.  to With water there's sweeter fruits, barley, Seville orange, and spitting pine logs.
Palate: Chewy and muscular. Red pepper flakes. There's an explosion of flavour in the middle where the smoke surges through: barbeque, smokehouse. Normally this would add dryness – the tannins are also quite grippy – but there's a simultaneous expansion of such sweetness (treacle tart, mulberry, damson) that things are balanced. It continues to build in power and depth as it opens. Complex and balanced. 
With water you get burning wool/horse blanket and more orange and smoking sage. The impact is somewhat lessened. It's not hot. Be bold. Have it neat.. 
Finish: Smoky, dry, earthy. Bitter chocolate. Long and supple. Blackberry.
Conclusion: The arrival of a new 'cask Exploration' series. This 2010 distillation has m]been matured in variously ex-Bourbon, Syrah and Vin Doux Naturel casks before being rounded off in ex-oloroso hoggies from that amazing bodega Fernando de Castilla.  
Rating: *****