It's Cinco de Mayo today, so it seemed the right time to write something about agave. It was only after doing it that I realised it touches on themes that have bubbled to the surface in recent posts about spirits and place. Maybe its a side-effect of isolation. Anyhoo, pour yourself your favourite agave drink and read on … 
This is how it went down. Four years ago, I went on a three-week roadtrip with my amiga Sophie and a photographer around Mexico investigating agave. There was method in our madness, but the project sadly never materialised – great idea, bad timing.
Memories: Talking about possible pre-Colombian distillation, the pulque lady, a day in the fields with a family cutting their wild agaves, the chile-eating challenge at Cielo Rojo in Sonora with narco jets flying low; being asked if I wanted peyote when I said I wrote about spirits, the Mennonite supermarket in the Chihuahua desert.
There was Don Macario in Zapotitlan with his wooden still, the palenque we stumbled over with an old guy making unbelievably great mezcals; being stopped at an army checkpoint; drinking at La Parilla with Fortaleza's Guillermo Sauza and Don Javier, (with me in a kilt – long story) when a man rode into the bar on a donkey. 
We had a plan but as the trip wound on, so road madness took hold. We began to use Brian Eno's Oblique Strategies as a guide to the decision making, eventually trusting it for its apparent oracular powers. Being guided by lateral thinking fits perfectly in Mexico. Chance starts to intervene.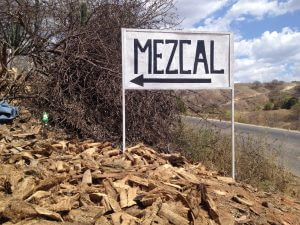 The one I want to talk about, the one where it all coalesced started in that fashion. We'd been tipped off by a producer (who we'd discovered by chance, naturally) that there was a coppersmith in the next town. 
We headed there to find him talking to two people from a remote village who were contemplating switching from clay to copper. 'They make the best mezcal,' he told us. 'but no-one knowns about it.' 
They'd hitched their way into the town and needed a lift back. No second thought was required. 'We'll take you. How long is it?' 
'About two and a half hours.'
By now, I know what this means. In Mexico, 'two and a half hours' is the standard phrase for 'a long time'. We head off the highway on to a pot-holed track up a mountain. Long after two and half hours have passed, we're still climbing in pitch darkness, headlights picking out giant agaves, the air sweet and soft. 
The road flattens out, then starts to descend. There's a few lights below. Soon we pull into a small town square. There's no hotel, but Rolando our host, says we can stay with his brother.
At 3am, the cockerels start, joined in by rusty hinge of a donkey bray. At 5am we seem to be under attack as missiles begin being fired across the town, then come the church bells which set off more donkeys, chickens, and dogs. Fiesta day. The missiles are rockets. 
We head up a dry river bed with Rolando in search of mezcal. We meet an old man heading into town. 
'You should cut your beard' he says to me. 'And your hair.'
'He's a writer,' says Rolando. 'They always look like that.' 
The smell of papaya and herbs, birds calling, banana groves, a man ploughing with two oxen, and above us on the slopes agaves like stars in the dull red earth. If there was paradise, then it would be here in this hidden valley.
The mezcalero is standing outside his lean-to. Inside, is a row of plastic fermenters, though he prefers his smaller clay ones.Sunlight filters through the gaps in the walls. An earth floor and clay stills. He captures some of the spirit in a long bamboo pole, sucks it up, allows it to flow back into a small cup. Examines the way the bubbles form. Reading the runes, watching the beads, making the cut.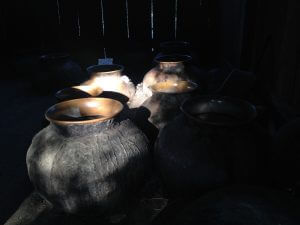 We'd seen this before. The wild ferments, the mash in the base of the still, the rise of vapour through clay hitting the copper disc into which water flows condensing the spirit, it being carried down a pipe or agave leaf into the receiving vessel.
This though was when it fully hit home. This what we have lost. Making spirit out of what is around – earth and stones and wood, agave, clay. I think of the equipment in modern distilleries and what has been lost rather than what has been gained.
There is so much to learn here, so much to make you humble. Your mind is blown because, without any fancy equipment or investment, or brand strategy, or diplomas and degrees, they craft a spirit of the earth … and of astonishing purity and quality.
The taste of each mezcal is the taste of the the agave, the mezcalero, but also the community. If they don't like it, they won't buy it. Those flavours have been determined over  generations.
Mind flashes back to the multiple glasses already tried so far, the multitude of flavours: sour cherries tomato leaf, woodsmoke, nettles, clay, minerals, salt, jelly babies, fruit juices, decaying pineapple. It is all encompassing: resin, baby oil, herbs, 'the smell of electricity', shiso, green chile, sweet potato, camphor.
One in particular returns with greater resonance. It had been the finest glass poured for me by Pedro Jimenez of Guadalajara's Pare de Sufrir on one long night. 
'This is tepe made from Senizo [agave lechguilla verde] by the Tepehuano. They use one like this with 'plants of power' for their rituals.' It was the purest citric spirit I've ever tried. It redefined acidity, gave you a new concept of intensity, then softened to fleshy fruit. 'That's mezcal,' he'd grinned. 
Now I got it. Or some of it. I think back to Don Macario standing in the gloaming with giant agaves around him, a herder of plants. But agave isn't even a plant, or an ingredient. Those are words for classrooms. Agave gives everything from needles to fibre to medicine and nutrition. Drinking its blood – agave after all has a heart and distillation is the heart of the heart.
Man and plant work in symbiosis. The plant is the provider, the anchor to the place which defines them. We enter into agave's world, not the other way round. Everything is turned on its head.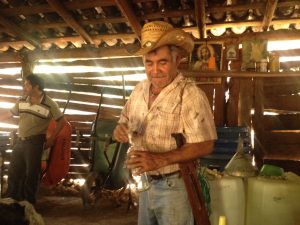 We go back to Rolando's farm/distillery to talk about his plans for the village's mezcals. I've been wondering whether to even give you its name. I won't. I know that might seem weird, but read on… 
The town is made up of nine pueblos sitting between 900 and 1800m. It's self-regulating. There's no police, there's one telephone and when it rings messengers go around, calling for the recipient.  The people vote (in the square, tallied on a giant blackboard) for officials who serve for three years, or less if everyone decides they're not up to the job. 
Rolando has been given the responsibility to look at agave. The community wants to move forward, tap into the sudden mezcal boom. 'But we want to preserve our tradition. A village is like a family. We look after each other.' He sighs, 'It's difficult.'
Part of the issue is that they aren't part of the official mezcal designation – conceivably no-one realised they were here. 'To get into the designation we have to make sure of quality, then we can ask the right price. Then we can start selling nationally.. . internationally.' He looks at us.
Were it so simple. The official designation seems intent of reducing mezcal's baffling diversity into an easily codified set of regulations. 
'It's not about tighter legislation,' Pedro had said to me that night. 'It's about understanding the culture. This isn't product,' pointing at the seven glasses. 'but a wider experience'.
There are people like Pedro who get that, and who work with the producers in an ethical fashion. There are others who simply exploit, buy cheap, force ever higher rates of production, clear cut agaves, hand over some cash, then sell the mezcal for huge sums in the export markets. The wild agaves die out, the money disappears and with it so do the money men.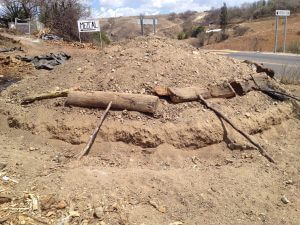 It's not as easy as saying 'just work sustainably'. They've been doing that for generations. They see an opportunity to help their community. What would you do if someone offered you the money it would take to get your kids to school, or finish building your house? 
It's a dilemma facing any community on the edge and it could be agave, or bananas, or cacao, but without an ethical framework it is one open to exploitation. We can't offer Rolando any easy solutions but give him names of people who might be able to help, offer him warnings. 
We head to the fiesta. There's a bullring, a small bar, a band playing at full volume in a manner where enthusiasm is a more positive attribute than accuracy. There's people staggering about, rockets being fired from bamboo tubes into the crowd.
'Mezcalito?' says a man with a 5 gallon container. Rude to refuse. It's good. It's really, really good. 
Some bulls wander around the ring with people on their backs in a very laid back rodeo. More mezcal, rockets, trumpets. The bulls wander off and the dancing starts. It's time to leave. We inch the car through the bodies. More glasses are proffered through the open windows.
'Hasta luego! Come back again!'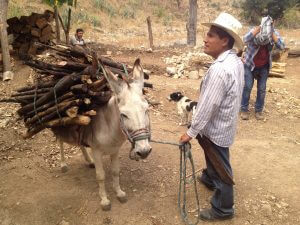 Onto the road, up the mountain, and down into the valley. When we hit the highway I look back for a sign. There is none. 
mezcal comes from the erath 
They have the land they want to plant to preserve  imagine a valley with no plants 
The mezcal maker Don Macario Partida Ramos' discussion of the local agave is particularly interesting.  He claims that 26 types of agave grow in the area, 12 on his land, and describes naming varieties after local ranches.  That gives you a good sense of how difficult it can be to exactly define the source agave for some mezcals since many producers use different names or spellings for the same variety.  It also gives hope that there are many more agave sources spread across Mexico that might alleviate the much discussed impending shortage of wild agaves in Oaxaca.