My latest unfortunate Highball incident (see here) hasn't dampened any of my enthusiasm for finding new ways to enjoy whisky. Now, I've tried my fair share of mixers, but until forester Rob Clamp contacted me, birchwater wasn't on my radar. 
Rob, his wife Gabrielle, and two friends started Birkentree (it's the old Scots word for birch) claiming that it is the ideal whisky mixer – he even goes so far as to suggest that the Gaelic 'Uisge Beatha' [Water of Life] is actually 'Uisge Beithe' [birchwater]. We'll leave the Gaelic scholars to argue that one.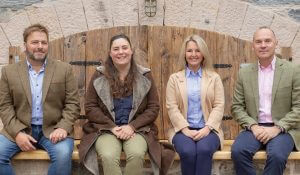 The trees, which come from managed woodlands in Perthshire, are between 150 and 250 years old, and are tapped for three to four weeks in spring as the tree starts to draw up water and convert it into  mineral-rich sap. Only 1-2% of what the tree is drawing daily is tapped off. 
Tasting it neat reminds me (again) of what my amiga Sophie told me when I was struggling to find the right descriptor for agave. 'But Dave,' she said, 'agave tastes of agave'. Basho would be proud of that, and it's true, it's the other things which taste like agave. Birch water tastes of itself, so what follows is just a personal approximation.
The aroma is quite fat and smooth with a light yellow fruit element, a tiny sharp lift and, maybe this is auto-suggestion, a whiff of damp moss. It starts watery, but quickly thickens while there's a taste of fresh tobacco leaf and a what I took initially for an almost saline quality, but which is more mineral-like. It is all about the feel. Complex, strange, light, yet with real substance.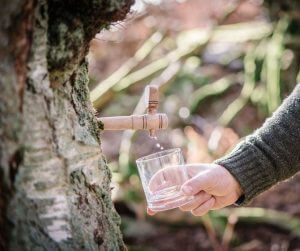 I tried it with a few drams, mixed at 50:50, and then with a little ice to chill but not over dilute – temperature is key, I think, but more of that later. 
There was a cask-strength sample of a single grain aged in first-fill American oak, and a single malt from the same cask type; Bruichladdich Bere Barley, because why not? as well as Ardnamurchan to see how it behaved with light smoke and oiliness, then two peatier ones: Kilchoman's Machir Bay, and Lagavulin16 year old. 
The single grain mix was subtle, the birchwater adding softness to the mid-palate, and more importantly calming down what was an otherwise pretty sharp finish. The balance was great.
The malt's soft peachy fruitiness seemed to be accentuated – that yellow fruit element coming into play, while the textural qualities of the birchwater seemed to have an affinity with the vanillins from the oak, while still being refreshing. I could see this working with Glenmorangie Original.
It didn't obscure Bruichladdich Bere's bright, green fruit freshness – if anything there was an extra zip and a lift of the sweet cereal. Again the palate was slowed and softened. The honey was given more depth, the chaff dryness balanced and, again, the finish was greatly extended.
Ardnamurchan's oils made a perfect link to Birkentree's weight. By now it was clear that there was no overt obvious dilution of the whisky's flavour, or loss of character. Instead there were accords and flavour and textural bridges at work. This was another subtle mix, with the smoke hanging back.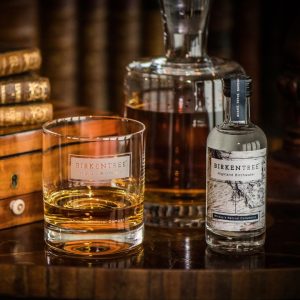 Strangely, Kilchoman was the oddest, with the mix taking the smoke and drying things considerably. It worked, and sweetness and character was retained along with a great mid-palate, but the mix gave a very different slant to the dram. 
Lagavulin was also changed utterly – no mean feat. Again, the dryness of the smoke was emphasised, as was an oft-overlooked nuttiness. The whisky's salinity and the birchwater's minerality formed an alliance, moss and bog myrtle went hand in hand; there was a new lift and brightness with no loss of complexity. The finish was either smoke-infused birch or birch-infused smoke. Lagavulin, but not as you've seen it before.
It struck me that there was something weirdly familiar about Birkentree's texture and the minerality… this is the Scottish equivalent of coconut water which, some of you may know, is one of my top whisky mixers [see the whisky manual for more on that]. The key with it and Birkentree is keep the drink cold – hard ice, or use the mixer fridge cold. 
Whatever the case, it works. Just wait for bartenders to get hold of it.