I've done a few books. All are with the marvellous folks at Octopus Books. In recent times there's also been two really rewarding film projects. More (of both) are planned but on ice thanks to The Virus.
How to buy? You could go to a leading online retailer, but I'd urge you to support your local independent bookstore. They perform a vitally important role in your community – and they can deliver as quickly.
In other words, it makes sense. Click here.
Currently Available
The Way of Whisky, with photography by Kohei Take, Mitchell Beazley (2017)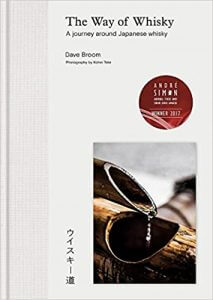 A roadtrip around Japan looking at what makes that country's whiskies 'Japanese'. As well as interviews with whisky makers and bartenders, it looks at how their approach is deeply linked with that of traditional crafts. There's tea, washi (paper-making), ceramics, indigo dying, kaiseki, and glass-making. The images by my friend and collaborator Kohei Take are superb.
This book won the John Armit prize at the 2018 Andre Simon Awards
The Whisky Manual, Mitchell Beazley (2014)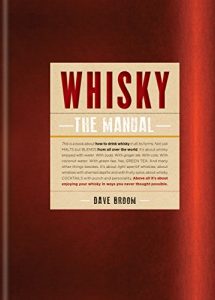 After years of reading and writing whisky books I realised that there wasn't a user's guide to the spirit. A book that could tell you history from the viewpoint of the drinker (not the business), production (in terms of how flavours are created) and then tasting notes (of 102 whiskies). Not just 'this is what it is like' but, suggesting ways in which it could best be enjoyed.
Each one was therefore mixed with soda water, ginger ale, cola, green tea and coconut water (though not in the same glass). After all, the research showed that at any point in history when whisky was at its most popular it was flavoured/m mixed/drunk long as well as neat.
It's an attempt to free up thinking around whisky – and gave rise to the Smoky Cokey.
This book won Spirited Award for best spirits book at the 2015 Tales of the Cocktail
The Gin and Rum Manuals, Mitchell Beazley (2015,2016)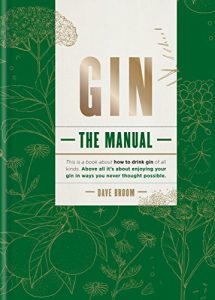 I applied the same methodology used in The Whisky Manual to two other spirits. Both were looked at historically, in terms of flavour creation and then tested.
The gins were tasted neat then with tonic, Sicilian lemonade, then mixed as a Martini and Negroni. Genevers, Old Toms and cask-rested gins were tried as gin cocktails, fizzes and Martinez/Turf Club.
Rums on the other hand were mixed with coconut water, ginger beer clementine juice and cola.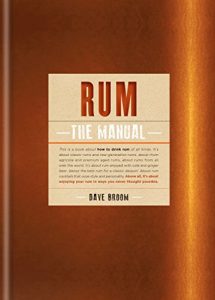 White rums were mixed as Daiquiris, aged rums as Old Fashioneds. Makes you thirsty, eh?
The World Atlas of Whisky, 2nd edition, Mitchell Beazley (2014)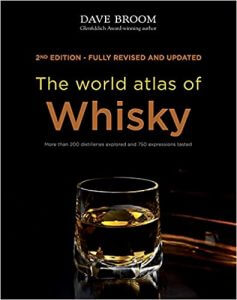 The aim here wasn't just to plot distilleries around the world, but to do it through flavour. What makes each country distinct, every distillery different? In that way you can plot similarities and differences, shared perspectives, and trends. More than a map, not just a list, but a guide… I hope.
'A landmark publication', Whisky Advocate 
Films
The Amber Light (directed by Adam Park, written by Dave Broom)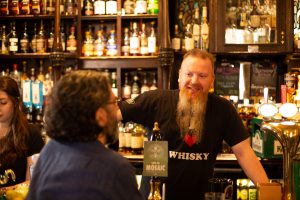 Adam came down to my seaside lair to interview me for a food and drink website. After a few drams, the conversation turned to how the one area of whisky which had rarely been discussed was how it is a cultural product. 'Let's make a film then!' he cried. This is it.
The Amber Light tells how whisky has been the (almost) silent partner, mirror and muse in Scottish culture for over six centuries. There's myth, literature, poetry, art, and music  as well as drams. We start in its quasi mythical roots on Islay and end in the questing curious contemporary of today in Fife.
There are interviews with Alasdair Gray, Ian Rankin, Lord Elgin and musical interludes and chats with Alasdair Roberts, The Furrow Collective, Rachel Newton and James Yorkston.
There's a really lovely review by Alice Lascelles here
As for viewing it.. watch this space!
The Amber Light won best Programme at the Fortnum & Mason Awards 2020
Cuba In A Bottle (directed & written by Charlie Inman & Ben Holman, co-written with Dave Broom)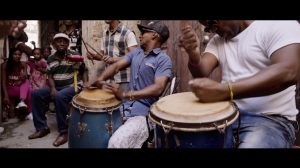 From belief systems to music to revolution, rum has influenced virtually every aspect of Cuban culture.
"Cuba in a Bottle" tells its story throughout each step of the island's history, with hand drawn animation and a diverse cast which reflects the melting pot that is Cuba's past and present.
From rarely filmed religious ceremonies, to the barracks of the sugar cane cutters, the story is told through interviews with legends from the world of music, sport and film, rum experts and master blenders, revealing how rum is the country's lifeblood  and remains the sweet pulse of its soul.
You can watch it here
Other titles
There's been a few. All are out of print. Rum (2003)and Drink! Never Mind The Peanuts, with Susy Atkins (2001) both won the Glenfiddich Award. Rum's out of date but perhaps might be interesting from a historical context to see what was happening just as the rum renaissance was getting going. The photography by Jason Lowe is fantastic.
If you see a book about Vodka purporting to be written by me, don't buy. Long story…