Snow business like whisky business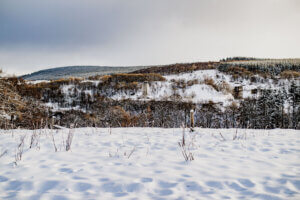 Even when there it had the quality of a dream. White Christmases only exist on cards and in seasonal Hallmark movies, but here in Dufftown it was real. Willie and Elizabeth Grant stood outside the visitors' centre, Elizabeth maintaining a stoical smile despite the new white topping to her hat. William, on the other hand, seemed to shrink with each snowflake, his shoulders rising, a frown spreading.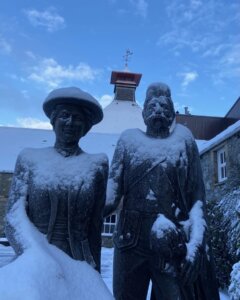 I'd arrived on the Monday when the daytime temperature had sunk to -14˚C. By Tuesday, clear skies had been replaced by ponderous clouds and heavy snow. Flights were delayed, icy roads turning cars into curling stones. 
Other hacks were due to arrive for the inaugural Glenfiddich Christmas Party, but by noon the weather had consigned not only Plan B to the bin, but Plans C, D and, as the snow continued to fall, the rest of the alphabet. The conclusion was just wait to see who turned up. There was fire, food, and plentiful drams for those who managed to get through. As it transpired, nearly all did.
And so it began: a magical few days of games and stockings, Santa leaving presents under the tree, hearty breakfasts and Christmas dinner, log fires, Highland cows in a white field. There were scarves and socks, hot toddies, and a walk, (armed with hip flasks) to the Robbie Dhu spring, and the sight of deer flying through the snow-silenced woods.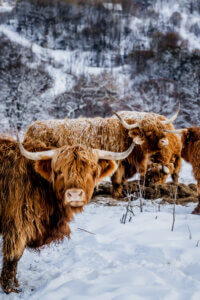 There was a dual purpose for all of this, one as simple as just getting folk together to stroll, chat, laugh, eat, and drink. Hanging out at the end of what had been for all a pretty testing year. There was also the not insignificant matter of being there to taste the first three releases from the Glenfiddich Archive Collection of single casks, which will be available from next spring. 
Christmas is a potent time for the distillery and the Grant and Gordon families. It was on Christmas Day 1887 that spirit first ran from the Glenfiddich stills. Exactly 100 years later, a refill American oak hoggie was filled, and is now the first of the trio of Archive releases. Only 75 bottles will be available, exclusively at the distillery, for a price of £3,700. Each.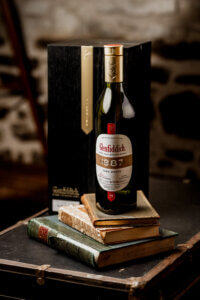 A hint of waxiness and light oxidation are the only indications of its age. Its brightness is remarkable and it's this clarity which allows the distillery's key characters – apples, pears, a little nuttiness – to continue to blaze.
On the palate, the sense of time is more apparent – an extra syrupy texture, more polished wood, and a savoury spiciness. Add water and the pears push forward, while the spices take on an almost mouth-numbing Szechuan pepperiness.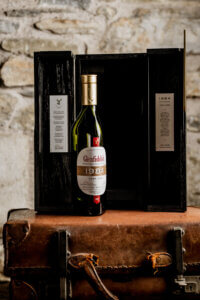 The 1984 is in compete contrast. A refill sherry butt at 52.1% its cask influence is immediately clear. The deep mahogany depths contain a mix of rancio, coffee, chocolate ganache and, in time, the aromas of returning from a walk through damp autumn woods – wet leather, petrichor, leaf mulch and mushroom. Water brings out black fruits (warm Ribena) and a light whiff of cordite. 
The palate is a fascinating interplay between these sweet elements – now with added apple syrup – and a walnut-like tannic structure. This old-school bottling will be exclusive to China and Taiwan, and will cost £4,600.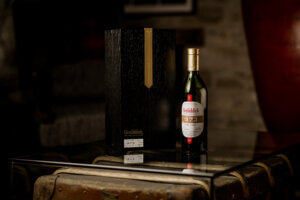 The oldest of the trio is a refill American oak barrel from 1973 coming in at 42.9%. Here, the combination of air, and a very laid-back cask influence allows fruits to shine – along with some beeswax. There's an intense cherry stone aroma to start with along with rosewater. That's then replaced by a estery hit of pear drops. The texture is soft, adding a feeling of gravity to the mid-palate with a lovely sour hit at the back showing you that there's plenty of life left. 
Leave it to open, and there's cut flowers and orchard fruits. It rustles and whispers, rather than dominating with oak. Complex, subtle, and singular – and at £33,500 a bottle it would have to be. It's only being sold in the UK to astonishingly rich people. Make friends with one of them.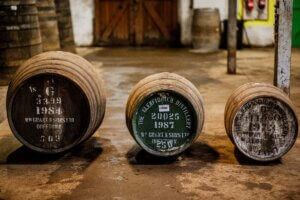 After the tasting, we wandered through the snow to Warehouse 8 for a wee taste of Winter Storm. Ghosts clustered around us. Those of the past in the Archive bottles and the surrounding casks, spirits of the present coming to us in the vivid sensation of being alive in the moment when the liquid hits the tongue. Across in the stillhouses spirits of the future were flowing into the safe.
It was time to throw another log on the fire, sit and talk. This thin, dark, time of the year is when we are most aware of the passing of time. We try to hold on to it, mark it with light and laughter, but also through the repetition of rituals, the maintaining of traditions. All is change, but within that change there is continuity. The year is ending, a new one starting. Drams in hand, we move on through the snow.