Scotch in Russia, Russia in Scotch
The unprovoked invasion of Ukraine has resulted in Western companies pulling out of Russia.  How is the Scotch whisky industry responding? 
Russia is an important export market for Scotch. In 2021, according to SWA figures, it was the 10th largest export market by volume, growing at 40% year in year to 42m bottles with a value of £27.9m. This was made up mostly of 11.6million lpa of bulk exports, predominantly blended. 
This figure understates the true level of exports, as a significant volume of higher-value Scotch is imported via the Baltic states – in most recent years Latvia. In 2021, Latvia imported 11m lpa with a value of £155.5m. IWSR figures show that 72m bottles were sold in Russia in 2021, 67m of which was blended Scotch.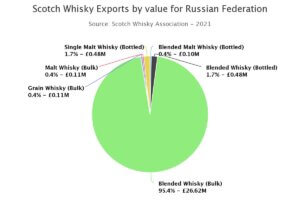 While publicity inevitably focuses on sales of luxury releases, Russia has remained a strong market for standard blends, with Bacardi-owned William Lawson a significant player. It is bottled in Moscow by Beluga, which also represents Wm. Grant & Sons. In November 2021, Grants and Beluga  signed a five year extension to their decade-old partnership.
There are approximately 2,000 people in Ukraine and Russia working directly for the industry. It was they who were uppermost in the thoughts of most of the firms contacted. 'Our utmost priority is the safety of our colleagues and their families,' said a Chivas Bros. spokesperson. 'This has been our focus from the very beginning. 
'We closed our offices in Ukraine very early and suspended our sales a few days ago in Russia,' they added. 'We are making an immediate donation to UNHCR in order to support their work in delivering essential humanitarian help to people in need. We have also offered our employees to collect their individual donations and the Group will double the amount collected in favour of UNHCR.'
As well as expressing the prioritising of the safety of their staff in Ukraine, Diageo has 'paused the export of our products to Ukraine and Russia while we focus on supporting our employees and the humanitarian relief effort.'
The rest of the industry is taking the same line, as typified by a statement from the SWA which said, 'our thoughts are with all those affected and displaced by the conflict.The welfare of industry employees working in Ukraine and Russia is paramount. We continue to closely monitor the situation and pass on any relevant government guidance on exports to our members.' 
Russia is a major market for Dalmore but, in common with the rest of the industry, Whyte & Mackay has suspended exports and is prioritising its staff, distributor and supplier in Ukraine. It is also my understanding that Edrington has also ceased exports to Russia. 
Bacardi was contacted about the status of exports to Russia, but has not yet responded, while another of the majors declined to comment, 'at this time'.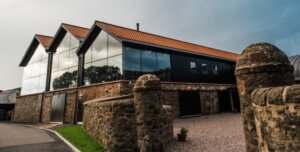 Meanwhile, political pressure for severing all business links with Russia is growing. Kate Forbes, Scotland's Finance and Economy Secretary has issued an open letter to Scottish firms outlining that the Scottish government and its economic agencies, 'will use all available powers not to support trade and investment activity with Russia'. She also said that support and advice 'would be offered to businesses as they adapt to removing those links'.
Forbes explained that, 'beyond direct investments, reviewing operations for links and connections to Russia – however indirect – and then severing them is the right decision'. 
It mirrors the line to that taken by Kwasi Kwarteng, the UK government's business secretary who said on Twitter that, 'there is now a strong moral imperative on British companies to isolate Russia'.
The ending of all business links will affect importer, distributor, and bottling agreements. The 'pause' in exports mentioned by some firms may end up being a cessation of existing arrangements. It will also affect Russian investments in the Scotch industry. As a result, focus has fallen on Fife distillery Lindores, which is majority-owned by Russians. 
'We were made aware of the [Forbes] letter and its contents late yesterday afternoon,' said founder and director Drew McKenzie Smith. 'We have taken advice from the appropriate government agency as suggested and had a meeting with them this morning.' [Friday March 4th] 
Lindores Distilling Co. has four directors, McKenzie Smith and his wife Helen, and majority shareholders, Anton Buslov and Sergei Fokin. A third director, Dmitri Morgunov, left in Oct 2021. 
Lindores' parent company is Spirex Ltd. with Morgunov, who lives in Scotland, listed as a director. Russia residents Fokin, Buslov, and Sergey Uryadov are all listed as being 'persons with significant control'.
Spirex, in turn, is owned by Rubus Investment which was set up in 2013 by Buslov, Fokin and Uryadov who had equal controlling shares. It was was dissolved in 2019. The trio are also equal shareholders in U-BF Management LLC, as well being as directors of Avilex LLC, a Russian 'system integrator in the field of information and audiovisual technologies'.
According to Russian tech site C-news, in 2017, 'the little-known private company Avilex became the largest IT supplier in Moscow'. Subsequently, it has worked extensively with Russian government agencies, schools, and the Moscow government's IT department. 
Work listed on its website also includes supplying systems to The Peter the Great Military Academy of Strategic Missile Forces in Balashikha. According to the website, this is 'one of the largest military training institutions of the Russian Armed Forces and a major research center in the field of military and technical sciences. Today, the Academy trains commanding and engineering officers for the Strategic Missile Forces of the 12th Main Department of the Ministry of Defense of Russia.'
Avilex also 'created an audiovisual system aimed to support different events and competitions with the use of armored vehicles, such as several phases of the international army games (ARMIIGRY-2016), tank biathlon and other activities.' in the Alabino training ground. 
The firm is ultimately owned by YuBF, of which Uryadov is the managing partner. On Feb 1 2021 he said, 'Development of the company in recent years …confirm steadily growing demand of large corporations and government institutions.'  
When I asked McKenzie Smith, who is not involved in any of these other companies, if he was concerned by the links to the Russian government and military, he said. 'We are aware of a number of articles that were circulating over a year ago. Much of the content posted on questionable websites was erroneous, and denied by our shareholders.' None of those allegations are repeated here. The information above was taken from Companies House, C.News, T.adviser, and Avilex's own website.
Was he worried that sanctions imposed as a result of its directors' other business interests might result in their Scottish assets being frozen? 'Whether or not sanctions will be imposed is clearly out of our hands,' he said. 'We just do not know, but we are planning for every contingency.'
He was unable to comment on whether it was now inevitable that he would have to seek different investors, and whether he was now taking any steps to do so. 'The situation is fast-moving and the last week has been very traumatic,' he replied. 'We all realise the seriousness of the situation, but do not feel we can comment further at this point. To do so would only be speculation and we consider that a risk to the business and the 40+ people we employ.'
I asked whether the Russian directors would go on the record to condemn the invasion of Ukraine.'We cannot speak for the other shareholders,' he said, 'but they have no influence on what is happening.They are just as confused and shocked by this terrible tragedy as we are.'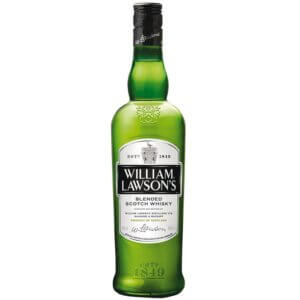 Although, rightly, the humanitarian tragedy caused by the invasion is the priority, the fact that the governments in Westminster and Edinburgh are pushing increasingly hard for total disinvestment in Russia leaves Scotch firms with many questions to answer over the future of Scotch in the country.
Are exports paused, or stopped permanently? I have heard some firms are saying that there will be a pivot away from Russia, not because of its actions but because of the fall in value of the rouble, and problems with logistics. 
Should there be a complete withdrawal, with the closing of Russian offices and disbanding of teams? What of promotional activity for Scotch, not all of which is under the direct control of the brand owners? Where does it leave the Grants/Beluga partnership and Bacardi's bottling deal? What of continued Russian investment in distilleries? 
All of these topics, I have been told, are currently under discussion. How the future pans out will also depend on the optics of recommencing trade with Russia when the war finally ends. Even if demand is there, will the rest of the world be happy with the idea of Scotch whisky being sold there, as if nothing had happened?
The discussion goes beyond 'just business', surely, and also goes deeper than the 'social responsibility' and 'values' which firms are keen to promote. Occasionally, though not frequently enough, morality meets business head-on. The way in which a company responds in such situations is a greater measure of its worth than its share price.
The whisky firms are correct to concentrate on helping their teams in Ukraine at this dreadful time. How will they show their solidarity in the future?
With thanks to Richard Woodard for help with number crunching.