Rum : Scottish White and Cask-aged
The history of rum making (and drinking) in Scotland is a long one – have a look here for details – but it is only in the last few years that the spirit has started to be distilled again. With the inaugural Scottish Rum Fest on the 25th of the month it seemed a sensible idea to have a look at what was being made.  This is exciting stuff folks. Stick around! 
White
When you think of white (i.e unaged/clear) rum you tend to imagine something made in multiple column stills, very light (molasses vodka in some cases) fresh, delicate, and crisp. The Scottish rum distillers have rejected that model gone to the other end. Jamaica seems to be the reference point rather than, I dunno, Puerto Rico. 
Although all are made slightly differently in terms of still type, ferment times, and yeasts, all share a depth and richness of flavour. Rums to sip or mix with. 
Brand: Liv White Rum, 42.5%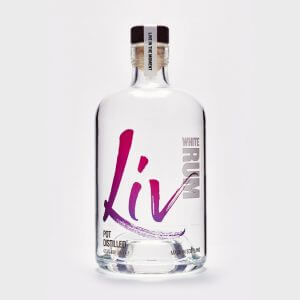 Nose: Here's some of that Scottish funk for ya. Weighty and while it needs a little time to settle down, when it does you pick out nettle/grassiness, black fruits, peach and cinnamon. It smells exactly like a rum distillery!
Palate: I get a slightly strange but not unpleasant sensation of flavours working from the back to the front. Orchard fruits, and chocolatey molasses before a crisp mid-palate and finally melon, grassiness and a flavour akin to sweet potato shochu.
Finish: Sweet with a tiny hint of nuttiness.
Conclusion: Well-made and versatile rum. 
Rating: ***(*)
Details: The new range from Matugga [see below for more details] is aimed to be accessible in price and flavour. The former I like (as long as things are not undersold) as it will encourage people to try Scottish rum, but the latter can mean that compromises have been made. This is not however a middle of the road rum. Full flavoured thanks to a week-long ferment and then triple distilled in direct fire pot stills.     
Brand: Liv Navy Strength, 57.5%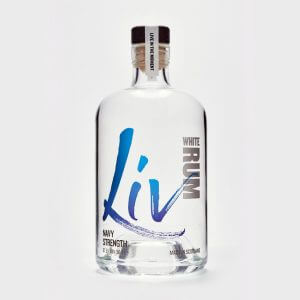 Nose: The higher strength gives greater lift and more top note action. The fruit is a lot clearer with more banana estery notes that move to sweet cane and extra complexity. With water you get a distinct mintiness (Kendal mint cake) a slightly chalky background note, then damask rose.
Palate: Slightly hot, but not unpleasantly so. Dry, punchy slightly funky, with more of that banana and now pineapple coming in. Muscovado elements start to develop when water is added.
Finish: Dry, in fact almost biscuity with some cocoa powder.
Conclusion: Rating: ***(*)
Details: A fine overproof which will work well min a rum punch, but I can't wait to try this with some age … 
Brand: Ninefold pure single white, 40%
Nose: Deliciously full with a hint of the treacley side of molasses, but behind that are soft fruits with just a twang of greenness, some peanut butter, apricot, aqua faba and a little plush soft fruits. Deliciously inviting. 
Palate: The rum's inherent sweetness comes in now. A soft start, and quite restrained but it soon resolves into a clean crisp attack that softens and lengthens in the middle, adding in some lime cordial and then dusty spices. With some water you get greater breadth, vanilla like gentleness, then lemon puffs. Lovely balance.
Finish: Nutmeg, ginger, and light white pepper.
Conclusion: A white which you can sip quite happily but which would also make a great Daiquiri. Really impressive. A rum to watch.
Rating: ****(*)
Details: Made in a byre distillery on the Dormont estate, Lockerbie, using molasses from North Africa which have been fermented for four days. It's been double distilled in a still with a 4 plate column (engaged for the second pass), then reduced, rested for a week and bottled. Casks have also been laid down. 
Brand: SeaWolf, 41%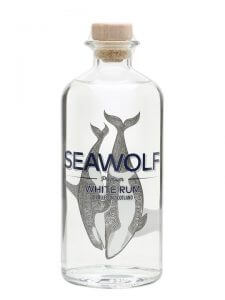 Nose: This is immediately on the fruitier side of the fence. Some raspberry (and watch out for that later) then touches of ripe banana, dark berry fruits on top of a solid molasses base. With water a touch of brass polish comes out though things remain on the more aromatic side.
Palate: A straight-ahead continuation of the nose. Sweets, candy floss, banana and then more of the raspberry (leaf this time) and fruit salad. Starts sweetly but dries (hurrah!) from the mid-point on. There's fresh green fruits now – especially with water – and more of the molasses.
Finish: Touch of nail varnish. Hint of funk and a little pepper. 
Conclusion: Balanced and flavour packed. 
Rating: ****
Details: The idea of SeaWolf started 2014 when Mike Aikman and Jason Scott of Edinburgh's premier cocktail bar Bramble decided to branch out into bottled product and create their own white rum specifically for cocktails. 'Full flavoured, but refined' was the brief. The difference here is the use of two yeasts: distillers' and Champagne. The ferment is cool and extremely long which boosts those fruits. 
Brand: Sugar House white, 43%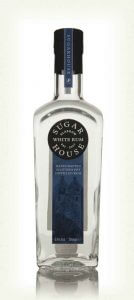 Nose: A rounded, almost glossy, aroma which ranges from higher citric notes, an underpinning of molasses giving a mineral element, then asparagus, green banana, crisp apple, and unashamed tropical fruit: canteloupe melon, mango, and a little estery pineapple. Muscular with considerable style.
Palate: Rather sweet with big concentration in the middle of the tongue where, in a manner a little like SeaWolf, it becomes highly aromatic – more of the rose notes alongside some red fruits. Even with water the texture remains satisfyingly thick.
Finish: Slightly creamy and slightly sweet with a little cinnamon. 
Conclusion: Flavourful and deep. 
Rating: ****
Details From a Glasgow-based distillery, this is a pot still rum that's had a four to five day fermentation of molasses, and a 'custom nutrient blend' brought to life by distillers' yeast. This time the still is a Holstein style with rectifying plates allowing it to be distilled in a single pass with the plates engaged to max out reflux.
Cask aged
This is a new industry so all of these are both young and also represent distillers getting their heads around the fascinating and frustrating world of maturation with some intriguing solutions. 
Brand: Devil's Point Golden Batch 1, 38%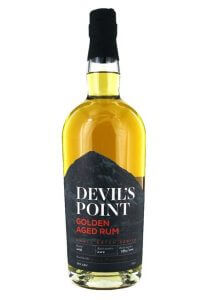 Nose: Very fresh, with hints of bamboo, rice paper, dry green tea leaves, then sweetening into pecan brittle a merest touch of vanilla and some spice. Water brings out a green horseradish-like heat and earthiness.
Palate: A big hit of vanilla pod here. It remains slightly lean (but it's young) though the texture is soft. Some dark fruits, molasses, light citrus and a light nuttiness.
Finish: Light and clean.
Conclusion: Shows promise but the drop in strength has also reduced its inpact. 
Rating: ***(*)
Details: A distillery in Deeside named after a local peak, Bod an Deambhain, which means 'Devil's prick' in Gaelic. It was hastily renamed so as not to offend Queen Victoria. An old-style Jamaican approach is taken here – open fermenters, with 20% dunder added to every ferment. Left for two weeks then double distilled. This has been aged in two 50l virgin oak casks.
Brand: J.Gow Fading Light, 43%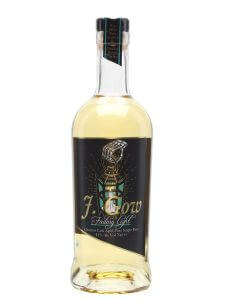 Nose: Light in colour. Pleasing caramelised notes which stray into toffee and nutmeg. There's a tiny touch of funkiness to add weight and interest before light clover honey calms things down. Excellent balance. Water adds in a drier back note, rich tea biscuit and a little dried tropical fruit.
Palate: It starts softly then those tropical fruits are released alongside toffee. The second pulse is more molasses-led, along with a vanilla creaminess. Soft and supple with just a tiny hint of burn at the back.
Finish: Light chocolate
Conclusion: Really impressive for a rum so young. It's been aged in chestnut casks. Excited to see what will come with more time.
Rating: ****(*)
Details: Made in Orkney, on Lamb Holm to be precise which must be the smallest rum producing island in the world. Might it also be the most northerly rum distillery? It started 2017 with Fading Light coming out a year after. 
It's molasses based and double distilled in a high-tech istill [details here] with the spirit being taken off at around 65%. It's been aged in chestnut, the reason being that unlike Sxotch whoch can only be matured in oak rum can be aged in any type of wood. Also, as chestnut is more porous than oak it matures spirit quicker – it also has high amounts of vanillin adding chocolate and caramel notes to a spirit.
Brand: Matugga Golden Rum, Batch 2.1, 42%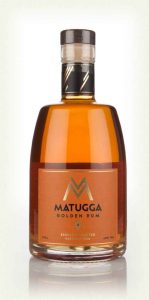 Nose: Lightly charred wood elements, some cashew, roasted spices and cedar box. In time you get some beeswax polish. It's young but with a little water starts to show some classic rum tropical fruit notes. 
Palate: The start is roasted spices (coriander and mustard seed), then a big and almost smoky hit of cacao, more of the cedar. The fruits remain in the background adding a lush sweetness. Best neat.
Finish: Charred oak. 
Conclusion: A punchy oak-forward style for those who like a bit of grip and smokiness. 
Rating: ***
Details: Matugga started in 2018. the brainchild of distiller Paul Rutasikwa and his wife Jacine and is based in Livingston. There's small Portuguese alembics (all direct fired) and like most of the Scottish rum makers there's a nods to Jamaica in its the use of dunder/backset.  
Brand: Matugga Mavuno, 46%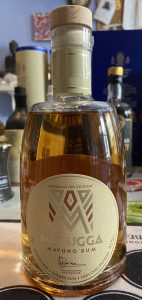 Nose: Lifted and naturally sweet. Slightly floral, with barbecued pineapple, an acacia honey back note then macadamia and a sprinkling of mace. As it develops so you get some molasses, sweet leather, fried plantain, and mandarin segments. Water deepens it adding a mineral element and a slight roasted note, without losing any of the sweet aromatics. Elegant.
Palate: Rumbling liquorice-like base notes here (Pontefract cake, treacle), then dried peels. The wood is very much in the background allowing deep yet fragrant flavours to take charge. There's honey, a light nuttiness and finally a little funkiness.
Finish: Honeysuckle and Darjeeling tea.
Conclusion: A really classy rum.
Rating: *****
Details: Paul (whisper it) was a whisky lover and a Heriot-Watt graduate, Jacine is a rum drinker. Guess who won when they set up the distillery! This also takes advantage of the greater flexibility in cask types and has been aged in acacia wood.
Sugar House single cask #17.134.R, 54% [sample]
Nose: A mix of banana chips/peel and vanilla. It's fairly toasty with some dried apricot, pawpaw and caramel/coconut.
Palate: There's a lot of butterscotch and vanilla here as well as a glimpse of pine. Though the wood is prominent, the overall balance is still OK with some rhubarb asnd red fruit. Considerably more spicy with water added. 
Finish: Vanilla toffee
Conclusion: Well made, but needs to come out of cask soon.
Rating: ***(*)
Details: A cask sample which is probably coming out later in the year. It was made at Sugar House's original site (still rental at Strathearn) which had Hoga pots (like Matugga) rather than the Holstein set up at the Glasgow site. Ageing has been in 50l virgin oak casks.
Interested in rum? Why not treat yourself to a copy of Rum: The Manual?