Following on from last week's look at Scottish distilled rums, here's an update on some new (and newish) aged rum releases which have appeared on my desk over the past couple of weeks. Three from Barbados, including  new iterations of old favourites; a trio from St.Lucia (two for autumn exclusive to RMW), two from Jamaica, and a solitary one from Fiji.
Brand: Admiral Rodney Officer's Release No.1, 45% [St.Lucia]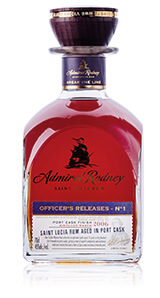 Nose: Punchy and slightly soapy, with a vegetal back note. Lilac blossom, overripe jammy fruits then floor polish. As it settles an overpowering aroma of jelly babies and acetone.
Palate: Fruit gums! Heightened confected perfume: candy floss, cherry tunes, then nail bar. Finish: Cloying.
Conclusion: A 13 year old Coffey still rum aged for the bulk of its life in ex-Bourbon then finished off for nine months is ex-Port. Distinctly weird. 
Since we are now (finally) becoming more aware about systemic racism here's a quick snippet on Admiral Rodney who was either a distinguished Naval hero who regained St.Lucia for the Empire, or a vain, selfish, money-obsessed, nepotistic individual who spoke up in favour of slavery in Parliament.
Rating: **
Brand: Isle of Fiji, Plantation, 40% [Fiji]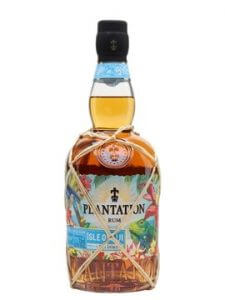 Nose: Crisp and on the toasty side with a little funkiness behind. Some peels, cooked pear, molasses and, oddly, Jacob's cream crackers which is allied to a slight bready/yeastiness, then green peppercorn and dry oak. When water's added you get more spice, honeycomb chocolate [Crunchie]caramel flan, and pineapple.
Palate: Very soft and banana-accented start, but the rumble of molasses gives some weight. Things sweeten in the centre – jam skimmings, red fruit- and continue in that vein. Water makes things thick and sugary with some preserved ginger.
Finish: Did I say sweet? Light oak. 
Conclusion: The nose is promising, the palate is a bit on-dimensional because of the sweetness. The maturation started in Fiji for two to three years, then finished off in France (and French oak). It has a dosage of 16g/litre.
Rating: ***
Brand: Foursquare 12 year old, Plenipotenziario, 60% [Barbados]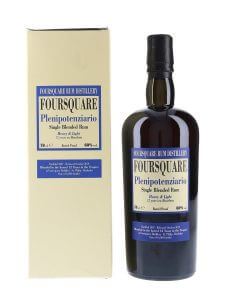 Nose: Rich, but elegant. The high strength slightly closes it down (water is needed, friends). When added, you get some fine Oolong-like soft fruitiness, macadamia. Once those top notes are established, things become more sultry, slightly oily and sweet: plums, maple syrup, a hint of new leather shoes, cut with tonka and in time frankincense and hot clay tiles.
Palate: Layered, balanced, and complex with masses of ripe tropical fruits – juicy mangoes, some papaya, touch of pineapple. Now the honey starts to run. There's big chewy tannins but just as the oak tries to grip, the fruit-filled weight of age and pot still distillate gently pushes back. This pulsing between the two elements continues throughout. In time, there's light cedar, cigar, then citrus peels, ripe black fruits, banana and molasses.
Finish: Becomes slightly spicier: allspice and mace.
Conclusion: A serious world class spirit. A blend of double column and retort pot, and aged in Barbados. 
Rating: *****
Brand: Mount Gay Black Barrel 43% [Barbados]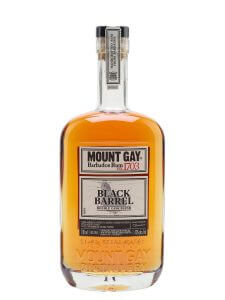 Nose: Oak driven A carpenter's woodshed, but there's also some orange peel and sweet fruits typical of Bajan rums. Overall, it's gentle with a touch of clove in the background and  when water is added, a touch of char.
Palate: That very Mount Gay gentleness leads, with an easy-going natural sweetness, some fruit syrups. The vanilla is on the road to butterscotch. There's actually less overt oakiness than the nose suggests, with the structure remaining soft, though this changes with water. I prefer it like this as the slightly firmer grip shows that under the calm exterior there's some seriousness. Flexible and versatile.
Finish: Cinnamon and nutmeg and some oak. 
Conclusion: A reworking of this established brand sees older Bajan-aged rums being used (three to seven years) before fionishing in heavy charred ex-Bourbon. 
Rating: ***(*)
Brand: Mount Gay XO Triple Cask, 43% [Barbados]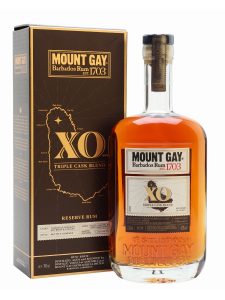 Nose: Super-ripe banana, white chocolate, steamed syrup pudding, butter-fried cinnamon, ginger and mace, banana bread, and some toffee. There's mature stock in here and a hint of  toffee apple, but also the sweet lift of coconut. It's most expressive when neat.
Palate: A bigger brother of the Black Barrel, things start with cooked orange (not quite marmalade), tangerine, bergamot, then nutmeg. Quite crisp. A sweet distillate with more palate weight – bulky pot still is more apparent here. It shifts to blackberry, some vanilla cream on the back palate.
Finish: Lightly fruity. Firmer. Cacao
Conclusion: Another recalibration of a brand which was originally released in 1992. Now a range of rums between five and 17 years old aged respectively in ex-Bourbon, ex-whiskey, and Cognac, then blended. One cube of ice would be sufficient methinks. Have it as an Old-Fashioned or rum Manhattan. 
Rating: ****
Brand: St Lucia Distillers, Vendôme still 2011, Cask #198 [RMW exclusive], 60% [St.Lucia] AUTUMN 2020 RELEASE
Nose: This is wild and weird. A syrup made from herbs, galangal, turmeric, and saffron behind which are baked fruits and dried mango. The fruits are imbued with the oddly compelling smell of decay that's also bound up with resin. Slightly similar to Yellow Chartreuse. With water there's something of an antique bookbinders – leather, glue, old paper. Utterly bonkers. 
Palate: Big, off-dry, and bittersweet. It pushes to the extremes in every direction yet somehow holds together. Here's acidic/green and overripe fruits, molasses and a vegetal cane like note, then the scented oxidised note of Shaoxing wine. Remarkably it's not too hot. Water beings out some dryness and a greater tension, though that's released in the mid palate with a reduction of the fruits, before the acidity starts twanging again.
Finish: Cassia and then tobacco. Somehow, the honeyed fruit re-emerges, bruised but alive.
Conclusion: Utterly bonkers. A one-off surely… but hang on … 
Rating: ****(*)
Brand: St Lucia Distillers, Vendôme still 2011, Cask #173 [RMW exclusive], 60% [St.Lucia] AUTUMN 2020 RELEASE
Nose: Punchy, with some metal polish, then bay rum and a slightly medicinal quality that simultaneously manages to be sweet and dry at the same time. A savoury acidic green tomatillo-like  element (plus some prickly pear). Leaner than the other cask with more evidence of structure. It needs time to get going, but when it does there's some weight and, with water, a reassuring aroma of toasted marshmallow and this a bittersweet molasses element alongside wild honey.
Palate: Initially it seems controlled, then it leaps recklessly into this teeming world of cane skimmings, damson, rampant spices, gentian, calamus and absinthe, all allied to high acidity. There's some substance, especially in diluted state allowing an almost orthodox fruity/honeyed anchor.
Finish: A touch of acetone. Lean acidity. Dandelion and burdock.
Conclusion: These are must-try rums.
Rating: ****(*)
Brand: Worthy Park oloroso, 55% [Jamaica]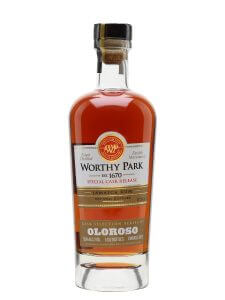 Nose: This is brimming with muscovado sugar, hascap [sort of blueberry/black grape], creme des mûres, and some red liquorice. Just as you get used to this thick, sweetness there's a tinge of tart blackberry that then takes a left turn into teriyaki sauce. With water there's pomegranate molasses and more obvious oak.
Palate: A palate-coater: massive, oily, thick and very deep. The oloroso comes into focus – the shared treacle like qualities between it and molasses, then raisin and prune notes adding a slightly bittersweet element. Great feel, good grip, and structure. Water softens things, and a greater resolution between the two elements.
Finish: Jaffa cakes! 
Conclusion: More evidence that Worthy Park does make exceedingly elegant rums. This started off in ex-bourbon casks in Jamaica, before being finished in oloroso casks in Denmark. Recommended.
Rating: *****
Brand: Worthy Park Quatre Vins, 50% [Jamaica]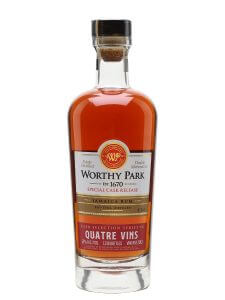 Nose: If the oloroso is all about immediate impact, then this is more restrained. There's light spices and a slightly drier nose but also a greater clarity, with toffee cream, black banana/plantain, cashew butter, then honey. With water, there's the tiniest hint of sulphur.
Palate: Soft with a little oiliness. Honey and spiced and while there's black fruits once again there's also an intense spiciness and oak. Higher acidity as well though the slight sharpness is reduced when water is added. Now the interplay between sweetness and spice is clearer, the oak comes into focus as well as a more overt vinous texture.
Finish: Apricot jam and honey. 
Conclusion: Another Jamaica/Denmark mix: ex-Bourbon in the former country, then two years in Montbazillac, Sauternes, Moscatel, and Jurançon sweet wine casks.  It's on the verge of spending too long in the latter. 
Rating: ***(*)