Pinot, manuka and swamp forest – the world of Kiwi whisky
    The last time I headed to New Zealand, things didn't go exactly as planned. What was intended as a family holiday of a lifetime turned into a prolonged, lockdown-enforced stay. Memorable, just in a different way. 
As the standard response I get to this story is, 'what a great place to be locked down,' I imagine folks imagine the Kiwi approach to lockdown still involved being able to carouse with kakapos, go bungee jumping, hike, and laze the day away drinking Pinot Noir. Only one of those was (vaguely) true. Still, we were safe – how safe only became clear when when we returned to the Covid-induced chaos of the UK. 
Anyhoo, I'm heading back there at the end of next month for DramFest and a quick spin around a bunch of distilleries. Fingers crossed things will be plague-free.  
New Zealand's whisky industry has been on a slow build – there's now at least 11 distilleries (with more on the way). As with lockdown assumptions it is tempting to leap to conclusions. We long for easy categorisations – a taxonomy of whisky, with each producing country making a style which is easily codified and understood. Life is more complex than that. Even if a country-wide style does emerge, it takes time for distilleries to bed in and discover what they can make.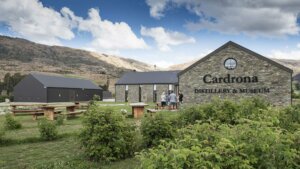 The way in which distillers engage with conditions – location, climate, ingredients, the local palate – is a more interesting angle. The question isn't, 'is there a national style?', but, 'why are you making this whisky this way?' 
The answer, often is, 'because we're not making Scotch,' soon followed by, 'and we want to show what we can make here.' The best of the new distilleries anywhere in the world have place as their foundation – the idea that this whisky and its flavours are linked to where we are and who we are. How that then manifests itself flavour-wise is another question. 
I was speaking with Auckland distiller Mat Thomson, whose gentle, restrained whiskies I've loved his from my first sip in 2016, about this. His response was that place, 'influences flavour in many subtle and not so subtle ways', and while it can contribute to flavour, what was more significant is how it adds 'preciousness'.
Place can manifest itself in purely practical ways. If you have wineries nearby using wine-quality oak, then it's a no-brainer to use them for your whisky. An economic decision as well as a flavour-led one, which in turn ties you to locale. It's one element of what Desiree Reid and team have been doing since Day 1 at Cardrona, in Central Otago.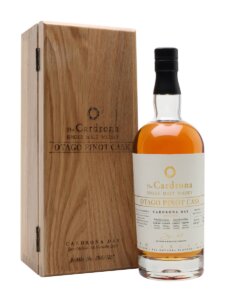 Cardrona Day, a 2018 from four Q.robur (there's a surprise) ex-Pinot Noir casks was released late last year and is bottled late summer sunshine. While the oak is certainly pushing things along, the spirit is big and lush enough not to be bullied. 
Sweet fruits gently soften the oak's pressure before things take an interesting turn on the back of the tongue where a tingling, tart finish that brings to mind an aperitif bitters emerges.
I had one of the distillery's 'Growing Wings' on the shelf – a 2016 distillation released in 2021 aged in a Pinot Noir cask from the wonderfully named Mount Difficulty winery in (relatively) nearby Bannockburn. 
The sweet, almost buttery, core was there, but this had more spice, tobacco, and an almost leathery element. It might be an unfair comparison – single casks are perverse individuals – but tasting them side by side gave the impression that Cardrona has evolved from its initial base. Last year's bottling wasn't simply deeper, but layered – the difference between presence and impact – and evidence of a distillery and distillers working together, comfortable in their own skin, maturing alongside the whiskies.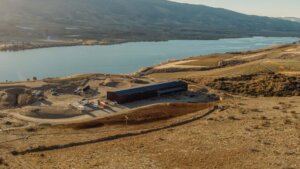 If casks are one way to explore the local, then so is smoke. Mat Thomson has used manuka wood smoke for some of his whiskies, an approach also taken in one of the first releases from Scapegrace whose new £13m distillery is currently being built on the shores of Lake Dunstan (next to Bannockburn), and which will be the largest facility in the country – making gin, vodka, and whisky.
A trio of whiskies have appeared – two at five years old,  one at three, and all aged in virgin French oak. This is a bold move. While French oak gives structure it can be pretty assertive if allowed to overrun. Cognac producers use it for seasoning at the start of maturation, pulling the spirit out after a year or so to give it a more relaxed evolution.
The wood here is certainly punchy, and while all the whiskies show great promise, occasionaslly spirit and oak are akin to awkward teenagers at a school disco. Romance will blossom, fear not.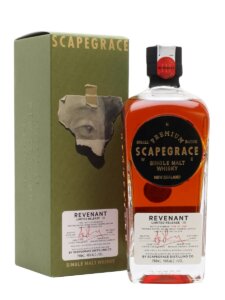 Rise 1 (46%) has a rainbow of colours: green grassiness, red liquorice, and pink coconut, plus golden apricot. There's ginger and allspice on the finish. Chorus II (46%) has higher levels of drying extract, but also slightly fatter feel – baked fruits, almond, chocolate and damp leaves.
The manuka smoke appears on the three-year-old Revenant III (46%). Is it this which gives it a more leathery/shoe polish aroma and a generally beefier character? Keep a lookout.
Smoke is also rising from Waiheke Island Whisky's distillery, but from peat rather than manuka wood. Peat's aroma varies depending on the composition of the flora it's composed of. New Zealand peat, Waiheke says, is made up of flax, moss, rushes and 'swamp forest'. The local at work again.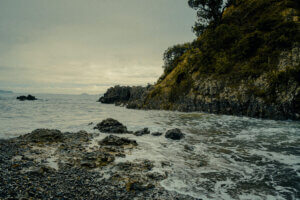 The new make, from quite a high off-spirit cut (65%) has a thrilling, vegetal, mezcal-esque element of green tomato/tomatillo, oak moss, and pear with a background earthiness. Vitally, it has sufficient sweetness to balance. Peaty new makes can be challenging, unless you like putty and paraffin. This is eminently sippable.
Seris I is a lightly peated, 5-day ferment (off spirit at 58%) aged first in STR, then Apera PX. Toffee crisp, pineapple, soft fruits, lemon pepper with the smoke subtle (burning paper, myrrh) and some depth.
Moss is also lightly smoked, but from a shorter ferment, and STR to ex-bourbon. There's some of the vegetal element seen on the new make, with the oak adding in Bounty bars, dried pineapple, and a fresh breadiness. The smoke appears earlier on and works with the green (bay-like) elements to give that mossiness. While there's a more roasted quality, the heart remains sweet.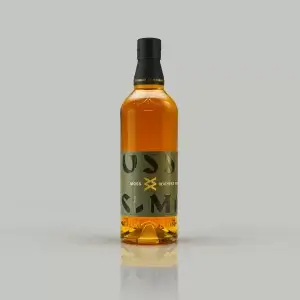 Bog Monster, as the name suggests, is the biggest and therefore has been paired with virgin American oak, then ex-bourbon casks. A four-day ferment this time and off spirit at a very low 55%. There isn't however any of the old motorbike oil and burning rubber which you might expect. The fact that there's more wood isn't surprising, but the smoke is ember-like, aromatic and earthy. It's a Seamus Heaney poem in liquid form. Dig in.
All have clarity and sweetness, not muddied confusion. These are extraordinarily assured whiskies and another interpretation of place from this hugely exciting whisky-producing country.