Into the fjord's great maw. Cliffs like dragon teeth, streaming with rain, looking as if they had just risen from the waves. Lofoten gives you the sense of the world coming into being. Aspen and rowan, juniper and birch, bog myrtle and reindeer moss; flames of yellow, pink and scarlet, umber and green, vivid in the bright air.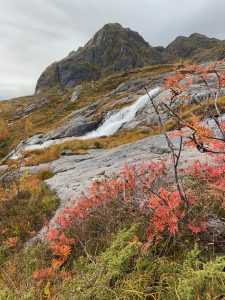 I had intended to head to the other side of the bay, to the next cluster of red ochre painted houses on stilts and to be closer to the mountain with its scrubby trees, early colonisers after the ice sheet's retreat, putting down roots in thin soil finding the fissures in the rock, making soil, adding another layer of life. They, the mushrooms, the lichens, summoned by conditions, just as the cod were called by the cold water, and man called by the cod. 
The plan is soon abandoned as I spot waterfalls in the low hills ahead. Head towards them, along the path, over grippy rock, a frothing burn, through two massive boulders and suddenly in front of me an open-fronted hut like some Japanese sanctuary, looking out over the sea.
The day after we are in its midst, within the Moskstraumen (Poe's Maelstrom), the waves chaotic, confused, tides pushing and pulling the RIB around, leaving us in air, then thudding down into the troughs, the water thickened, oiled, coming from all directions, the skipper sliding us though, negotiating a course, and then back home to Holmen, a pair of sea eagles acting as outriders.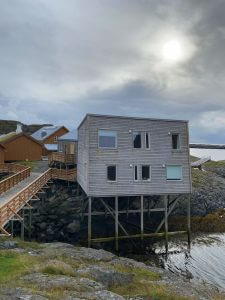 I should tell you about Holmen and about Ingunn Rasmussen. It is situated in the south of Lofoten, an archipelago situated 105 miles inside the Arctic Circle of the western coast of north Norway. Ingunn was born there, one of a family of 13 kids. After years away in southern Norway, then Korea, she returned with an idea to transform an abandoned cluster of fish processing buildings. 
It took her a decade to buy the site and almost as long to rebuild and repurpose the site. Holmen is now a collection of cabins, rooms, a kitchen/dining space with upstairs lounge, outbuildings, a dock from which you can swim or take boat trips. You could call it an eco hotel, or a restaurant, and while it has those functions, it's neither… it's simply, Holmen.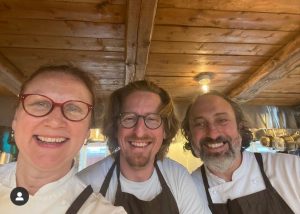 Five times a year, Ingunn and the UK chef/writer/artist/outdoorsman Valentine Warner organise Kitchen On The Edge Of The World, a long weekend where Holmen's kitchen is staffed by Val, its resident crew and a guest chef – this time it was Angela Hartnett (Murano) who brought Luke Holder (Lime Wood) and and Neil Borthwick (French House) as her team. That's a scary amount of culinary experience in one space.  
Her team delved into the stores, fished into the depths of the sea and came up with menus according to the ingredients, and inspiration. One dinner featured langoustine and lardo, one of the greatest plates of food I have ever eaten (reader, I drank the sauce off the plate).
When not eating, you could make skewers and knives with master blacksmith Alex Pole, screen-printing with Tom Frost. There were hikes and walks and talks, the RIB trip. You could even go swimming, if you were mad enough.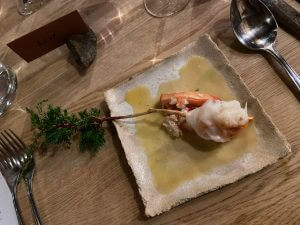 I'd been invited along to do some whisky stuff. It made sense to have a look at some Nordic ones, two of which, Myken and Bivrost, also come from the Arctic Circle. Local stills, in a place where distance seems irrelevant. To them was added Stauning from Denmark's western coast.
As it was a pre-dinner tasting, Highballs made sense – and thankfully my (very) old friend Nick Strangeway, who makes sensational cocktails before and during each meal, was on hand to help. 
I ask the guests who loves whisky. A scant few hands are raised. 
'Who likes it, but is quite new to it?' A few more. 
'Any of you ambivalent?' More now. 
'What about whisky haters?' Sure enough, there's a couple. 
That's not a problem. That's life. We were expecting it – it's another reason for the Highballs. How can you possibly hope to persuade people who are already nervous, or reluctant, to try whisky by giving them a set of neat drams? Weirdly, that's the norm.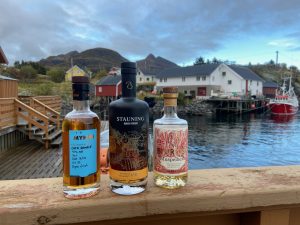 The Myken (a 6 year old finished in a Cognac cask), fruity, gentle, long was served in the classic style. The Bivrost Muspelheim (lightly peated, crisp with sweet undertones – the best yet in their Nine Worlds series) was served 50:50 with a cold-infused Genmaicha (Japanese roasted tea from Rare Teas), and a light touch of sparkling water. 
The Stauning Rye went into a Sodastream with water, a lovage infusion, raspberry, and the whole drink was then carbonated.
The whisky newcomers preferred the Myken mix, the whisky lovers went for the punchier complexities of the Bivrost, while the whisky-averse all loved the carbonated Stauning. 'I never knew whisky could be like this,' said one – and that's the point. Change the serve, the vessel, the temperature. Find the right combination to suit the moment and the person. Whisky is not one thing, but many. 
Another tasting was planned the following night after dinner. This time it's Ardnamurchan, Redbreast 12 year old, and Lagavulin 16. It was wrong to stop the evening and move everyone upstairs, or force the conversations to stop as the weary old routine of A Whisky Tasting was rolled out. So, I spoke a little about history, told stories, threw in a folk tale, talked about place and how conditions: climate, crops, peat create flavour. 
Each dram was briefly described, a serve suggested, but if folks didn't want whisky – there was wine already on the table after all, it wasn't a problem. Equally, if anyone wanted to try them all, that was fine as well. 
Within an hour or so, bottles are emptied, there's a mass of Smokey Cokeys being made, drams being diluted, compared, tried neat… debates over the Stauning Maple Syrup cask (which is exactly as the name suggests). It's a ceilidh. Unplanned, just great food, great drams, the place, and people.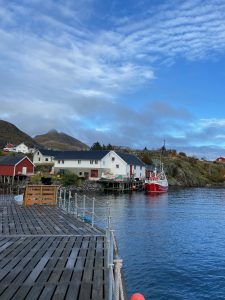 Changing plans at the last minute is part of living here. It's not so much improvisation, which can infer coming up with a solution at the last minute, but being so attuned to the location, the weather, and its impact – those conditions once again – that you intuitively know ways around it. 
There is no plan, but multiple opportunities within the predictable unpredictability of life here. It creates a different mindset, one where nature determines action – understanding that what looks like chaos has a pattern if you go with it.  
Whisky was only one, tiny, element, in all of this, just a simple part of a whole because that is what it is. The incredible food, the knife making, the art, the demonstrations, hikes, and sails, all weave together. It is a totality.
There was no talk from the Holmen team of, 'we are the most beautiful', or 'we're the best'. Rather, by osmosis or immersion you understood what they were saying: 'This is who we are, where we are, and how we live here. Welcome.' 
The location is significant. The rapidly changing light, the intensity of the seasons and the extreme differences between them, the mountains, and the sea. Being on the west coast also matters. The fact that you are on the edge, not psychologically and nervously but physically. Out there is a sea of possibilities. 
The sea makes islands significant, the coast, especially those on the west, makes you aware of space and sky, the pull and push of tides, and how you work with them, become part of them. Create something around that which allows you to make and do and think, and which puts you within nature and encourages expansive thinking. Magic happens.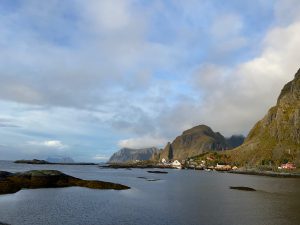 One consequence of the Plague has been the narrowing of both physical space and language. We may have all embarked on improving projects – bread, knitting, gardening, whatever – but being encased in our four walls, trapped behind screens, has placed us within silos, sometimes the very ones we thought we had escaped from. 
We may talk more, but the nature of communication and dialogue has become enervated. This applies to our daily lives and, for those of us who make some sort of a living writing and talking, our work as well. 
If moving into the post-Plague life means a reset button is to be pressed, then it is also time to not only re-examine the old routines, but break out of our cages and think in more extravagant ways about how to see the connections, engage with people. 
Yes, you should try and get to Holmen, and Kitchen On The Edge Of The World, but the principles at work there can be applied, should be applied, anywhere. 
Links
Kitchen On The Edge runs five times a year, once in March, twice each in June and September 
and buy Val's books… especially The Consolation of Food