New Whiskies Batch 8 Glens Moray and Scotia
Two Glens this week. A new Madeira cask from Glen Moray's 'Curiosity' range and a quartet of dunnage drams from the depths of Glen Scotia which formed part of a tasting pack for its on-line Campbeltown Festival. Cask samples only. Stay tuned for an update on new releases from the Wee Toon. 
Brand: Glen Moray Madeira Cask Project, 46.3%

Nose: Softly fruity (well this is Glen Moray) which strays initially towards the blueberries seen in last week's Bunnahabhain. This time, though, there's more rum & raisin ice cream, and fig. There's an almost buttery spiciness and a distinct sponge cake element. Things then move towards tayberry, damson, butterscotch (Werther's Originals), while with water, there's more baked fruits, mace and fennel seed.
Palate: Light, to medium-bodied. Immediately fruity and sweet, with a gently yielding softness that allows the fruits to cluster in the mid-palate. There's lovely balance here between sweetness, the dried fruit and a light grip. There's some oxidised fruits, more of the figs – which plump up with water.
Finish: Spicy, almost smoky black/dried fruits. Tiny touch of acidity.
Conclusion: Balanced, softly layered and rather delicious. More about Madeira here.
Rating: ****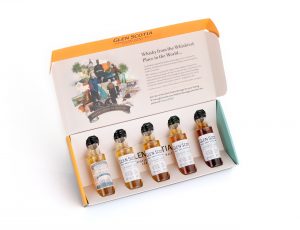 Brand: Glen Scotia Dunnage tasting, 1st Fill Bourbon, 2005, 59.9% [CASK SAMPLE ONLY]
Nose: A slight deepening of colour shows some good cask activity. There's aromas of fresh sawn oak (brioche, vanilla, caramel, chocolate and cinnamon) then some orange zest and some macadamia. Water brightens the citrus into tangerine and adds in a little white pepper.
Palate: A sweet start that brings to mind spiced honey before some drier oak elements combine with pine and cherry giving things an intriguing sweet/sour interplay. There's more of the sweet aromas of the sawmill, then strawberry and suddenly masses of spices making it almost botanical in its delivery. Water makes it much thicker and adds in tobacco notes.
Finish: Tingling spiciness.
Conclusion: At times, this drifts towards Bourbon territory but though the oak is there, it's not dominating.
Rating: ***(*)
Brand: Glen Scotia Dunnage tasting, Bordeaux red wine, 2009, 57.2% [CASK SAMPLE ONLY]
Nose: The colour of rosé wine. A candied, jammy start with a slightly unexpected note of raspberry vinegar that mixes with slightly green elements. In time it becomes sharper – farmhouse cider mixed with fruit syrups. 
Palate: Oddly, it's not as much of a fruit bomb as you might imagine, but there's a vinous quality underpinning the bright red fruits – and a hint of sulphur as well. Things are slightly better with water, but it's not a coherent package.
Finish: Light. Blackcurrant leaf. 
Conclusion: It might be at an awkward stage – we've all been there – but the worry is that the cask will simply take over. 
Rating: **(*)
Brand: Glen Scotia Dunnage tasting, refill sherry hogshead, 2002, 48.7% [CASK SAMPLE ONLY]
Nose: Concentrated. Walnuts and a leathery, savoury meaty quality before dates emerge along with a distinct dunnage aroma: earth floors, cobwebs, before classic dried fruit. Water adds in walnut oil, prune and blackberry. Excellent.
Palate: A lovely musky quality comes out first as things move into liquorice, figs and dried fruits then Camp coffee. There's sweetness as well: black cherry especially, while the supple tannins help to accentuate the silky texture. We then move into Assam tea. Water brings forth vanilla and fresh purple fruits. It's got great length. 
Finish: Things swing back to leather.
Conclusion: Pretty much all you want from a sherry hoggie. Release it! Please.
Rating: ****(*)
Brand: Glen Scotia Dunnage tasting, Tawny Port hogshead, 2005, 57.8% [CASK SAMPLE ONLY]
Nose: Toasted nuttiness – specifically almonds with smoked pimenton. There's also a light, dry, powdery quality, before soft fruits emerge backed with sandalwood and cedar. Complex and distinctly savoury. With water you get dry bracken, then rusty iron mineral notes (Da Hong Pao tea] before a slow build of rich, soft, toffee-like fruits. Quite the package. 
Palate: More of the port elements come in alongside the nuttiness, more obvious oxidised fruits, then berry fruits. As with the Glen Moray there's some lively balancing acidity here while the cedar accents enhance the savouriness. It's pretty dry, but retronasally you get incense (frankincense).Water allows the previously almost hidden sweetness to show itself. At the same time, it's still got plenty of oxidative notes and that Glen Scotia depth.
Finish: Long, drying and nutty 
Conclusion: A dram which doesn't care about being almost too dry. It's confident, sure of itself. Refuses to pandering to the crowd. It is what it is and what it is, is excellent. Release it! Please. 
Rating: ****(*)