New Whiskies Batch 7: Bunnahabhain and Kilchoman
Yes I know the Feis was last week, but.. well.. life. Here's a wee catch up on some of the delights that came across the desk, specifically the bottlings from Bunnahabhain and Kilchoman. Who knows, more distilleries' wares may yet be on their way. 
Brand: Bunnahabhain 2002, Madeira cask finish, Fèis Ìle 2020, 53%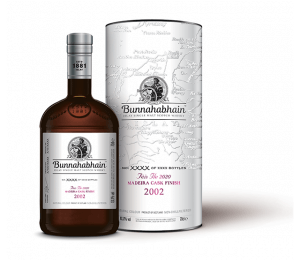 Nose: Ahhh… Madeira. It's there from the off, that distinctive musky fruit which sits somewhere between sloe and blueberry – even a little touch of fruit tea. It seems thick somehow, backed with a nutty element before more fruits return – bruised plum, thick cream. Water makes things fresher – with pear-like fruits and more vanilla.
Palate: Lovely concentration – cooked black, date like and blue fruits and a sense of ripeness without being jammy. The length of the finishing (actually at three years, this is more like double maturation) allows some oak to come in adding structure and complexity. With water, it becomes deliciously bittersweet with ore of a citric touch.
Finish: Damson, and pomegranate, then bitter orange.
Conclusion: I'm a big fan of Madeira but it can be a bugger to balance. Here though it's boisterous enthusiasm is really well handled. A hogshead could easily have dominated proceedings but there's great balance. A goodie.
10% of all Bunna sales (not just the Fèis bottlings) are being donated to The Benevolent.
Rating: ****
Brand: Bunnahabhain Mòine 2010, Amontillado cask finish, Fèis Ìle 2020, 56.9%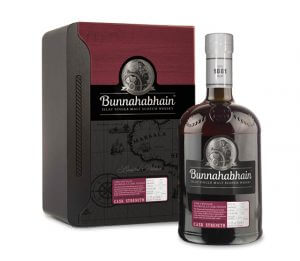 Nose: Initially there's a light green edge, some earthiness, some soot, then black tea and  woodsmoke. Allow it to breathe and there's aromas of an old-fashioned (or indeed modern hipster) barber shop – touches of leather, some fragrant wood, light smokiness. Water brings out more oxidised elements, but I'd leave it on the side – even at this strength. 
Palate: One of those which is quite different on the palate compared to the nose. Now things are more rounded and quite sweet with more overtly sherried elements developing (sultanas/currants) a twang of acid then a roasted maltiness. Excellent mid-palate weight. This takes time to get going and when it does the smoke starts to sweetne somehow and put comes pimenton and bacon bits. 
Finish: Pepper, layered dark fruits. 
Conclusion: Gives this time in the glass and it will reward you many times over.
Rating: ****
Brand: Bunnahabhain 30 year old, Spiorad an Dòchais, Fèis Ìle 2020, 49.9%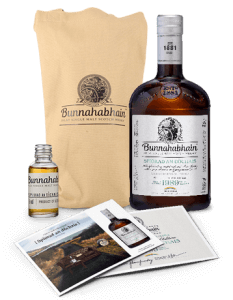 Nose: A rich colour but not too oaky. Rather, there's some of the waxiness of age, walnut butter, then gingerbread and raisin. In time, more figgy sherried elements develop alongside dried apple and mixed sweet spices (cumin, coriander seed, cinnamon) and, oddly cloudy ginger beer. Adding a droplet of water brings out classic tropical fruits and rancio. Layered and slowly developing.
Palate: Thick and quite chewy. The light nut butter is there but recedes as a sweeter more maple syrup like element comes on. There's ore of the gingerbread, then beeswax and Cognac-esque fruit and rancio. Generous, complex, balanced and quietly confident. 
Finish: Moves towards chocolate and thick toffee. Off-dry. 
Conclusion: Spiorad an Dochais means Spirit of Hope which is something we could all do with at the moment. It's also a dram which turns conventional thinking on its head. The first 25 years of its life were spent in ex-sherry, then it was given a further five years in virgin oak. Yes, virgin oak. You'd think that would have adversely affected the balance. Instead it's given a softness and roundness to the whisky, adding more layers. A revelation.
Rating: *****
Brand: Kilchoman (unpeated), 56.4% [CASK SAMPLE]
Nose: There's a hint of milk sweets to start with, then lemon posset, some crisp malt and  a light almond element. Behind all of this are bluebells, new linoleum, tinned pear and (though unpeated malt was used) a hint of smoke. With water there's the sweet smell of a dusty track and almond blossom. All rather lovely.  
Palate: The concentration is amazing. There this remarkable balance between fragrance and intensity, the fruits fresh, yet compressed into cordial-like intensity alongside fresh barley, vanilla pods. Comice pears and then some sweet toffee. The texture is slippery. Water brings out cinnamon balls and that dustiness before landing you back with the floral display.
Finish: Juicy, with a tiny jab of acidity. 
Conclusion: This was part of a tasting kit for an on-line session with Kilchoman's Anthony Wills, and Arthur Motley of Royal Mile Whiskies. Might RMW bottle it? I hope so, it's a belter.
Rating: ****(*)
Brand: Kilchoman Fèis Ìle 2020, 54.2%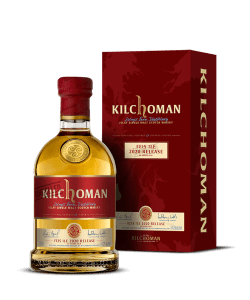 Nose: Crumbly peat, charred wood, and distinct smokiness. There's a slight brininess on the breeze, as well as the aroma of wet sand. As it sweetens so you get some scone mix, more turfy/earthy smoke which is intensified when water is added. Kilchoman in slightly drier and punchier guise than usual. 
Palate: If the nose is slightly atypical, the palate starts, as ever, with real sweetness, some  floral notes, then the windblown sand and finally the smoke. This is one which builds along the length of the palate rather than revealing layers in the centre. It's also considerably sweeter than the nose suggests and when judiciously diluted shows a previously hidden leafy/herbal/grassy element before dried flowers emerge.
Finish: Lightly saline, then the dry smoke. 
Conclusion: Bold, with a certain swaggering power. Worth a gander.  
Rating: ****