New Whiskies Batch 11: Fettercairn, Glen Scotia & Tamdhu
A pair from Glen Scotia, a brace from Tamdhu and a solitary Fettercairn make up this week's new arrivals. THere's chocolate malt, sherry casks, tawny Port and all sorts of wonderfulness. Dig in! 
Brand: Fettercairn 16 year old, 46.4%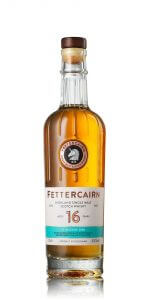 Nose: Chocolate malt, first-fill American oak for 14 years, then 'finessed' [get you] in sherry and Port casks for two years more? Yiu know from the outset that this won't be your shy and retiring type. And so it proves. The chocolate malt shows its hand first – melting chocolate buttons/chocolate chip cookies a back note of vanilla and then a maltiness adding in a biscuity element – chocolate digestives. It started to remind me of a Trappiste beer, with its raisin like fruits and light gingerbread elements.
Palate: The palate is slightly less daunting, amiable even. The sherry cask have added in some liquorice allsorts, blackberry, then espresso coffee from the malt and, with water, touches of more conventional orchard fruit. Softly structured it ends with more gingery spice
Finish: Yet more chocolate. Sweetens up.
Conclusion: I liked it, but it was also slightly exhausting being bombarded with chocolate and sweet dried fruit. One glass was enough.
Rating: ***(*)
Brand: Glen Scotia 14 year old, Tawny Port Finish, 52.8%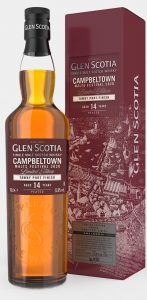 Nose: Remember the other week when I had a look at a Glen Scotia wholly matured in Tawny Port? I loved it deeply. Well, here the same cask type has been used for finishing a peated example. To start with the Port's nutty/oxidative elements come surging out, with some Turkish delight elements and smoky spices adding a floral/savoury quality. The addition of water shows, initially, a slightly softer side leaning more to berry fruits, subtle smokiness and then that lean almost green nuttiness of the Tawny Port.
Palate: It's all red fruits now with added whipped cream (think of a pavlova and you're not far wrong), a touch of apple the sour cherry, nuttiness, and smoke and finally an acidic bite. Water brings these elements together more seamlessly as well as pulling out sweeter elements while suppressing the twanging acids and the more oxidised elements.
Finish: Smoked nuts and this savouriness.
Conclusion: It's not as bonkers as the single cask, but this is a winning combo.
Rating: ****
Brand: Glen Scotia Victoriana cask strength, 54.2%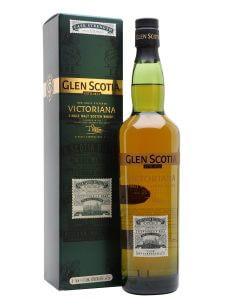 Nose: A crunchy, apple-like start which keeps getting fresher and more green: melon rind, fresh celery. As the slight heat subsides so there's a citric element while the addition of a little water dries things slightly, adding in oak, what seems to be smoke (it might be peat, it could be charred wood) and fresh orchard fruits.
Palate: It's bright and bouncy to start with, then shifts down a gear, slowing, becoming fuller as Glen Scotia's weight starts to show itself. There's a lovely mix of slight oiliness, apple puree, custard and this hint of smokiness. Controlled and poised.
Finish: Dried peels and light smoke.
Conclusion: A sipper, but also could well be lengthened. Seek it out.
Rating: ****
Brand: Tamdhu Dalbeallie Dram 003, 60.7%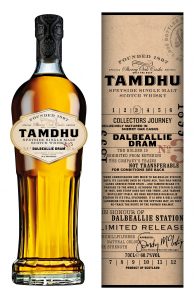 Nose: A not inconsiderable buzz, backed with linseed oil, and cassis alongside a little touch of tar, and cherry pipe tobacco. Concentrated and rich. But give it time and a judicious drop or two of water and a ferny side reveals itself, alongside some estery fruit before the heavier elements reassert themselves: ink, prune, and a distinct whiff of the garden shed.
Palate: Rich and ripe with masses of hedgerow jam, blackthorn, bramble, and some Old English marmalade. The tannins are supple, and the high strength is beautifully controlled by the richness of the cask. Water adds to the flow, adding in some walnut butter, mocha, more black fruit, but there's less of the grunt.
Finish: Long, oak driven with sweet date and liquorice imps, then leaf mulch.
Conclusion: A walk in the woods. Tamdhu just keeps on delivering. 1,000 bottles.
Rating: *****
Brand: Tamdhu 2003, 'Iain Whitecross', cask #5892, 57%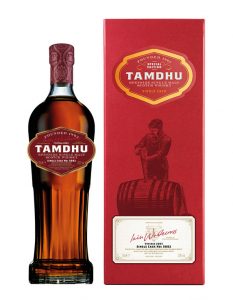 Nose: Softer than the Dalbeallie and sweeter as well. There's a glossiness here: raisins,  figs, then this slight candelewax/brilliantine element and that slight linseed element. With a little water there's this fruit-driven mix of raisin, plum pudding, prunes and Black Forest gateau.
Palate: Ultra-relaxed and almost PX-like in its raisined thickness. The alcohol adds to the citric/spicy buzz which with soft tannins helps to prevent it becoming a shapeless, if tasty, mass. Balanced, rich. Water brings out more of as grip but not so as to affect the balance. We're back to chocolate again, then ripe fruits.  
Finish: Lightly spiced, walnut, then currants.  
Conclusion: A classy cask, chosen by assistant manager Iain Whitecross on his 14th anniversary at the distillery. Only 676 bottles. 
Rating: ****(*)