Montilla magic – beyond the sherry cask
A horizontal forest sits in the light industrial units of Montilla town. Stacks of staves seasoning in the Andalucian sun. From inside, the sound of hammering, the smell of char and caramelising oak. This is the family-run cooperage Tonelería del Sur, (aka Cask Nolia).
The forest is made from four types of oak: American from Ohio, French from Normandy, Spanish sourced in Galicia, as well as Danish. Different forests, grains, and flavours. 
It's a hint of the cooperage's new direction initiated by Rafa Cabello. Young, bearded, energetic, and tattooed, he's moved the business away from making small casks for private use, and repairing solera butts in the region's bodegas, into an export-facing innovator which is changing the concept of the 'sherry cask' – and of Montilla.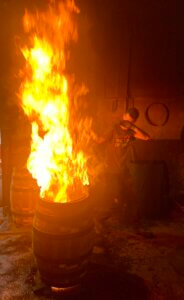 Not that Montilla makes sherry. This small town, 28 miles from Córdoba and 137 from Jerez makes vinos generosos which, though carrying familiar names: fino, amontillado (the term means 'from Montilla') oloroso, and palo cortado, are all made from Pedro Ximenez  [PX] grapes, rather than Jerez's Palomino. Any PX used in Jerez as a sweetening wine (or bottled as wine) comes from Montilla.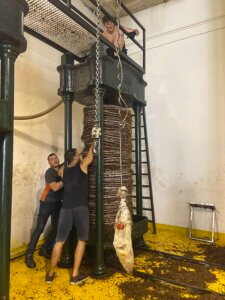 For years, Montilla has been reliant on the requirements of its more famous neighbour. If Jerez does well, Montilla benefits. In a downturn however, the impact is severe. Currently we are in such a period. 
40 years ago, Montilla had 25,000ha under vine. Now, there's a tenth of that. Lagares are closing, as demand for traditional wines declines. Farmers have turned to olive farming. The precariousness of the situation has triggered a change in thinking.  The conclusion is that any solution to Montilla's problems has to come internally. 
While bodegas like Toro Albalá, famed for its apparently everlasting wines, and more recently El Monte's Ximenium range are demonstrating the stellar quality of Montilla's generosos internationally. 
Both are also diversifying into still wines, again from PX – Toro Albalá's three-strong Miut range, el Monte's Cuatro Generaciones – joining a recent movement which incudes Lagar de Salud's 'Dulas', and La Cañada Navarro 'Los Insensatos' range (it translates roughly as 'the crazies'), which has divided its estate into blocks, each producing a distinctly different character. Here is the grape showing its versatility – bone dry, mineralic, with racy acidity with melon, green papaya and floral lift.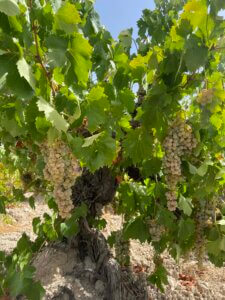 Some of the region's new still wines are barrel fermented, others ferment in and then sit under flor in ceramic tinajas. Some bodegas are also making PX-based sparkling.
Then there's the whisky trade, which is where Cask Nolia comes in. The firm started working with Billy Walker [then at Benriach] in 2007 and now its casks are found across Scotland and Ireland, and with Seattle's Westland as an early adopter, are finding new partners across America.
While the relationship between Andalucia and the whisky trade is an long-established one, Rafa Cabello is taking things a step further by linking a business which can seem an adjunct – even a destabilising influence – to the fortified wines to one which is central to Montilla's new self-belief.
Distillers and sherry producers look for different things when it comes to wood. Sherry is an oxidised wine whose flavours either come from wine and air interacting or, in the case of fino and manzanilla, from the effect of flor. In both cases the casks used for ageing are old inert containers. 
Distillers, on the other hand, want active wood to provide flavour. When a change in law said that all sherry had to be bottled in the DO region, distillers lost their supply of shipping casks and started to work with bodegas and Spanish cooperages to make and season casks for their specifications. 
Today, most seasoned casks are made from new European, (occasionally American) oak, 'seasoned' with oloroso or PX.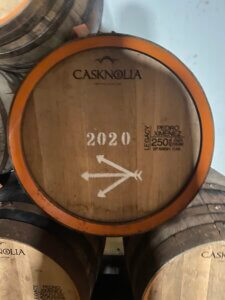 An admittedly personal frustration for many years is that the whisky industry only saw sherry as a liquid used to flavour casks rather than one of the most complex wines in the world, with a myriad of different styles. Finally, however, some enlightened distillers are examining the possibilities which exist.
One of the most remarkable casks in the Raasay distillery warehouse is a manzanilla – a style rarely used by Scotch distillers but which here gives an array of new complexities to the spirit.
'We want both the sherry and the activity of the oak,' says Alasdair Day, Raasay's co-founder and master blender. 'That manzanilla cask is made from air-dried, high toast/char American oak and has had the sherry in it for 24 months. We get the benefit of the wine and balance it with integration from the oak.'
The firm is currently building a new distillery at Machrihanish in Kintyre where only ex-sherry casks will be used. Volume requirements has led to a link-up with the large Tevasa cooperage in Jerez, but Day can still specify seasoning and will be filling amontillado, oloroso, PX, and manzanilla.
NO SACRIFICE
'We're trying to move away from the traditional dependency on oloroso and PX and bring in different layers of flavour,' he adds. 'We're also working with a bodega which experiments with different oaks to understand how sherry's flavours can change depending on the oak type. Sherry is wonderful. The last thing that we want is to use sacrificial sherry.'
It's an approach which has been adopted by Dhavall Gandhi, consultant whisky-maker at Lakes distillery. He views casks as dynamic creators of flavour and texture. 'Sherry can be elegant and nuanced,' he says. 'There are a myriad of options.' 
He uses seven sherry styles aged in American oak, but rather than oloroso and PX being dominant, it is manzanilla, amontillado, and palo cortado which are the main players in his complex blends.
'Bigger brands needed consistency so that's what 'sherry cask' became,' he argues. 'It's now made to suit the style of the major players. Cooperages are forced into delivering what is good for them, not the potential spectrum of sherry.'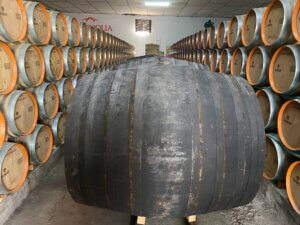 It's a topic close to the heart of Antonio Bustillo, who owns Bodega Xeranthia in Jerez. The former head oenologist and technical director at the late-lamented Garvey bodega, he and his wife started Xeranthia in 2015.
While the seasoning of casks is controlled by the consejo – to qualify as 'sherry cask' all casks must be aged in Jerez using traditional wine styles. All carry a QR code giving all the details of cooperage, wine, length of seasoning.
The wine used, though made in the approved style, is rarely the same as would be bottled as sherry. 'We use first press must for our oloroso to give it finesse,' Bustillo explains, 'but the wine for a distiller will be made from the third press as it oxidises quickly and gives a quick result.' He's too polite to say that the wine will be reused before it goes for vinegar or distillation. Whisky firms, on this reading, only want it for 'sherry taste'.
The question that he and Cabello are asking is, what if the wine used was high quality, and the casks also of top spec? That, instead of seasoning the wood, the casks were maturing wine? If, the argument goes, distillers are looking to make a quality product, why skimp on the quality of the casks? 
Here, in Xeranthia where there are 1,000 of Cabello's casks, the oloroso will mature for two years. The end result is a wine with subtle vanillins and soft fruits – a new angle to the traditional style. 
Bustillo is thinking of using them as either the base for a high-quality vermouth, or even a new type of fortified wine which doesn't have the intense, volatile briskness of the traditional style.'One of the problems in sherry is that people only have one copita. That's then an economic problem for the winery!' A solution is needed. This could be one.
NEW STREAMS
Most of Cask Nolia's work takes place in Montilla. In Galán Portero's winery over a copita of its 40-year-old Marques de Vega, Manolo Galán outlines the dilemma facing the region. 'We are pressing 1.5 million kilos this year [2022],' he says. 'And we're down 30% on last year. 95% of that will head to Jerez. Ageing wine in Rafa's casks for whisky is a new revenue stream. The important thing is that we are using our wine, not mistela [a simple fortified sweet wine] Maybe this is the future? Maybe we can do a special bottle.' 
The same message is repeated at all of the bodegas we visit. At the Delgado winery in the beautiful town of Puente Genil we taste Fino Tertulia en rama fine-boned, with a soft palate but a clean mineralic finish. Its amontillado, Amón, shows coffee, a hint of smoke, tobacco, soft fruit, and an bracing acidity. They are world class, but Montilla's vinos generosos have long been sold at budget prices in supermarkets. How to turn this around? 
At Delgado, the wines maturing in Cabello's casks will be blended into a new still wine, or used for a quality vermouth. At each bodega I visited, the wines (PX, amontillado, oloroso) maturing in Cask Nolia's hogsheads were complex, layered, subtly spicy – but not oak dominant. It's a win-win for bodega and whisky firm taking 'sherry cask' in a new direction..
The key for Cabello is linking vineyard, producer, cooperage, and distiller. Over a copita or three of fino he tells me more. 'I show what is possible,' he says. 'The distiller knows the whisky, they can now then pick the winery they want to use from tasting the wine. They decide.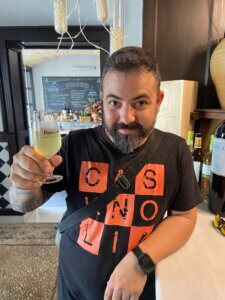 'These casks are expensive, but the distillers need quality. Equally, the winemakers have to be happy because this is their wine – not seasoning liquid. That is the most important thing.'
Jerez-based cooperages such as Miguel Martín and Antonio Paez Lobato are now offering a wider range of sherry styles and variations on cask construction (oak type, toasting/charring) while bodegas such as Fernando de Castilla, and Ximenéz-Spínola are working closely with distillers over the selection of wines – more evidence that some distillers are changing their attitude to 'sherry casks'. 
It won't be straightforward. Montilla has long been reliant on Jerez, which is increasingly tied to whisky, a chain of dependency which is destabilising both regions. The growing demand for casks has had a detrimental effect on the sherry industry, with the balance between seasoning and wine casks being increasingly skewed towards the former. 'It is a great problem for the area,' says Antonio Estévez. 'The price of wine is high, so the seasoning bodegas buy up everything in the co-op, meaning there's an issue for the wineries.' 
With whisky growing globally, and other spirits also wanting 'sherry casks', there is severe pressure on stock. Factor in the decline in the area under vine, and a 60% fall in harvest in the past three years and a 'great problem' seems an understatement. Crisis is more like it. No wonder Macallan has purchased a 50% share in Grupo Estévez bodega [no relation to Antonio] to secure supply.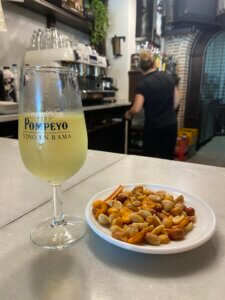 There has to be better balance, somehow, between seasoning casks and rebuilding the reputation and awareness of the wines from Jerez and Montilla. It won't be straightforward, but at least there are now options. Interest in sherry is growing, smaller bodegas are establishing themselves, there's now the new wave of still wines from Montilla as well as the region's top-end generosos. Diversification is vital if both regions are to survive as wine producers rather than suppliers of casks for the whisky trade. 
It puts Cask Nolia in an interesting position. What Cabello is undertaking is an elegant solution to the problem. Rather than going down the line of using low-quality wines for seasoning, he has placed the cooperage at the centre of a new alliance between bodegas and distillers. By understanding the requirements of both he feels he can help create new opportunities for the wine – and therefore the region's survival.
"If we were to do 'sherry cask' we'd just be going in same direction as the others,' he told me. 'We have to go a different way.' Maybe we are entering a time where knowing which wine, which winery, what oak, what cooperage matters in a whisky – because it does.