Leopold Bros' Three Chamber Rye & Westland American Single Malt
There's a longer piece about the background to these incredibly significant whiskeys over here. This is what I found when I poured myself a few glasses (in a responsible fashion). 
Leopold Brothers, Three Chamber Rye Whiskey, bottled in bond, 50%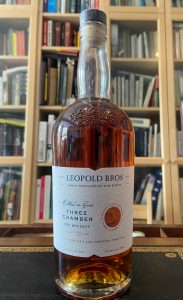 Nose: This is a head-turner, a brain-baffler. The aromas are familiar, but never before seen in this combination – or at this level of intensity. Yes, it's oily, but there's also sweet leather, raisin and caraway, as well as an almost meaty quality. A heavy, slightly nutty, honeyed quality (probably from the malt), develops, but then come the florals which are miles away from delicate aromatic wisps. This is attar of roses, floral absolutes, jasmine, chamomile tea. In time, you get cooked down red fruits, chocolate, and an earthy, mushroom-like, robustness.
Palate: It sticks to every surface of the mouth. Savoury rather than sweet. Undoubtedly spicy, but not in rye's often dusty way. This is filled with Szechuan pepper and clove oil, allspice and jerk seasoning. That forest floor note is balanced by orange peel, chocolate, and towards the back, hibiscus, black Muscat, and roasted tea. It's almost overwhelming.
Finish: The heavy florals add a drowsy perfume. Some honey, hint of supple oak, cherry and still that sweet leatheriness.
Conclusion: It redefines rye. For more click here.
Rating: *****
Westland American Single Malt Whiskey, 46%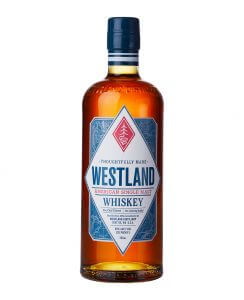 Nose: A mix of barley notes, dried orange peel, coffee grounds, roast hazelnut, hard toffee (plus some minty chocolate), then some angelica and a fresh green quality reminiscent of fennel seed and epazote. At the back there's some smokiness (char? peat? both?) With water, there's some cooked strawberry, pastéis de nata, and still that warning toastiness.
Palate: Immediate impact. A mix of some prickly spice, then nutty/roasted maltiness, espresso crema, and black fruits. Then, boom! It bursts into life, revealing new layers – ale like, but also fresh red apple, dry grass, cedar, and citrus before you pick out roasted coconut shell, and almond. Mouthfilling, and toasted, but juicy at the same time.
Finish: Ovaltine, coffee cake, butter icing, then the black fruits.
Conclusion: A magnificent single malt. For more thoughts click here.
Rating: ******