Flora, Fauna, Whisky and Noodles: China Trip part 4
This is the penultimate part of my China roadtrip taken last year – before COVID19 hit. Happier days, which shall return. As well as more noodles, banquets, and sea cucumbers it features the unexpected launch of a cask-strength edition of Diageo's Flora & Fauna range…Thought that might pique your interest. Read on … 
The birds are up early, but I beat them. There's a plane to catch. No need for breakfast, but we have noodles anyway. A steep turn and we leave Fujian. Scattered offshore islands like turtle shells, a breaching whale, the coastline a frayed sleeve. We head inland over wrinkled hills like messed up bedsheets, the blue morning mist lifting away from the valleys, an army of mountains massing. Blue on blue on blue. Then we dip into the sulphurous yellow and grey. Barges heading upstream, barges heading downstream. The city as a circuit board.
Into a people carrier and head up and in. Whip thin trees, rusted land. A truck full of geese overtakes one filled with chickens. Filthy snow in the air. A three-tier lorry filled with pigs, dirty, slumped, pink eyes in despair. We carve our way through the rock underneath the Buddha. The suck and pull of the encroaching city.
'How does a city work?' asks Sam. 'How can they feed everyone every day? How many chickens does it take?' He was marvelling at the logistics, I was thinking of the resources, the soil, the fumes, the conditions. Dirty white feathers in the slipstream, a pleading eye. Who was to know how all of this was to be tested to breaking point in a month's time.
At the hotel in Dongguan I collapse on to the hardest bed in the world and crash out.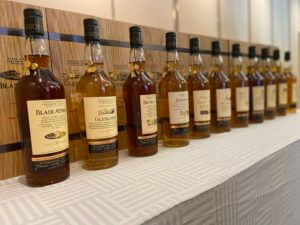 Dinner was the launch of a limited edition Flora & Fauna Reserve Cask range, comprising single cask expressions of each member of the current F&F selection. A collector, looking at the existing selection asked Vivi Shen (who owns the whisky boutique in Guangzhou) why there wasn't a top end version. Now there is. 60 sets of them (including some in 20cl bottles).
I'm not often lost for words when it comes to whisky, but I am now. 'This is just… extraordinary,' I babble. 'It's some kind of genius.'  The exclusive market in China top end is remarkable. Ask and it can be done. Everything is possible.
It does make you wonder why it hadn't been done before. Did no-one in head office think that this might be a great idea? I tale some photos and send to whisky collector friends in the UK, just to wind them up. It works.
The Blair Athol's the only one I try – all prunes, Armagnac, and Soreen malt loaf. I don't ask Sam to translate the last one.
Every brand has its own pin badge which must be sported at all times. This, as a private initiative, hasn't. This causes a minor panic. Solved when Ariel takes off her phoenix brooch and gives it to me. 'Hey, it's a bird! Isn't it?' I look like Dumbledore (younger version).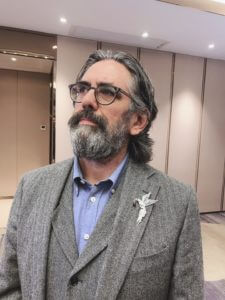 This exclusive end of the market seems to be run by women – boutique owners and wholesalers, brand managers, decision makers. I chat with Chloe, the daughter of the Dongguan whisky boutique's owner. She's worried that she's not using the correct language about the whiskies, 'but this one – she's drinking Linkwood, 'it smells of the spring time.'
'That's it!" I tell her. 'Trust the image. They are yours. Be in the moment. Don't think of what it should be, but how it makes you feel, where you are.'
We drive back to Guangzhou for a farewell pint of Guinness with Anthony and Ariel. It takes 55secs to get to the 95th floor of the Rosewood and check in. Young rich kids mill about the Instagrammable interior pouting into their phones.
Up at stupid o'clock, and back on the road. Mist rising over triangular peaks, steam from the noodle bath, a chill in the air. Five hours later we're in Shantou. A golf cart takes us the 100 yards from carpark to the mall. Maybe we looked tired.
'Welcome back!' I clearly look bemused. I've not been here before. Have I? Apparently I have. He shows me a picture. I suspect it was when the whisky boutique opened and Ueno-san did a shift while we smoked cigars and drank. It's a blur. Everything's becoming a blur.
Lunch and back in the van for the afternoon tasting in Shantou, the city where, apparently, the world's bras are made, and then a 90min drive to Jie Yang for dinner.
The hotel is old school government issue. There's a mountain at the rear with a temple. Birdsong. At last. Actual birdsong. I think back to that tale of the emperor and the nightingale and how it's becoming true. Soon all we will have are recordings.
The room with old school government issue punishment mattress is big. There's lots of sets of drawers and a locked mini bar.There's what looks like bloodstains on the carpet. I think I'm starting to hallucinate. The banquet hall is where local party conferences are held which might account for the muted atmosphere. More sea cucumbers, some abalone. The bar is shut.
Woken to birdsong and smell of cedar. A howling and slap of flesh from the mountain. I imagine Shaolin monks in training. The 36th chamber. White birds flying into the temple's eaves. The air horn of the freight train. Kettle boils. First cup. Back in the van for another five hour drive back the way we came.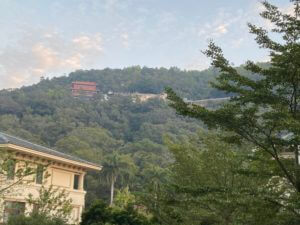 In the service station, Kung Fu noodle is closed, but there's a lovely lady at the Flavor Snack breakfast counter ('Cantonese la bowel and Secret beef balls a speciality'). Sam gets over excited and buys half the dishes. Hey, it's a long drive.
We skim beside a lake, a mountain stays fixed but constantly moving in a landscape which seems to be a study in planes and geometry. An egret. Dots of clouds. We talk of Scottish roads and how it takes half a day to get anywhere.
'We would build a highway there'. 
'Yes but you'd miss the journey.'
We cross cross and double back, reverse and retreat, and repeat.
Where am I now? Oh yes, Shenzhen which seems like a theme park for architects. Every building sports some sort of extraneous frill or post-modern wink. They'll age quickly. The hotel's next to a giant theme park containing China's folklore, all nicely sanitised and presented for the crowds. Don't sneer. We're no different. The Intercontinental's doorstaff are dressed as matadors. Inside there's a stand offering 'dates with Santa'. Even St Nick's got to earn a buck somehow.
Shenzen's a theme park for architects. Every building sports some sort of extraneous frill nor post-modern wink. They'll age quickly.
In. Change. Out. A tasting session in a cool little liquor store with a bunch of bartenders asking about IBs, and Japanese whisky. 'Look at your hands' I start. Sam seems baffled. 'Trust me,' I whisper.
'OK? You all have fingerprints. They are all different. Distilleries are the same …' and off we go into distillery character and how it can be spun.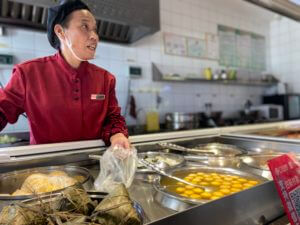 We get lost on the way to dinner, the restaurant being situated on a pontoon at the back of a huge shopping mall. On the other side is an extravagance looking like something out of Spirited Away. A Hong Kong actor arrives. I sign a wall. There's much toasting and a very drunk writer starts talking to me. He thinks I am Italian. I can't be bothered to correct him.
Sounds of clinking in the darkness. Tough beef. 'Mmmm, good. You don't cook it properly in Scotland. All that blood.'
We end up in the owner's private room, with the actor, and some friends including the drunken writer. I get into a conversation with a classic car dealer.
'What do you drive?' he asks.
'Er… I don't drive… but the family car is a Volkswagen.' He tries not to look disappointed.
'I love Bentleys," he says. 'I have four.' The lights glitter off his skull t-shirt.
It's clear a session is on the cards, which I'm bang up for. These are nice and interesting people, and an insight into this new monied world, but it's decreed that we have to leave. Hired help y'see. Know your place.
Trying to navigate our way out, we manage to get locked into the mall. It's a full moon. I start to think about Dawn of the Dead.
Finally released by some shopfitters, we hit the hotel's deserted whisky bar, all lugubrious leather and those immensely heavy chairs you get in American steak houses. No wonder people are out off whisky. The Clynelish is half the price of the Oban.
I have a double. Then another.