Well, this is quite a thing. Three Broras to celebrate the hugely welcome return of the distillery [click here for more thoughts on this] after a silent period which lasted for longer than many of you will have been alive.  Even I was young when Brora closed its gates.
They are every bit as good as you would expect, each one showing how the distillery changed in approach, and how time has changed them. A perfectly chosen celebration.
But… there always a but.  It's £30k for the set of three 50cl bottles which immediately makes them affordable only to those who acquire whisky as an investment. I wonder if any bottles will ever be opened. 
I appreciate the finite nature of the liquid, the need to mark the reopening with something special, the inability to bridge the gap of 38 years, the nature of the secondary market… and yet these are remarkable liquids that need to be tried and discussed. I can only hope that this basic fact will be part of the equation in the future.
So, here's my thoughts. Sorry if these words are as close as you'll get to trying them.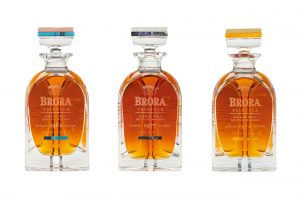 Brora, 'Elusive Legacy', 48 years old (1972), 42.9%
NOSE (neat) As soon as the whisky hits the glass, there's an immediate aroma of green apple, giving a freshness that's surprising in a whisky of this age. This is surrounded by a salty, ozonic element – sea breezes – and a sweet note of creamy lemon posset. 
Leave it alone (this is a whisky which evolves slowly and has to be given time) and those signature old-style Brora oils start to build. 
Now there's lanolin and pungent smoke wreathing around a base of persimmon and overripe fruit – mushy pineapple, pear, peach, medlar, and quince. It's now miles away from that fresh opening, this is heavy, and oily, with the oxidised notes you only get from super-old mature whiskies. There's the smell of an artist's studio, oil paints, primed canvas, old books, wet dog, lilac, smoored peat fire mixed with salted/smoked fish (bloaters), a slight meatiness, some camphor. Bold, complex, all-enveloping and incredibly long-lasting. Highly complex.
NOSE (reduced) Now the funkiness of age begins to make itself known. The moorburn-like smoke has receded, replaced by more of those shoreline elements, plus some dried orange peel. The oils remain, but the effect is slightly diminished. I'd leave the water on the side.
PALATE (neat) This develops in three interlinked acts. First, light, drying woodsmoke kicks things off, giving the tip of the tongue a slightly ashy quality along with a tiny flaring of heat, as if from hot embers. As this shifts to one side, you begin to pick out pot pourri, dried fruits, some vanilla, and dried lemon peel. 
By the middle of the tongue, however, you're overwhelmed by the roiling, palate-coating mass of oils, which carry the fruits (ripe banana, stewed peach) along, smoothing out the tannins. It is huge long-lasting, brimming with unguents and waxes, and flavours which are unfamiliar in whisky – and therefore very Brora. 
This exotic, savoury, quality with umami/meaty elements is reluctant to give way, but finally  with a suggestion of fresh orange pulp you are into the third act, and back on the shore again: salt, halibut oil, smoke, then a touch of pine, and green olive. There's a slight yeastiness making this similar to a manzanilla en rama.
PALATE (reduced) Though things are certainly sweeter, I'm not sure if water improves the impact. There's less salt, and a further lowering of the smoke – now little more than distant burning heather.A new meaty element akin to chicken stock appears, adding to the oily umami richness. It does seem to sag under the weight of the water. Keep it neat.
FINISH Ripe fruits, a peppery citric catch, some salted liquorice, clove, and a farewell puff of coal smoke.
CONCLUSION: This is the Brora we have come to expect. It is whisky at its most primal. Superb.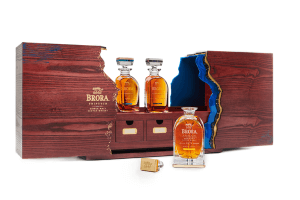 Brora 'Age of Peat', 43 years old (1977), 48.5%
NOSE (neat) Interestingly, this starts quite closed, and seems light, a little prickly, lightly spiced and with a tighter focus than the 72. Then the weight of maturity becomes more apparent. Slowly, stealthily, the fruits make their way forward, giving it a greater solidity and robustness. There's also a sense of compression. Fruits ripened in early autumn sun emerge. You can sense the physicality building in the glass. 
This is Brora from the 70s, so there's oils, but here they are more on the rancio side: beeswax, old leather, and a suggestion of tropical fruit: guava, mango, pineapple, a little peach, melon and quince. All of this sits within Brora's rugged seashore setting. Wax candles glimmer on a polished table. In time, there's some damp earth/warehouse and a bready element. It flickers between the fruit, light smoke, and an almost starchy crispness.
NOSE (reduced) The fruits are still there, but now there's a new fizzy energy as well as a little more cask: toffee, cream, cappuccino. The fruit salad effect remains, while that starchy element is now fresh plaster. Once again I'd keep it neat.
PALATE (neat) A soft, sweet and rounded opening. There's rich, honeyed elements, and  more of a noticeable buzz from the alcohol. The fruits now lean towards apricot, and there are also some lively acids keeping the tastebuds tingling. 
By the time it reaches the mid-palate, the juicy fruits have taken charge, alongside the oils which further plumps and fattens the overall effect. There's this fascinating, and seemingly contradictory mix of ripe mango and peach with salty, mildly meaty, umami-rich flavours. Fruity, yes but not conventionally so.
There's a light drying grip – cedar like – and the effect becomes firmer and slightly drier with an added spiced element (allspice, white pepper), some preserved lemon, and light woodsmoke. Things start gentle and soft, but end up retrained and more structured. An enigma.
PALATE (reduced) A lovely concentration of fat vanilla pod, those light tropical fruits, oiled waxed paper, some dried tangerine peel, and a sense of suppleness. A classic mature, rancio-affected style dominates up to the back palate when things start to dry. Out comes more salinity, and water biscuits.
FINISH Lightly oily, slightly acidic, with smoked salt. 
CONC The effect, like in the '72, is of a whisky which has moved into a different dimension.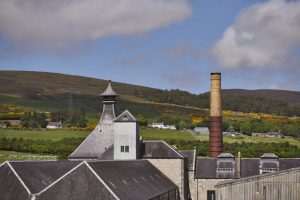 Brora, 'Timeless Original', 38 years old, (1982), 45.7%
COLOUR Light gold
NOSE (neat) Bright and slightly lean to start with which is typical of these later Broras. A spray of grapefruit oils on a cool day, and a slightly powdery quality. There seems to be a little more cask coming into play here – touches of vanilla, white chocolate, but even then it's still a light touch.
It takes time for those more familiar Brora qualities to emerge, though this time there's a dairy fat element rather than oiliness – clotted cream, buttermilk. In time, waxiness (old lipstick) and then sheep fleece. 
As this funkiness clears, so more estery aromas come out – green apple, soor ploom, ginger juice, bamboo shoots, acetone, and ripe pineapple. Then there's another wave of waxiness, now accompanied by cafe au lait, and ripe apricot.
NOSE (reduced) Lighter, and now with purer fruit elements: mirabelle, pineapple, Bramley apples/Calvados. There is also a more perfumed element –  old fashioned sweetie shops and scented face cream. It's sweet, but you can sense the acidity. It's slightly naked compared to the lusher qualities on the unreduced nose. Again, a dram which is more expressive when neat.
PALATE (neat) Soft, thick, unctuous and waxy to start. As with the nose this is accompanied by a bright energy. Here's also no real smokiness. A new era. The scented aromatics now come across as rosewater as well as a slight soapiness. 
By the middle of the tongue things are becoming waxy. There's a dip into the sheep fank, dry grass rustling (not the sheep), and still those lactic elements which pairs with a banana-like flavour. This fat quality recedes as the green fruits emerge along with a slight solvent kick, and some cereal. A peppery, unripe pear quality brings agave to mind. Now is the time for the acidity to set in – pink grapefruit, blood orange – and as it does so the dram seems to tense up, then release a crystalline saltiness.
PALATE (reduced) Round and immediate and while the start is, perhaps inevitably, thinner start, the mid-palate is more coherent and bouncy. Still the fruits, the cream, light waxiness and some chocolate. Finally there's zippy acids and salted lemons.
FINISH Dusty tannins, the merest hint of smoke, then waxed lemon. 
CONC: A dramatic difference here to the '72 and '77, with lower smoke, and oiliness, but greater waxiness and acidity. More Clynelish-like in fact. The freshness is remarkable at this age and you are left with the feeling that there was so much more to come. It's both the most straightforward, and yet the weirdest.