Bloomsday: soap, whiskey and Ulysses
Today is Bloomsday, so let's wash our hands with lemon-scented soap, pour ourselves some whiskey, pick up Ulysses and celebrate that great whiskey lover, James Joyce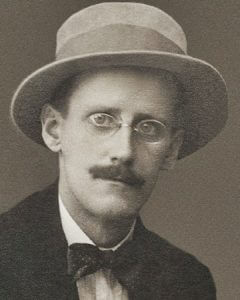 Amazing what arrives through the post. Bottles mostly, but over the year's I've acquired stones, a range of bar equipment, clothing, water bottles, numerous glasses, foodstuffs and a safe without a key, but this was a first. I could tell from the smell. Not boozy, more lemony, in a perfumed way. 
Inside was a book-shaped package of that excellent Irish whiskey, Walsh's 'Writers' Tears', and the source of the aroma, a small rectangular block wrapped modestly in brown paper. 
On the label it said 'F.W. Sweny & Co., I Lincoln Place, Westland Row, Dublin'. Now it was beginning to make sense. Sweney's lemon soap. Cool wrappered, sweet lemony wax. The famous soap which jiggled in Leopold Bloom's pocket on the 16th of June 1904. The day of Joyce's Ulysses. Bloomsday.
I read the note which encouraged me to wash my hands thoroughly, avail myself of a dram (or three) and read some of Joyce's work.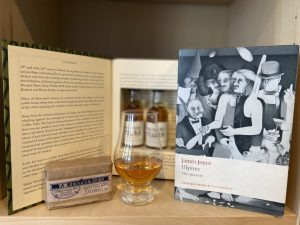 There was a further link. Sweny's ceased its pharmaceutical activities in 2009 and since then has operated as a second-hand bookstore and Joycean hub. It also sold the soap of course. A recent threat of closure was averted thanks to financial support from Brendan Walsh and Writer's Tears.
The pharmacy is a few strides from the spot where, on 14th June 1904, Joyce was stood up by his future wife Nora Barnacle. Two days later she relented – hence the date immortalised in the novel. 
Joyce quizzed Frederick William Sweny about his work and in Ulysses has Bloom muse about sleeping draughts, lovephiltres, and alchemy. 
It's not that far a leap from there to whiskey, a subject whose fumes drift through the writer's work. Perhaps that was an inevitability, given that his father, John, was secretary of the Chapelizod distillery [later Phoenix Park] when it went bust in 1877, significantly reducing the family's circumstances. 
John, like many at the time, had been tempted by the promise of untold riches for those who invested in whiskey. Get rich quick schemes, guaranteed returns. Has anything changed? The Chapelizod collapse was something which rankled with James for the rest of his life and emerges in many of his works. 
As Prof. Frank Shovlin writes in his essay, 'Endless Stories About The Distillery','Whiskey is, for Joyce, a complex and multilayered device by which he can achieve several results: by referencing it and stitching it into the weave of his fiction, he can gain revenge for his wronged father, [and] he can draw attention to the caste system of early 20th-century Ireland…'
Floating on an ocean of whiskey
For Joyce, whiskey can be a lens to view Ireland, a way of redressing wrongs, or be used romantically: 'The light music of whisky falling into glasses,' [Grace, 'Dubliners']. He also knew how over-indulgence could turn loquaciousness into tedious monologue, 'when we knew [Cotter] first [he] used to be rather interesting, talking of faints and worms; but I soon grew tired of him and his endless stories about the distillery.' [The Sisters, 'Dubliners']
'Finnegan's Wake' floats on an ocean of whiskey. The book takes its name from an old music hall song about a dead bricklayer who is resurrected at his wake when whiskey is accidentally spilled over him. 'Wake? Usqueadbaugham!' he yells in the novel as he revives. 
The Wake's main protagonist, the publican HCE, also owns a distillery, though it blows up at the end of Section III, the culmination of seven rip-offs and disasters, each worse than the last.
'Till, ultimatehim, fell the crowning barleystraw, when an explosium of his distilleries deafadumped all his dry goods to his most favoured sinflute and dropped him, what remains of a heptark, leareyed and letterish, weeping worrybound on his bankrump.
'Pepep. Pay bearer, sure and sorry, at foot of ohoho honest policist. On never again, by Phoenis, swore on him Lloyd's, not for beaten wheat, not after Sir Joe Meade's father, thanks!' There's Joyce's father once again.
The Wake speaks of poteen, iskybaush, and uskybeak! Whiskey is warped into finisky, whiskerbristle, irskusky, Isker and soda. There's mentions for Paddy, Bushmills ('Busmullah'), Power's, Roe (whose distillery also went on fire) and even some Scotch among the 'good balls of malt.'
Brand loyalty
Most frequent are the references to Joyce's favourite dram whose quality he claimed came from the fact that it didn't just use Liffey water but used it 'mud and all. That gives [the whiskey] its special quality.'
Delve in the murk and you can see, Fidge Fudgeson, Shamous Shamonous, Shaun Shemsen, Jhem or Shen, Jon Jacobsen, Juan Jaimesan, jemassons, Jonjemsuns, Jammesons', Jhon Jhamieson and Song, JJS, JJ&S
Joyce apparently had 'JJ' in the same typeface as the Jameson logo on his wallet and in a moment of despair about never finishing 'Finnegan's Wake' appears to have considered the possibility of brand sponsorship. 
His plan was to bring poet James Stephens on board. 'If he consented to maintain three or four points which I consider essential and I showed him the threads he could finish the design' Joyce write to his publisher. 'JJ and S (the colloquial Irish for John Jameson and Son's Dublin whisky [sic]) would be a nice lettering under the title.'
After all of that, it would be churlish not to raise a few glasses in the man's memory this Bloomsday. Let celebrations be unconfined. After all you'd be following in the steps of the greats. 
The first such event took place in Paris in June 1929 when Sylvia Beach, founder of the Paris bookshop Shakespeare and Company, and Ulysses' publisher, organised a charabanc trip. 
Joyce was there, along with his sone Giorgio and other, including his then secretary Samuel Beckett. According to accounts Beckett got 'outrageously drunk. They kept stopping for drinks along the way and it was said that he was thrown off the bus for causing a rumpus.'
Sam it should be noted was also a whiskey fan, though preferring Bushmills. Maybe we could have a Beckett Bush celebration on his birthday … suggestions on a postcard.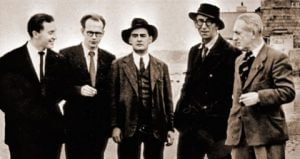 The second Bloomsday was remarkably similar. In 1954, publican and critic John Ryan had the bright idea to recruit writers to retrace Bloom's peregrinations around Dublin. Inviting such famed drinkers as Patrick Kavanagh and Brian O'Nolan [Flann O'Brien] turned out to be foolhardy. 
Though the initial idea was to spend all day on the re-creation, by the time they'd staggered into centre of Dublin, the plan was abandoned and they spent the night in the pub. They did have time to urinate on the beach though. You can see it here.
This year's celebrations have been curtailed somewhat – Bloomsday turning into Zoomsday – but check here to join in on-line events. Sweny's is hosting an on-line reading. 
You could easily do it yourself. Even if you don't care to breakfast on 'thick giblet soup, nutty gizzards, a stuffed roast heart, liverslices fried with crustcrumbs, fried hencods' roes..and grilled mutton kidneys' you could make do with a gorgonzola sandwich. Pop some soap in your pocket, put on a mask and wander the streets, or simply at the end of the day pour yourself 'a glance of Irish frisky (a Juan Jaimesan hastaluego)'.
If you fancied, go the whole hog and, (after washing your hands with lemon soap), make everyone in your social bubble a James Joyce cocktail.
45ml of Irish whiskey [Writer's Tears or Jameson Crested]
22ml sweet vermouth
22ml Cointreau
14ml fresh lime juice
Combine, then shake over ice
Drink
Begin again
usqueadbaugham!
For more on the Joyce family's whiskey connection and its influence on his writing I'd urge you to read my esteemed friend and colleague Mr Richard Woodard's superb piece on Joyce in scotchwhisky.com [RIP]