Batch 15: Diageo Special Releases 2020
Each year, the end of summer is announced with the arrival of Diageo's Special Releases. This year sees a continuation of the 'nature' theme of 2019 – and unsually with the same distilleries. There is also a split between age and youth here and a heavier than usual examination of American oak. 
Things have changed since the days of SR's being a chance to try Brora and Port Ellen, while the arrival of Prima and Ultima seems to have hived off some of the more outré elements which the range always included. 
SR's used to be a chance to find out about experimentation, familiar distilleries in different settings, unfamiliar ones showing their quality. They often challenged perception, always told complex stories. 
This year? I like them all, but only loved three – and those were the youngest.   
Brand: Cardhu 11 year old, 56%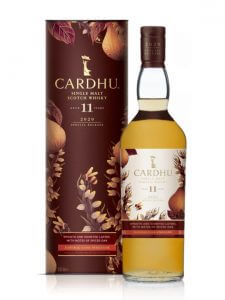 Nose: Well, isn't this fresh and lively? Brimming with sweet, scented meadow hay, garden herbs, and a little suggestion of milk chocolate, then tangerine and cooking apple. It's buttery (in the Aberdonian sense of the word) along with a slightly dusty perfumed element reminiscent of rouge. With water added things plump up slightly – some strawberry, Dolly Mixtures, and more obvious cask elements: a slight charred note, dessicated coconut, and the crumbliest flakiest chocolate. 
Palate: Very similar to the nose. Sweet and immediately pleasing with a rush of fresh and lightly floral fruitiness backed with light spices. There's a cereal element lurking in the middle, then balancing oak. It does benefit from water being added, upping the aromatic elements without losing any intensity. Now you get nutmeg mixed in with more clearly defined citrus peel.
Finish: Ripe fruits, then soft oak-generated flavours (cream, pastries) 
Conclusion: Matured in a mix of refill casks ex-Bourbon and new oak – and thankfully the last of those hasn't bullied its way to the front as it so often does. All in all, a rather delicious, wake me up dram. It'll sadly probably be overlooked, but if you see it, try it. 
Rating: ****
Brand: Cragganmore 20 year old, 55.8%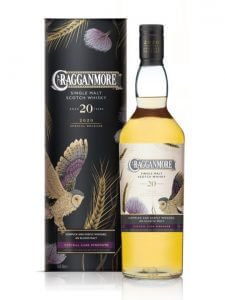 Nose: Polished, fat and oaky from the off. You can sense (rather than experience) the distillery's richness – there's stewed rhubarb, plum jam, and the tobacco note which Cragganmore often throws your way. Things are pretty firm however, with the oak sitting proudly up front, all creme brûlée and suntan oil. Water makes things more expressive and better integrated: envelope glue, walnut, an almost waxy aroma, and dried apricot, though the oak remains a fairly stern presence.
Palate: Now you can get a little more of Cragganmore's complexities: a sweet start, leading into a nutty/savoury mid-palate. There is a sense of weight alongside some smoky/charred elements (it was very lightly peated two decades ago) and some of the wild hedgerow fruits you expect can be spotted behind the oak fence. It does remain hot, meaning water is again the saviour. Now it shows its maturity: layered fruits, some cacao, the scent of an old library, burnt stick.
Finish: Ripe orchard fruit. Mild.
Conclusion: Aged in refill and new, freshly charred hoggies. It's almost there, but as with all of the unpeated ones, there's a sense of reticence at work.
Rating: ***(*)
Brand: Dalwhinnie 30 year old, 51.9%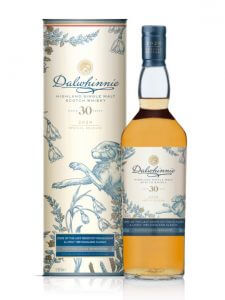 Nose: Another quiet one which opens very slowly. There's some prickly heat but you can discern a mix of wholemeal bread and syrup, with some cedary notes behind. Add water and things change. Now there's creamy pavlova (meringue, berry fruits) which moves into into sweet botrytised wine, and some of the oiliness you'd expect from this time in cask.
Palate: It's restrained on the palate as well, but hot, meaning all of its undoubted qualities are beneath the surface. Water adds in some peachiness – and some length – more of the chestnut honey, some caramel toffee, but underneath there's this sense of fragility. A fleeting encounter.
Finish: Soft, and slightly short.
Conclusion: Refill hoggies were used here. While there's plenty of the the distillery's honeyed element, I want (greedy bugger that I am) something which speaks of three decades in cask.
Rating: ***(*)
Brand: Lagavulin 12 year old, 56.4%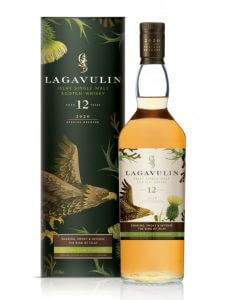 Nose: What has happened this year is a little more activity from the cask, adding just enough weight, making it rounder and more balanced than the slightly (too) lean examples of the past. It's saline to start, a plunge off the pier, fresh fruits de mer, then aromatic smoke. It has a fresh cool almost 'airy' quality, then with water some marsh gas, bog myrtle, preserved (salted) lemon and a little more heft. There's a pulsing sensation, the smoke barely tethered, ready to erupt.
Palate: … and it does. Smoky from the off, dry, scented, with classic notes of Lapsang Souchong's herbal pineiness, moss, eucalypyt and a tiny medicinal touch.  There's good texture here, the bright citrus adding lift and balancing the smoke and the salt. All of this is softened by water – sweetened as well, adding in more brine, hickory and sandalwood smoke.
Finish: Smoked oysters.
Conclusion: This is Lagavulin with no frills, just distillery character, refill cask, enough time. Bosh. 
Rating: *****
Brand: Mortlach 21 year old, 56.9%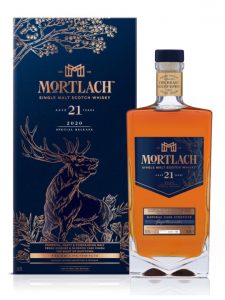 Nose: There's not a massive uptake of colour from the cask but you do quickly pick out the silkiness (and concentrated sweetness) of PX. This is light for Mortlach, and shows the distillery's maltier side rather than its meaty one. In time, there's an aroma which weirdly reminded me of a dry cleaner's, along with chocolate pudding, walnut whip and, in time, ripe black fruits. Water makes things softer, more raisin and fig-accented. The finishing casks are upfront here.
Palate: There's the glossiness which you expect from the use of PX and oloroso finish, but low meatiness and savouriness. Rather, things are precise, there's some blue fruits, ginger in syrup. Water is needed to add in the nuttiness and widen the flavour spectrum into orchard fruits, raisins and chocolate truffle, and a tiny bit of spice.
Finish: Raisin and nutmeg.
Conclusion: By no means a beast. Like all of the unpeated ones it is understated – a new direction for the SRs?
Rating: ***(*)
Brand: Pittyvaich 30 year old, 50.8%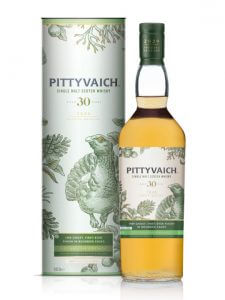 Nose: Light and slightly distant. There's a green bergamot kumquat thing which flirts with orange blossom before vanilla and coconut come in. Water ups the fatness, and pear, while the creamy oak and adds in a rather lovely memory of the skin of a rice pudding.
Palate: As delicate as the nose with some apricot, then green peppercorn. Here is another which needs water to calm the alcohol buzz. Now things become gentle, sweet, and light, with glimpses of guava, pineapple and a green nuttiness in the background. Texturally it is soft, and lightly clinging.
Finish: Fresh and slightly green. Zesty. Short.
Conclusion: From first-fill ex-Bourbon. It behaves like a Roman candle – a fizz and a spray of pretty lights. Pleasant.
Rating: ***(*)
Brand: The Singleton (of Dufftown), 17 year old, 55.1%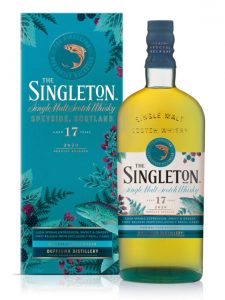 Nose: Delicate and quite shy, but fresh and fruity – the theme continues. This time, there's gooseberry, kiwi, light heat and a tiny hint of cinnamon. In time there's emulsion paint. Water gives things a decent louche, more lychee, and fleshy fruits.
Palate: It's saving itself for the palate. More weight than the nose suggests and a delightful palate-clinging quality now more white peach. Mild and syrupy, with cut flowers and a prickle of heat. Add water and more soft, slightly creamy elements come out alongside nougat, light pear.
Finish: Scented and quite long.
Conclusion: From refill casks. More of a textural whisky than an aromatic one. You can see how useful it would be jn a blend. The distillery name is now almost hidden at the foot of the label. 
Rating: ***(*)
Brand: Talisker 8 year old, 57.9%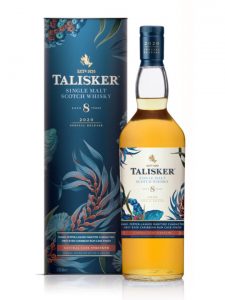 Nose: Initially dry and slightly smoky, with a crisp, fresh attack. Hot oyster shells add to a pretty marine opening that's backed with a lightly phenolic punch. At the start the rum hangs back allowing aromas of Cullen skink, then dry heather to come out. There's a hint of struck match and, with water added, more obvious smoke, now with riper fruits (banana, pineapple), and blooming heather. 
Palate: It is here where the pot still rum finish states its case, adding a light funkiness,  that almost solvent like fruitiness, and super-ripe banana which balance the punchy smoke and saltiness. The feel is supple, with pears now stirred into the Oily and rounded. Water adds some sweetness and some of the new make sulphur – though this isn't a problem for me as it links nicely with the pot still elements and smoke.
Finish: Smoky, pungent, peppery. Apple. 
Conclusion: The use of pot still rum casks is inspired as it takes the whisky away from the usual vanilla/tropical fruit salad elements into  a more funky area – where Talisker already plays. Rather than dialling it down – a problem for me in some releases – this maximises distillery character but pushes it in a different direction. Special indeed. A cracker. 
Rating: *****