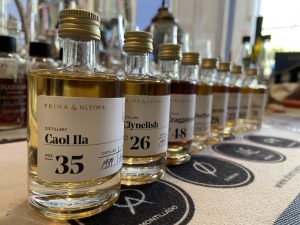 On one hand, Prima & Ultima it is an eight-strong series sold by the set for a cool £20,000. Roll up, registration started on Wednesday and there's only 237 of them. www.exceptionalwhisky.com. Bottles will also be available for individual purchase. [The bottles are not the same size as those in the pictures] 
It is also a selection, by Dr. Jim Beveridge OBE, of whiskies each of which tells a story of a specific time in the distillery's history or development.
There is a valedictory element to the accompanying booklet. These are whiskies with personal resonance. This is Jim looking back on his time. A sense if not of finality, then of times passed, and time's passing. It's a fascinating experience. 
Brand: Caol Ila 35 year old (1984), 50.8%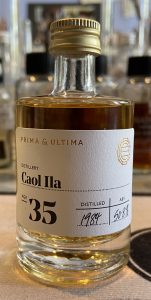 Nose: This is a grounded Caol Ila with a lightly oily aroma and an unusually tarry, phenolic backdrop which gently fattens out into rendering pork fat and salami. It's unusual to see Caol Ila in such assertive and dry guise and it takes time for balancing vanilla-like elements and oxidised maturity to reveal themselves. There's more here than meets the nose. It becomes more deliciously piggy like with water, along with a dusting of fennel pollen, and a touch of green grass. 
Palate: In tune with that new found decisiveness there's immediate smokiness remarkable in a whisky so old. Once that clears, there's a sensation like a sparkling clean landscape after a storm – all bright lemon acids, sweet pecan, and even some green grass. The smoke then returns and you follow it towards old creels in the sun by the harbour wall. This to-and-fro continues – sage like smoke, then freshness, chestnut honey, then smoked bacon. With water a dry, biscuity element pops its head up, with some acidity, then the smoke pours through the breach.
Finish: Chewy, long, and salty. 
Conclusion: This comes from a single refill butt which Diageo sold but then, the story goes, sought out and bought back. A bold, sophisticated Caol Ila. [499 bottles]
Rating: ****(*)
Brand: Clynelish 26 year old (1993), 49.8%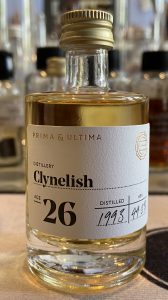 Nose: That enigmatic waxiness, candles, and a slightly saline/mineral edge that gently opens to baked peach, ripe pineapple, and wet straw. A little shy but that is typical of what is often a palate whisky. 
Palate: It is very Clynelish insofar as it's all about the texture. Waxy, tongue-clinging – the candle is now snuffed – with lemongrass, some creaminess, and sweet stone fruits. When water is added (and I'd recommend it) there is quince-like sweetness, tinned pineapple, honey waxiness, overripe banana, orange sherbet, and touches of sea salt. Leave it and it becomes hugely perfumed – jasmine absolute. 
Finish: Thick, floral, salty skin.
Conclusion: Clynelish defies easy definition. It is hard to speak conventionally of a whisky which is often more of an effect than a taste. Listing the aromas and flavours firm never quite capture the experience – and when words fail, just experience it, allow it to paint its own pictures, revel in its strange sensuality. There's a lesson there. 
This is from refill American oak hoggies and was casked not long after Jim and his team had discovered where the waxiness came from. [941 bottles]
Rating: *****
Brand: Cragganmore 48 year old, 43.7%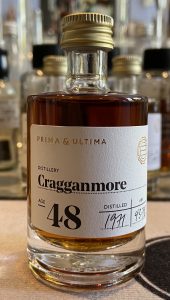 Nose: Old, mature, and sherry-laden (Armagnac, prunes, polished oak) which moves to the savoury side, alongside light meatiness (and flat cola). There's the rich aroma of damp autumn earth, pipe tobacco, and chestnuts on a coal fire. In time you can pick out treacle, walnut, and raisin, with a chocolate element which touches on bitterness. Is it still identifiably Cragganmore? Yes. Just. I'd keep this neat. While dilution reveals the power, it also brings out the oak.
Palate: There's just sufficient pruney sweetness – and a little Ribena – to balance the inexorable power of the cask and the weighty leathery elements which start to press down. The cask grips on the back palate, giving the impression that time is pressing on, squeezing and concentrating the fruits. It's now a race between this and the inexorable advance of tannins. It remains balanced and deeply, profoundly complex. Another meditative whisky, though in a very different way to Clynelish. 
Finish: Dry, raisined.
Conclusion: Cragganmore. The Classic Malt which people forgot, overlooked, or never quite understood. Its weird distillation: flat-topped spirit stills, worm tubs, creates a complex spirit which can be pushed in many directions. I wonder if, oddly, it's too complex.
Maybe it is easier to understand a whisky which has a theme and variations leading from that clear base. Cragganmore is more of a free-blowing ensemble, with all elements given equal emphasis. The complexity and balance is there, just not in an orthodox fashion. 
This example is the distillery in its big, powerful guise, every bit a match for better-appreciated Speyside heavyweights. It comes from the last run from its stills when they were coal fired. [352 bottles]
Rating: ****(*)
Brand: Dufftown 30 year old (1988), 48.8%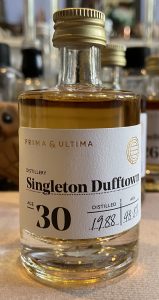 Nose: A tiny amount of nose burn, but it is steadily calmed by light yellow fruit, daffodil, and hot doughnuts. Light and easy-going, with lfruit syrups, and clover honey. A middle class lady walking over the grass at Glyndebourne, all small talk and charm, leaving a soft sillage of flowers and fruits. There is however more depth and maturity when water is added. First impressions are rarely the whole story. Stick around. 
Palate: This last quality is reflected in the more langorous palate (though that prickly heat never quite disappears). It's a waiting game, the whisky only really coming alive near the end, where there's a slight thickening and a gentle blooming of ginger cordial, and elderflower. Water adds a riper character and more mature elements, adding some elegance.
Finish: Fading and a slight fragility.
Conclusion: One of the early examples of Dufftown moving from a short to long ferments. Out went the nuttiness of the past and in came gentle flowers and fruits. Also nice to see it with age but unencumbered by sherry. Old refill American oak hoggies doing the trick again.  [469 bottles]
Rating: ***(*)
Brand: Lagavulin 28 year old (1991), 50.1%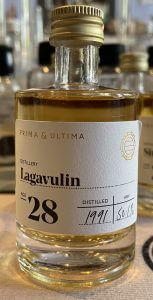 Nose: Complex from the off. Spiced and cured meats, some sel gris, then bay leaf/laurel and bog myrtle, the smoke massing like an offshore cloudbank. In time things become slightly more mossy, before there's a release of spent bonfire (dawn after a beach rave, wrapped in woollen blanket). It is Lagavulin turned up to 11. With water, some tarry rope, roast meats, 'sweetness' and seaweed.
Palate: It slides in, all herbal oils, then a jolt of bog myrtle's resinous intensity, some orange oils; then it stops being polite, and the phenols explode on the middle of the tongue. Scented, reeking smoke, nut, pitch pine, and redwood. A uncompromising whisky. Take it on its terms or leave it alone. You don't need water, but should you add it things sweeten up considerably revealing a background acidity which has helped generate all of that energy. It then sinks into kelp and brine.
Finish: Lapsang souching-like piney smoke. Fragrant.
Conclusion: Powerful, restless, and ever shifting. The refill casks here have had little to do bar add minor adjustments along the way. This is distillery character writ large. [1,013 bottles]
Rating: *****
Brand: Mortlach 25 year old (1994), 55.1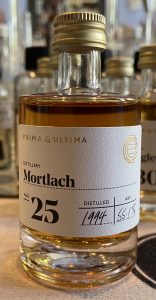 Nose: You're met with roasted malt – this is nuttier than many Mortlachs – that morphs into roasting coffee beans, chocolate and some meatiness underneath. In time, there's more figgy elements before you get robust biltong/beef jerky, the suggestion of light smoke and a touch of struck match.
Palate: A meaty and slightly sulphury start with red pepper flakes/pimenton. Now, blackberry, and raisined fruits have taken over from the nuttiness of the nose. The twinge of sulphur is tied to barbecuing meat. Time is needed for flavours to develop. In time, you get basting juices, venison and black cherry. As with the Cragganmore, there is a tricky balance to strike here between distillery character and cask, the tannins starting supple but becoming grippy by the end. Water brings out fireworks, then deepens as the tannins show their teeth. This is not an easy whisky. 
Finish: Meat stock.
Conclusion: One of the final PX/oloroso-seasoned European oak butts filled in 1994.
The sulphur just pokes through slightly too strongly. [389 bottles]
Rating: ***(*)
Brand: Port Ellen 40 year old (1979), 51.2%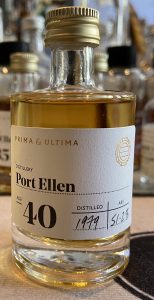 Nose: A whiff of an old paint shed, then very subtle basil/anise notes accompanied by a light mist of smoke and some oxidised fruits. There's a precision here, with a cool, fresh, herbal quality. 40 years and it's only now beginning to move. When water is added, you pick out some salty preserved lemon, light clove (again back to the basil) and some ginger, but also a slightly plain unadorned quality.
Palate: The very sweet start makes you wonder where the smoke has gone. It's all sugared almonds, sugar mice, and nougat. It's only after this has developed that the ashy, drying, heathery smoke emerges. Some horseradish leaf appears when water is added, but things dry a little too fiercely.
Finish: Only now does oily smoke emerges. 
Conclusion: Narrow in terms of range compared to the other peated examples here. There's a sense of things unresolved. Can't help but wonder whether this could have lasted another decade. From a single European oak butt (presumably pretty knackered). An intersting comparison to the recent 40 year old '9 rogue casks'. [436 bottles]
Rating: ***(*)
Brand: Talisker 31 year old (1988), 51.4%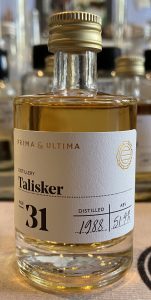 Nose: It's very Talisker. You get this build up of oils as it matures – here it's cod liver oil to be precise. There's pepper as well – Szechuan. These are then stirred together with verjus, and remarkably some of the pear notes which are in the whisky from new make stage onwards. 
Why is it different? The way in which all are amplified, integrated and woven together by a higher than normal medicinal quality. The smoke appears negligible – there's more of the carbolic side than a bonfire. In time a pressure wave of seaweedy salt water builds. Diluted, and the pure fruit elements come through more clearly along with violet and pease meal. All-enveloping, immense, enigmatic.   
Palate: A light maltiness appears first, with the smoke barely noticeable. In fact here the interest lies in seeing how the overt salinity is kept in check by the fat oiliness of the texture and the sweetness of the fruit. All move continuously around each other – this is far from a linear whisky with flavours developing in an orderly fashion.
Just as things seem to reach a crest, another wave of flavours develops this time cedar, lemon pepper, pepperleaf and wasabi. Water produces another equally intriguing sensation as the roiling mass is replaced by a calm scented depth. It hangs in the mouth. Everything is still, and yet slightly dangerous.
Finish: Salty and lingering.
Conclusion: More refills, this time of six casks of spirit which always showed lower smoke character. The depth here isn't one of flavour but of character, a quality which you only (and occasionally) get from truly mature whiskies. [721 bottles]
Rating: *****