Batch 14: New global whiskies
A hugely exciting collection of new, world whiskies from Australia, Brittany, England, Germany, The Netherlands, Pacific North-West, and Taiwan. Five are from those fun folks at That Boutique-y Whisky Co. Single malts, native grains, different oaks, different casks. Should Scotch be worried? It should certainly be aware …
Brand: Amorik 7 year old, Batch 1, Boutique-y Whisky Co., 50% [Brittany]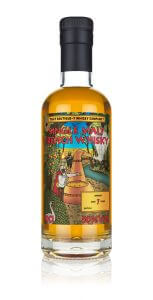 Nose: There's a spicy, slightly burnt wood/char note here, alongside warm nut oil, chocolate, and a pleasant touch of the farmyard that drifts towards hay, reed beds, and tatami.  With water, things start to crisp up and show more of the barley.
Palate: The charring of the cask comes across strongly, adding a woodsmoke note which works well with the brown nuttiness of the malt. There's also just sufficient sweetness (ripe pear, greengage) to balance. With water, you can see the different elements: nuttiness and bready to start, then the singed elements and fruit in the middle, before they all combine in an Ovaltine like end. Well balanced.
Finish: Drying. Milk & cookies
Conclusion: There's a sense of naturalness here – a whisky made from malted barley, yeast, copper, and oak. I love that clarity of intent. The oak, incidentally is heavily charred Breton. 
Rating: ****
Brand: Adelaide Hills Native Grain, (Wattleseed/malted barley), 46.2%
Nose: Light and very clean, with a spicy touch. Starts slightly grassy, then a dry toasted quality: biscuits, strawbale. Water brings out a mix of the youtful green elements, some old lemon hull, angelica seed, and cocoa. 
Palate: It is briefly creamy, then this unusual, bone dry carob character builds alongside dry leaves, and some nuttiness. On the back palate there's a tiny citric element, a hint of stone fruit, then dry roasted spices. You pick up more mocha when water is added which also softens the palate. 
Finish: Unripe peach. It's still a little green.
Conclusion: Could have done with a little more time in cask, but if I'd found such a fascinating range of flavours new to whisky I'd have put it out early as well. 
Rating: ***
Brand: Adelaide Hills Native Grain, 2019 BQ001, (Wattleseed/malted barley), 46.2%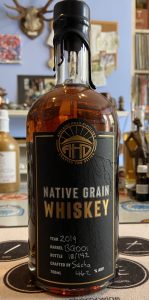 Nose: Creamier than the initial release, with more of the red fruit from the Cab Franc cask starting emerge. Fruit compote, butter melting over hot popcorn, a chocolatre ote in the background.
Palate: A very soft and creamy start with glimpses of black fruit and a growing spicy buzz. Steadily, a mocha element grows. Rounded and appetising, it alternates between what is pretty lush oak and this fascinating bone dry carob and nuts. The fruits added by the cask act as a binding agent. With water added, things soften and become better integrated, allowing you to pick up more citrus. Though it couldn't be accused as being sweet, there's real character balancing the double hit of French oak and wine.
Finish:  Decent length. More of the distillate. 
Conclusion: The wattleseed is now more clearly exerting its control and adding a balancing element to the lush oak. Sadly, as wattleseed isn't considered a grain this will be the last 'whisky' made from it. For more on this click here.
Rating: ****
Brand: Adelaide Hills Native Grain, ADP7 (Weeping grass/malted barley), 46.2%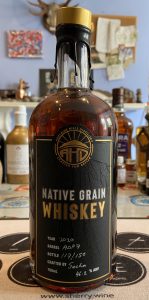 Nose: Again, the spice come out first – more overtly ginger like alongside a windblown, dusty quality. There's a touch of cherry, light nutty cereal, then light almond/cherry leaf. It definitely needs water which adds fresh fennel seed and a floral weight.
Palate: Rounded, with soft red fruits, and the almond elements before it tightens around the half-way point: crunchy cereal/nut, and an almost musk-like element. The addition of water has a transformative effect. Now there's upfront ripe fruits (a mix of apricot and plum) alongside green olive tapenade, anise, and more toffee. The crunch still takes place half-way in, bringing out more ginger snap biscuits.
Finish: Dry.
Conclusion: Though the cask (Cab-Franc in French oak) has more to say here it's balanced and very intriguing.
Rating: ****
Brand: Copperworks 3 year old, Batch 1, Boutique-y Whisky Co., 50.7%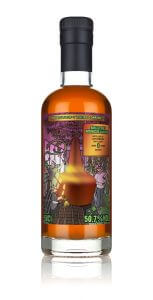 Nose: Sweet with a rippling power. Starts with Crunchie bar/honeycomb, maple sugar flakes, sweet spice and an amber malt element. Brass polish. In time, spiced orange and cedar element, then red apple. Becomes spicier after water is added. This  also brings out the slightly phenolic notes of new American oak.
Palate: Starts with red fruits, barley sugar sweetness, and nutmeg before it darkens into chocolate with ginger and chili, black cherry and some tobacco leaf. There's a caramel note in the middle as all the elements cohere into an exuberant burst of ripe fruits, flamed orange peel, and roasting coffee. Water calms things (a little) allowing the fresh citrus and spice.
Finish: Maple syrup butter.
Conclusion: 3 years old??! This is a blast and further proof of Copperworks' status as a great American single malt producer. 
Rating: *****
Brand: Elsburn 7 year old, Batch 1, Boutique-y Whisky Co., 48.5%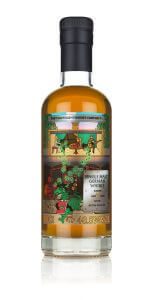 Nose: Slighty bready and, initially at least, a little shy. There's some soft black fruit, adding a slightly vinous quality as well as some punchy (freshly sawn) oak. Give it time (and water) and there's dill, fresh white bread, oxidised Oolong tea, then heady blue and black fruit, and rose petal. 
Palate: Perfumed (creme de violette/Turkish Delight) and winey, there's also some pistachio and, oddly, less wood. Instead there's serious weight from a gloopy berry fruitiness though there's just enough acid to balance. The back palate heads towards Armagnac-like dried fruits and malt extract. Water does nothing to lighten this sense of dense ripe fruit.
Finish: Fig jam and walnut bread.
Conclusion: Made at Germany's Hammerschmiede distillery, this has been aged in an ex-sherry butt and then given a blast in a sherry octave. With the angels snaffling 10% a year there's little surprise that this is a dark fruit bomb.
Rating: ***(*)
Brand: Lakes Whiskymaker's Reserve #3, 54%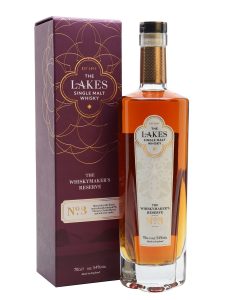 Nose: Autumnal fruits hanging heavy on the bough. This latest release shows a sweeter side of the distillery's rapidly forming character. There's distinct oxidised nutty sherried elements balanced by cassis and an overall heady heady bloom which takes things into a dusky area  – lilac, iris, Moscatel. Water brings out coconut, plum jam, nutmeg, gingerbread and weirdly, new shoes. 
Palate: Thick and chewy, with the PX showing more clearly. By the mid-palate some Terry's chocolate orange bursts out, then comes sweet liqueur chocolates, creme de mures, and bramble jelly. The tannins are low. The addition of water adds more variation, bringing out chestnut honey, red liquorice red and molasses.
Finish: Sugary when neat, more balancing acidity and citrus with dilution. 
Conclusion: A complex blends of casks and elevage: PX, oloroso and cream sherries, plus red wine. Big flavours. To see how it compares to the previous two releases, click here. 
Rating: ***(*)
Brand: Millstone 4 y ear old, Batch 3, Boutique-y Whisky Co.,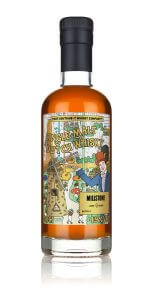 Nose: Barley plus sherry, but on the spicier side: coriander seed, lemon, cassia, and a clove element. This is aromatically in your face and becomes increasingly oak-driven – the wood showing a slight sappiness, then cypress and raisin. As it opens, so things become more overtly herbal. Water brings out strawberry, apple sauce, pine, caraway and smokiness.
Palate: It's a little raw to start, then you get a yeastiness, with green grassy/herbal notes. The malt remains crisp and peanut-like before it gives way to sultana, and baked pear. By the middle the caramel sweetness is there, as well as a little prune. It needs time for all these apparently disparate elements to start to come together – and water helps. Now there's burnt sticks, and wheat beer-like clove and banana.
Finish: Softer than you expect.
Conclusion: It needs a lot of time to open, but longer in wood might have better integrated things. (From two peated PX hoggies)  
Rating: ***(*)
Brand: Nantou 4 year old, Batch 1, Boutique-y Whisky Co., 49%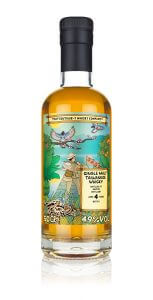 Nose: Very fresh, with super-ripe melon dusted with cinnamon, some waxy florals, and a bourbon-like cherry note in the background. A lovely, lifted, almost oily quality which opens into jasmine flowers and tropical fruits (pineapple especially) soaking in their juices. There's also a hint of fresh cane juice. None of the freshness and fragrance is lost when water is added, but there is an upping of the cask-derived creaminess. Ultimately calm and delicious. 
Palate: More obvious cereal elements here – oats and sugar. A whiff of pineapple rum, fresh mango, then vanilla and a hint of frangipani flowers. The mid-palate is  gentle, with a tiny grip of wood, but not so much as to curtail its effervescent personality. The oak is there, but pushed back gently. Water brings out an almost rye like spiciness and dries things slightly. Persobnally I'd keep it neat for the full tropical effect.
Finish: Vanilla, pineapple, lemon, coconut, guava. Laid back. 
Conclusion: Utterly gorgeous. 
Rating: *****