Batch 13: Speyside roundup
Seven drams, six distilleries, one distiller, two bottlers. Between them a great cross-section of Speyside in mostly distillery-forward guise. Dive in! You can even click through to buy … 
Brand: Aberlour 25 year old (1993) 54.1% TWE exclusive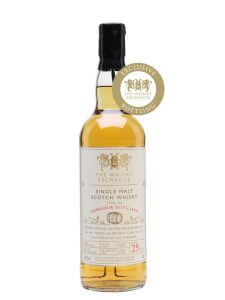 Nose: Although this opens with hints of Aberlour's malty side (barley sugar, oatcakes) soon an oft-hidden distillery character of blackcurrant leaf emerges, alongside juicy fruits – apple puree, pear. Here is a classic example of a relaxed maturation, the whisky being allowed to build in weight thanks to air. You get lush, syrupy fruits leading into boot polish. It's assured. yet subtle. A drop of water softens things further. Now you get quince and mirabelle.
Palate: Perhaps unsurprisingly, it is fruity to start with, but as is typical for drams of this style, time has shifted the focus away from a list of flavours into a world of texture (last week's Clynelish was similar). It's slow-moving, hugging the tongue. The grip is there, but gently applied – more of a squeeze. You can pick out cooled Darjeeling first flush, and more of the blackcurrant, some glimmers of peach, honey/beeswax, then crisp malt. Water again brings out quince, but things do tighten a little, so I'd keep things neat.
Finish: Lightly spicy.
Conclusion: I like Aberlour in this style rather than being blootered with oak as it so often is. You can sense the whisky sighing with relief. 
Rating: *****
Brand: Glenburgie 21 year old (1998), 55.4%, TWE exclusive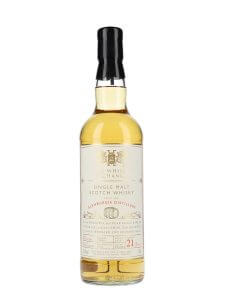 Nose: A slightly different style of Burgie – dry slightly dusty earth, a little malt and some dried apricot hanging around in the background. Water plumps this up more, adding in sweeter orchard fruits.
Palate: This is more in tune with the distillery character. There's estery touches of ripe banana, pineapple, and pear, then age and malt combine to give the impression of honey on wholemeal bread. It manages to be thick, yet still energised. There's extra depth in the middle of the tongue with some strawberry tart, and more of the semi-dried sweet fruits. As with the nose, the addition of water fills things out, adding some buttery qualities.
Finish: Sweet and slightly more oak.
Conclusion: The nose is slightly odd, but made up for by a lovely gentle palate. 
Rating: ***(*)
Brand: Glen Elgin 24 year old (1995), Asta Morris, 49.1%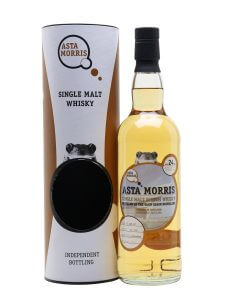 Nose: Instead of Glen Elgin's usual peachiness you're met with an instant hit of tart cooking apples, quickly followed by basil, parsley stalk, then high-toned citrus (grapefruit/yuzu), and some William pear. The pale colour shows very low cask influence, some bitter melon and, with water, acetone and pear drops. Fresh!
Palate: Still on the apple side, it starts fresh and distillate forward, but by the middle of the tongue you get greater concentration: peach kernel, poached pear, apple syrup. It copes well with water, which removes the slight tension, allowing things to relax and breathe, with the softer elements now cohering on the back palate.
Finish: Sweet. Some elderflower.
Conclusion: The dominant apple character makes me wonder if this was made during the Pombé yeast trials. It's a dram to chill down and extend into a highball.
Rating: ***(*)
Brand: Glen Moray Distillery Edition, Chardonnay 2003, 58.3%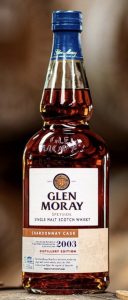 Nose: Though there's some nose prickle, you can pick out lightly spiced wood (cassia bark), then peachy elements, and hazelnut butter. Adding water is essential (for me at least)  in order to see the mature, cedar-accented, mellow heart that's balanced by some hard candy/travel sweets, honey and lemon.    
Palate: Trying neat just burns the tongue, but by dropping in some water it's easier to pick up how the mature elements continue here – waxy, liquorous, with banana cut with red fruit and runny cream toffee. By the mid-palate you get the sense of fruits being compressed, while that honey and lemon lozenge quality remains.  
Finish: Spiced orange. 
Conclusion: Normally these whiskies are only available at the distillery but given the impact of Corona are now being made available on-line. 
Rating: ***
Brand: Glen Moray Distillery Edition, Burgundy Cask 2004, 60.1%

Nose: Oddly, this is lighter in colour than the Chardonnay. It's also chewier with some dry oak and an almost smoky back note. Again, water is needed to shake it into action and while thing remain wood-driven (antique shop, sandalwood, tobacco) there's attractive elements of marzipan, and a backnote of mirin.
Palate: Chili-numbing heat, so a little water is needed. You sense the underlying lightness of the spirit, along with some apple, greengage, light acidity, then rhubarb. As it opens, there are more berry fruits, with a similar orange note to the Chardonnay cask emerging towards the end.
Finish: Zesty, then a little chocolate.
Conclusion: Surprisingly low in vinous qualities and though more oaky, it has decent balance. The final member of the trio, an ex-Chenin cask, is heavily sulphured.
Rating: ***(*)
Brand: Glentauchers 21 year old (1997), 54.5% TWE exclusive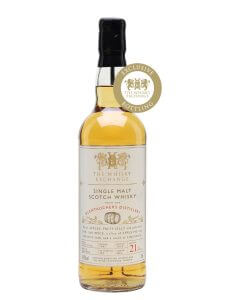 Nose: Things are all very well-mannered and orderly to start with: fragrant notes of hyacinth and freesia, with touches of almondy meadowsweet. Once again we have very low cask influence but not at the expense of maturity. With water, you get a touch of confectionery as well as spicy, yet green elements – ginger beer and lime. 
Palate: A confected start – old-fashioned sweetie shop: raspberry chews, rosy apples, then marzipan. This quality remains when water is added, but there's now sharper acidity.
Finish: Cinnamon balls and liquorice allsorts.
Conclusion: Eating sweets at the back of the school bus. 
Rating: ***
Brand: Miltonduff 20 year old (1999), 50.7% TWE exclusive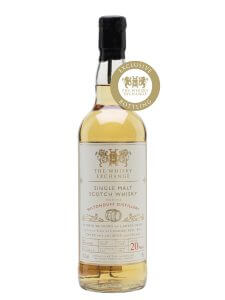 Nose: Pale and – once again – distillery forward bringing this sense of immediacy. Summery and bright: lemon blossom, cider vinegar, and pineapple jam. Water brings out more citrus and this almost fuzzy frutiness, and a previously hidden milky yoghurty quality.  
Palate: Everything continues in this effervescent fashion, but with more of a cereal edge that takes you towards sweetened porridge with nectarine. The fact it is apparently unhindered by wood – throw away your corsets! – allows the distillery's floral fruity elements free rein. You sense the maturity when diluted adding some white peach and time-softened – and slightly richer – fruit.
Finish: Fragrant, fresh, light pineapple.
Conclusion: Complex, balanced, and rather wonderful.
Rating: ****(*)