A Virtual Speyside Whisky Festival 1: From the Shelves
Today's article about the Speyside festival is about memories, so I grabbed a few old friends from the shelves. Most hadn't been seen for a while. All had been saved for a special occasion – or because I couldn't quite bear to have that final parting glass. 
Any tasting throws up links and themes which were unintended (or at least hidden) at the outset. This is no different. Tasted in a vaguely logical order rather than alphabetically. 
Brand: Linkwood 12 year old, Flora & Fauna, 43%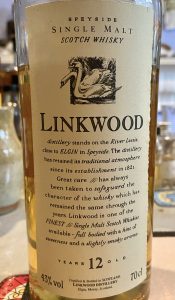 Nose: Ahhh the freshness of spring – green apple, cut grass, powdered ginger on a just ripe melon along with a delicious Amalfi lemony acidic lift. A breath of fresh air. 
Palate: It starts by replicating the nose (as things should do) but then things take a surprising turn as it slows, thickens and becomes palate clinging and almost oily. As it clings to the middle of the tongue you get tinned pear in syrup. Then, suddenly, it's gone and that zingy acidity takes over again.
Finish: Fresh slightly sweet. 
Conclusion: This is one of my essential whiskies. It tells you how light doesn't mean lacking in complexity. It shows the importance of balance, and texture but in a way which is wholly open. There are whiskies which set you an intellectual puzzle. There are others which say 'this is who I am' – and which are utterly delicious. This is one of those.
Rating: *****
Brand: Longmorn 16 year old, 48%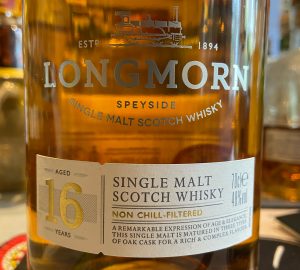 Nose: Medium bodied and fruity – which is after all what you want from Longmorn, so like Linkwood the key here is how the distillery character is to the fore. Instead of the fresh spring meadow, here the fruits are ripe and cooked. There's sultana and some peachiness, even a hint of rhubarb and blueberry jam and more red fruits in time. It has real elegance. 
Palate: Fresh fruit is the key here. An apricot-like note nods to neighbours Benriach and Glen Elgin, but there's also raspberry fool and towards the back a touch of toasty maltiness.
Finish: Candy floss and strawberry chews. 
Conclusion: If I still had a bottle I'd have had the old 15 year old OB, and for years I've grumbled about how much better it was compared to this, but looking at this today on its own terms I see what a lovely dram it is. OK it's lighter, but no less charming. Memories of doing a festival tour there with Michael Jackson and Martine Nouet, and the former being asked why he was taking notes when he'd been there many times before.
'Because I always find out something new,' replied the great man.
There's a lesson. 
Rating: ***(*)
Brand: Convalmore 28 year old [1977/05], 57.9%
Nose: Resolutely old style and a classic example of a aged whisky that's been given a very relaxed maturation in refill. It's waxy (that was the distillery character) funky with hints of damp suede, some malt, then linseed oil. It's simultaneously sweet yet also slightly overripe – similar to the oxidised quality of vin santo. Layered and complex. 
Palate: Still remarkable (I've been sipping away at this for a long time). It is one of those drams where all you need to do is wet your lips and let the whisky do its work as it expands across the tongue. There's light oak, that botrytis element, honey, cashew, waxed paper. It's an old house (in fact it has whiff of old sofas). Somehow it tastes of sunshine, but there's a subtle wistful almost melancholic air to it. 
Finish: Spice as the heat is retained. 
Conclusion: Simply one of my favourite whiskies of all time and the one which started a dive into the mysterious world of rancio and whether it existed in whisky (short answer,  yes it does). It's this strange balance between the pure and the rotten which intrigues me the most. As with life, things get more interesting when rot and decay are brought into the equation. 
Rating: ****
Brand: Glenrothes 1985 (bottled 2005) 43%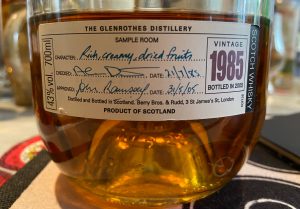 Nose: OK, this has been sitting around for a while and has some bottle stink but you know it's none the worse for that. There's some of the leather of the Convalmore but this time it's your old hiking boots thick with glaur as you walk through a beech wood in autumn with a basket of mushrooms. I time it becomes more overtly bodega like – wood,  walnut, damp sherry-soaked sandy floors. 
Palate: Yes, it's faded the richness which used to be its signature now faded but what is left is the core, the old dunnage warehouse, that earthiness. All the flighty elements have gone. We're left contemplating the roots of its life, the core. There's no artifice here. This was always here, it just kept it hidden. Life, eh?
Finish: Cigar ash. Softening. 
Conclusion: Past its best, but every dram teaches you a lesson.
Fond memories of the gang sneaking away from our respective minders to spend long nights at Rothes House with Ronnie, yarning as the light slowly faded.
Rating: ***
Brand: Beinn a'Cheò 1995 (bottled 2007), 51%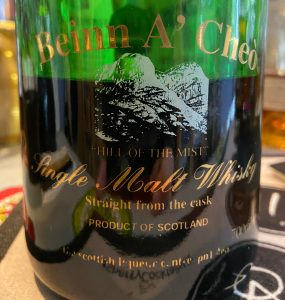 Nose: Also long in bottle and another which has been dipped into over the years. The colour is rich mahogany the nose amazingly fresh and sweet. This is classic oloroso (not cask, but sherry) but there's also some Seville orange adding a balancing jag of bitterness.. In time, coffee grounds (That's very 'Farclas) and cacao and even a tiny touch of molasses and treacle toffee.   
Palate: It's a little tired but the sweetness remains carrying the flavour on, softening any tannins, adding hints of blackcurrant and those cocoa nibs. There's even some freeze-dried raspberry. Still delicious. 
Finish: Drying slightly. 
Conclusion: You won't recognise the name, but this is Glenfarclas bottled by The Scottish Liqueur Centre as an exclusive (I believe) for Royal Mile Whiskies. At least, that's who I bought it from when I was up doing an early Rum Chapel at Whisky Fringe.
Rating: ****
Brand: Glen Grant 25 year old, Gordon & MacPhail (probably from 2008), 40%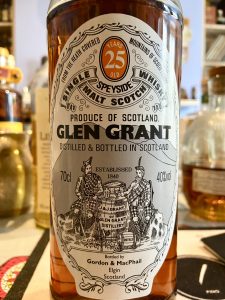 Nose: Mature and immediately elegant. There's a surprising amount of mint here, thyme as well, then some peach, candied peels, toffee, then spices (with clove leading the way). It's lifted and aromatic with some pot pourri and balsam elements which drift into fragrant eucalyptus. One of those old drams you just want to inhale – the balsam will probably help your chest. 
Palate: Medium-bodied, with supple tannins, allowing Glen Grant to still come through which isn't easy for a light whisky of this age in a pretty bold cask. It seems a little fragile at one stage, than pulls itself together and the gentle sweetness from oak and spirit once again work in harmony.
Finish: Becomes spicy.
Conclusion: This isn't just a classic old Glen Grant, it is a quintessential classic old G&M Glen Grant. There is something about their bottlings – whether it's the casks they use or the warehouse or a combination of both that gives the whisky this remarkable layered concentrated sweetness. A fine ending. 
Rating: ****