Whisky Tasting Batch 2 Ronnie's Reserve
You could write a book about the life and times of Ronnie Cox. In fact, someone should. It would encompass whisky aristocracy, (he is a scion of the Cummings of Cardhu), military coups, death threats, red socks, competitive breakfast cooking competitions, and much more.
Ronnie is one of the last remaining members of the old school of whisky, a generation which believed in Lunch and quiet conversation, affable and discreet hospitality, quiet and solicitous advice and a wicked sense of fun.
He is probably best known internationally as the face of a certain (and once-haunted) distillery in a small town in Speyside from which all of these whiskies have been drawn. The character of the whiskies mirror than of the man.
What you have here is a life in whisky, a series of insights. Try them and learn from them. We need more like Ronnie – and more like his Reserve.
Ronnie's Reserve 1995, 53.2%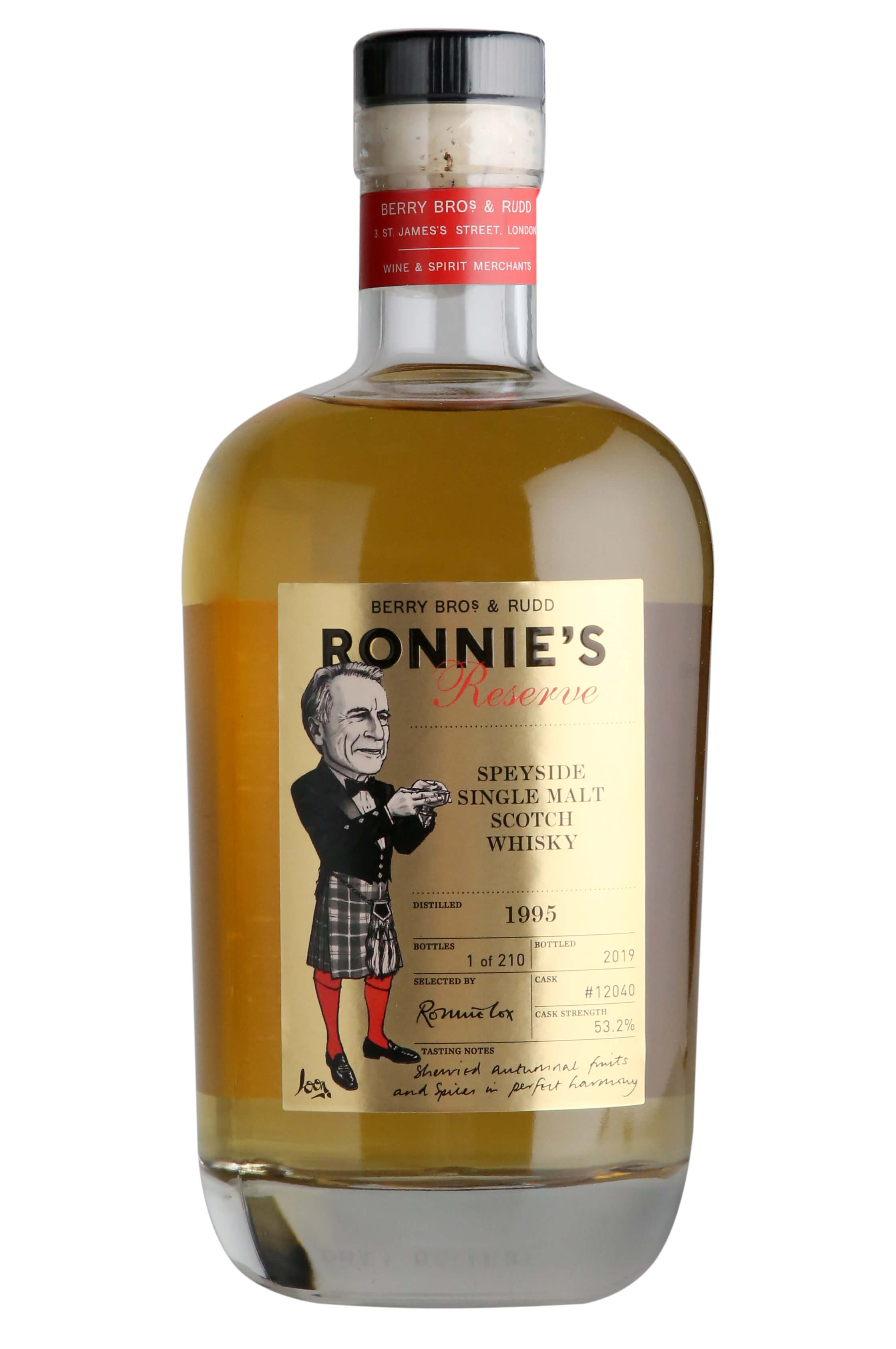 Nose: Pale and fairly typical of the young (or low cask influence – this is from refill sherry) style from the Distillery Who Shall Not Be Named, insofar as it's cereal which has the upper hand. There's barley porridge and lemon, and a pretty, bracing quality, but underneath there's some of that typical fruity succulence. With water it becomes more like almond milk (which, of course, you should not buy) and is a little sweeter with hints of lime, but still maintaining an overall powdery quality.
Palate: Light, fresh, and slightly acidic (which is no bad thing). White flowers and lightly malty, there's even a touch of tiger nut horchata with this nodule of sweetness in the centre. Finish: Sweet cereal.
Conclusion: The lightest and freshest of the bunch, showing a different facet of the distillery. A sharp intake of breath on a very cold spring day.
Rating: ***
Ronnie's Reserve 1992, 51.7%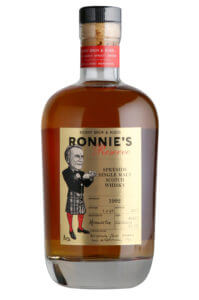 Nose: A fairly firm start with some orange pith, a hint of plaster of Paris and the whiff of toasted nut. Actually it could be muesli sprinkled with Demerara sugar. In the background is the unmistakeable hit of magic marker (which is not a negative by the way). It opens into buttery toffee but at this strength remains crisp. Water releases more spiced elements; fenugreek, coriander and oak.
Palate: A sweeter start than you might expect but relatively shy then, remarkably, the gates open and a huge rush of caramelised fruit sugars, raspberry cordial, stem ginger, plus that toffee element floods the mid palate. As surprisingly it closes down again and dries.  Water helps to smooth out the transitions but deprives you of that mid-palate revelation.
Finish: Spacedust (popping candy) and spices.
Conclusion: It's all about the mid-palate folks. A whisky in transition. Very interesting indeed.
Rating: ***(*)
Ronnie's Reserve 1989, 54%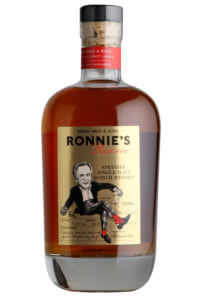 Nose: Ripe fruits from the word go. Light quince, yellow plum and ripe Comice pear are upfront with dry hay/cereal behind, while butterscotch creeps forward in time. In time theres this mix of jelly beans, nutmeg, rhubarb and with water more overt vanilla pod. You can then begin to pick out preserved lemon, spiced apple and light vetiver as the mature elements begin to expand.
Palate: It is still about the fruit. There's quince and dried apricot which reach new levels of lusciousness in the mid-palate as the waxy, mature elements begin to reveal themselves. A hit of mace and cinnamon spice ads a frisson of excitement to the back. This is the compete package which like all the range is relaxed and elegant.
Finish: Long, ripe, fruity, mature.
Conclusion: Sumptuous and superbly balanced, this acts as the reference point for the range – the perfect mix of fruit, malt, spice and maturity.
Rating:*****
Ronnie's Reserve 1979, 49.8%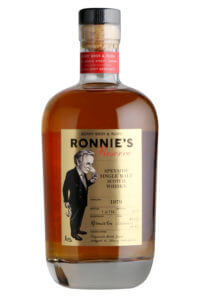 Nose: Hitting middle age with considerable assurance, there's a spicy element here and a toasty warmth with sweet sawn wood making it the oakiest so far. In time that settles down adding in some stewed apple sponge (with custard) and pain au raisin. Water shows the depth of mature character, manuka honey, and some sandalwood.
Palate: A very soft start with some vanilla notes (this is refill American oak sherry) and a slow pulse of peach, tangerine marmalade, and pink grapefruit energy towards the back. Refined and slow, mixing honey and dried citrus then this spicy, dry turn.
Finish: Bread and butter pudding.
Conclusion: This has a slightly haughty quality, gliding in a serene fashion across the tongue before fixing you with a sudden glare. It's Maggie Smith in liquid form.
Rating: ****(*)
Ronnie's Reserve 1975, 45.5%
Nose: Maturity in spades, with the honeyed elements seen in the '79 given fuller expression, albeit still with that irrepressible, spice-driven energy. The fruits now are more glossy, tropical with a hint of tarte tatin (including slightly overdone base) and a rich, mature oak element which brings with it a hint of sherried funk. Water brings out citrus peels, dry-roasted spices and a little more oak.
Palate: Very gentle, softly structured and supple. Seville orange, peach, passion fruit, peach, vanilla, peach both fresh and simultaneously slightly oxidised in the manner of a great white Burgundy, before things take a darker turn into dried berry fruits and spice.
Finish: Long hugely elegant.
Conclusion: A similar relaxed length to the '79, but with even greater complexity.
Rating: *****
Ronnie's Reserve 1969, 46.3%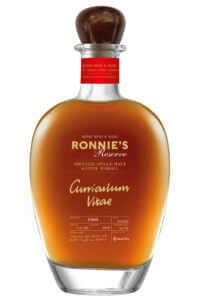 Nose: Slowly the plump, almost overripe tropical fruits emerge alongside vetiver, tobacco leaf, then dried lime, and old leather. In time, and with a drop of water, some cultured butter, reeds, propolis, and leaf mulch.
Palate: Initially, everything seems focused on one spot at the front of the tongue – as if things have stripped away and reduced to an essence of pure fruit. Then it stops and starts to build itself up in layers to the top of the mouth. The fruits give a clinging base, then the sweet spices, candied peels, beeswax. For a second it seems to fade, then recovers and gently releases everything back to the front of the mouth and retronasally. There's cooked quince, medlar jelly, peach and mature oaken quality. A thing of wonder.
Finish: Long, everlasting.
Conclusion: An exercise in subtle understatement.
Rating: *****
Ronnie's Reserve 1968, 51.6%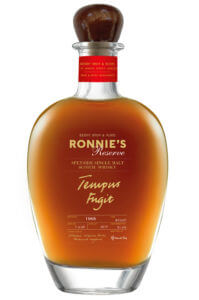 Nose: The oldest (albeit by three years) and with the most obvious age – there's dunnage notes, burlap/bungcloth, old cellar and tobacco (a combination known in the trade as MacLean's moustache) alongside a tiny hint of beeswax polish and a more savoury element, some mace, and hazelnut. The fleshiness is slightly hidden but, as ever, it's a dram which needs time.
Palate: Sweet with light dried fruits. Slightly more fragile than it might initially let on, but has a mature retronasal effect that pushes towards the savoury, vellum side and yet there is that freshness picking up from the centre. With water things become slightly soapy with touches of rose and lavender.
Finish: Bright, then drying.
Conclusion: Gentle and quietly fading.
Rating: ****