Whisky Angels and Worms: China Trip part 2
THIS IS A REPORT OF A TRIP TAKEN BEFORE THE COVID-19 OUTBREAK
The Wuyi trip ends with a lunch of dry yellow wine and local food: spice and tea-simmered fish, sweet potato noodles, and stir fried bamboo before we are sucked downhill on a 5 hour drive to Fuzhou and the coast.
In the hotel, fuzzy animals are ready for Christmas, and a room of people are ready for food and whisky. Let me tell you how these things operate. An evening event,  usually in a banqueting hall or restaurant, 30-odd people, a talk from a brand ambassador, a short tasting of between three and six whiskies (that's when Sam & Dave shake their tail feathers), then eight to ten courses.
As well as the tasting whiskies, everyone has a tumbler. This is what is used for toasting, of which there can be a considerable amount. As a result, the measures are kept small. But, I repeat, there can be a lot of toasting.
You'll sense someone standing behind you. You get up, chat, clink glasses, and sip the whisky. Or, if they fix you in the eye and say 'gambai' you drain the glass. Equally, as host/guest, you tour the tables and toast clutches of people – ideally before each comes to you individually. There are young women, aka whisky angels, holding jugs of whisky who top up any glass which is empty. They tend to be quite busy.
You can try to get round excessive drinking by sipping and not draining, asking the angels to only give you small splashes, or having a heavily diluted dram to hand. Every night is different in terms of consumption levels. Fuzhou was well behaved enough to justify a couple of beers afterwards.
Next day, after a gentle morning drinking tea and signing bottles (and lunch), was a two hour drive to Quanzhou. Stabbings in London. The use of a narwhal tusk as a defensive weapon. Election building up.
The dinner went medieval pretty quickly, the angels powerless to help as the whisky jugs are grabbed, tumblers filled and drained with one flick of the wrist. If there's no jug to hand a bottle is cracked. There's endless toasts and no pause for food.
It's a Mortlach event, but much as I love that whisky I'm not used to having three quarters of a bottle inside me within half an hour. The beast growls, the room roars back, there's whisky in the air, on the floor, in the gullet. We politely retreat, glasses in hands, leaving them to it. No-one notices. We decide to have a beer for some reason. Apparently I phoned home.
Zhangzhou is only two hours away from Quanzhou, but is a different world. You get used to seeing the identikit cigarette packets of tower blocks that fringe each city, a centre that's all sleek glass and chrome. Not here. This was old. Narrow streets where the rules of the roads no longer apply, but as everyone drives mazily it doesn't matter as scooters, bikes, the odd car and pedestrians slowly weave around each other.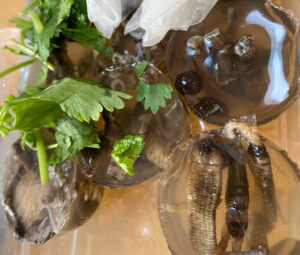 It's a little creaky, a little rusty, but chilled. It struck me that waking the shopkeeper in the jellied worm store would be rude. Sadly, Anthony disagreed and bought some to add to the lunch (accompanied by some off-dry yellow wine – think La Concha amontillado). Amazingly, there was no hangover.
Eating steamed peanuts, we go for a stroll to take tea in a nearby park. There's music under the banyan trees from a full orchestra whose youngest member is 80 years old. A singer's doing her thing at ear-splitting volume.
At the tea stall a table's unfolded, a packet of Gong Pau [Anxi] is opened, the spirit burner lit and tiny cups start to be filled. We sit on tiny plastic stools next to a group of old men chatting, another of old women doing the same, but laughing more. They all have Mao cups, which Anthony covets. Another table hosts a quartet of pensioners playing a strange card game. Money seems to being changing hands.
Another vocalist has joined the band and some sort of geriatric rap battle is underway. The park is filled with gently moving people swinging on the exercise machines, chatting, strolling; six velour-clad aunties start doing a plaza dance with fans. It's hard not to fall in love with this place.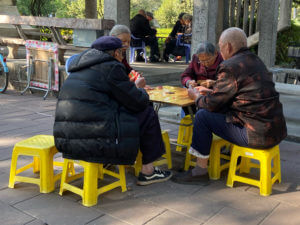 There's more tea with Alex in his office, bottles to sign, then change and showtime. The host sets the tone of these evenings, so this was gentle, relaxed, clear-headed. 'People leave Zhangzhou, but they always come back,' Alex had said. I will, if only to walk in that park again and haunt the city's first cocktail bar.
It's only a 45minute drive to Xiamen and as the night is still young, it would be rude not to head to JoJos. It's reassuring to have a regular spot in any city and this is the one in China which I've been in most frequently. The drinks as spectacular as ever, every one with a slight twist on the classic recipe.
The chat wriggles through subjects – Russian literature, beards, ages, star signs, interspersed with talk on how to talk about whisky. 'Like this' I'm tempted to say, but the bar only holds 15 people at the most. Still, it's a start. The whisky conversation shouldn't be restricted to grand banquets and mad drinking, but times like this as well where it becomes part of life.