Whiskies d'un certain age
A small selection of drams which have seen a couple of decades or more in cask.
Brand: Allt-a-Bhainne 23 year old (1997), Watt Whisky, 51.3%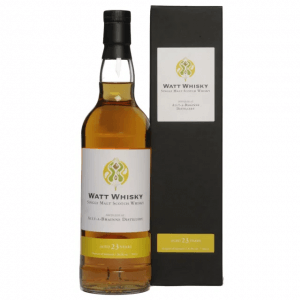 Nose: Light gold. Pillow soft. Cloudberries mixed with marshmallow, fresh almond, and some grassiness that shifts into bamboo, envelope glue (buff), yellow Haribo, and banana peel. What's not to like? Water makes it a wee fruit bomb with a slight oxidised note. C creamy with a hint of yeastiness at the end.
Palate: There is a quiet gentle maturity to it. Here's a distillery that's set up to produce something gentle light and fruity – and that's what this is. It does need some dilution which shows that oxidised mature element nicely.
Finish: Drying quickly.
Conclusion: A clever pick from the Watts. Seek it out.
Rating: ***(*)
Brand: 'Blended Malt' 40 year old, Gleann Mor Rare Find, 45.2%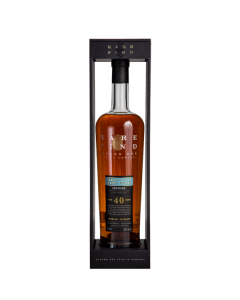 Nose: An odd, slightly dull, greenish tinge to it – it's an age thing. The nose however is reliable: mature, funky, savoury to start with some nut paste, wood polish and walnut, backed with a slightly bitter edge. It becomes slightly sharper in time with more spiciness. Water brings in shoe leather and petrichor.
Palate: Things kick off with soft, mature elements as well as dried herbs (oregano), and a little dried fig. There's a certain sprightly quality. Water shows the age: dry leaves, and a dramatic increase in acidity – Sercial-like.
Finish: Drying and acerbic
Conclusion: A quiet old intellectual of a dram. Sharp elbows poking through the tweed jacket.
Rating: ***
Brand: Bruichladdich 22 year old, Gleann Mor Rare Find, 53.5%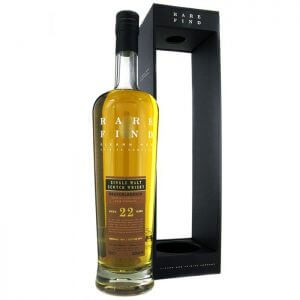 Nose: Sweet and fruity. Baked apples and underlying nuttiness (macadamia), some overripe apricot, as well as a slightly stony quality (wet pebbles) making it firmer than you initially imagine. The light level of oxidation shows its maturity. With water, there's dry banana skin, and barley straw.
Palate: The tip of the tongue is pear skin, then richer, soft and indeed juicy fruit with that distinctive thick, mouth-coating Bruichladdich texture. That said, it is slightly distant when neat, with the sense of a slight fade as it starts to dry. A little water helps solve this, adding fresh meadow flowers, and  more waxy/peachy maturity.
Finish: Meadowsweet/almond.
Conclusion: Not tired, but certainly slowing down. Bottled at the right time.
Rating: ****
Brand: Bunnahabhain 22 year old (1997) 51.3%, TWE 
Nose: Amber gold. A Moine one? Lightly malty with turfy smoke/damp peat, and ginger biscuits. Very Bunna' therefore. It picks up a slightly foxy/feral side when water's added – more smoke, horse stable. 
Palate: Nuts and toasted oats start things off – and continue throughout giving this crunchiness to the texture. There's a mix of briar fruits, smoke and slight leatheriness. Becomes ripe and generous. Water brings out the funk, as well as caramel, date and chocolate digestive biscuits.
Finish: A hint of soap, sweet porridge.
Conclusion: It isn't correct or conventional, but sometimes that's exactly what you need.
Rating: ****
Brand: Highland Park 31 year old, Gleann Mor Rare Find, 45.8%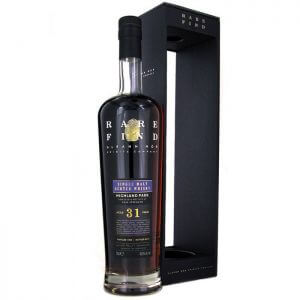 Nose: Lustrous glow. Deep with huge cask influence that adds a powerful, resinously aromatic quality. Polished cypress, leather and coffee that's given a jag by dried red fruits and a touch of singed hair before you get chocolate. There's increasing levels of smoke with a little water added and slightly better integration. Here's even room for a little dried peach.
Palate: The start is all about nuts and that peachy element before a smoky tannic grip starts to come into play. That, in turn, is eased back by dried fruit . This is all about the pressure of time and oak. Although you get a gentian/wormwood-like dry/bitterness, there's also black cherry, maraschino, and raisin.
Think of a smoky Rob Roy and you'd not be far off the mark. Becomes more assertive with water with a little more astringency; bittersweet chocolate, cherry, but still a balancing plump feel.
Finish: Smoky orange bitters.
Conclusion: Mature and magnificent. A hugely rewarding dram with depth as well as length.
Rating: *****
Brand: Imperial 29 year old, Single Malts of Scotland, 45.7%
Nose: Light gold. Mature, with distinct dunnage notes. Old cellar funk, cobwebs, clinker, and damp earth floors. Marvellous! As that element starts to lift away, there's cigar tobacco, pencil shavings, and apricot. Mature, weighty and a slow developer – give it time in the glass. In remains in the Waterhouse when water is added but then the classic Imperial mix of American Cream Soda gives a glossiness. There's also some glazed fruit, cooked pear and patisserie. Seems to be a whisky with dual personalities.
Palate: A slight dusty start, then it slows and suddenly the dank dunnage elements have gone and you emerge, blinking, into the sunlight. From the nose you expect growling depth and fascinating though that would be, this is exciting, old style whisky – the weight, the slight funk, then this oxidised release of fruits. Subtle, yet filled with character. Give it time and the evolution continues – still obvious age, but now it is juicy and tropical. I prefer it neat.
Finish: Slightly short, but who cares?
Conclusion: A whisky which makes you aware of mortality. The earth calls, yet there's still this late last defiant flaring of life.
Rating: *****
Brand: Longmorn 22 year old, Single Malts of Scotland, 58.7%
Nose: Pale and, unusually for Longmorn, quite crisp. There's a tiny (though not offensive) sulphur note, also verbena. It's slightly reticent, but as it comes up to the mouth there's lip balm/Vaseline and when diluted old apples and fabric Elastoplast.
Palate: Much more expressive and impressive after that slightly odd nose. The tip of the tongue shows maturity and a slight smokiness. Now those familiar fruits are starting to mass – plums, rosehip jelly, cherry – giving a density to the centre. Water brings out marzipan/peach stone and raspberries. While you lose some of the density, this new freshness makes up for that.
Finish: Simple and lightly fruited.
Conclusion: Interesting to see Longmorn revealed in this way with the distillery doing the heavy lifting rather than cask. Rather good.
Rating: ***(*)