Sometimes when you go around a distillery you hit it exactly right. This was one of those. Everything was happening at the same time. Glen Scotia's mill was rattling, its washbacks fizzing, there was a hiss of steam in the still-house, and the heady smell of new make in the air. At the mashtun, wort was splashing all over the place, the rakes churning the mess of grist and hot water, lifting aromas of smoke into the air. 
It was a pretty dreich day in the Wee Toon, with rain in the air and people wisely staying at home. Here though, all was dynamic. It wasn't just the fact that the sight of an open-topped mashtun at work helps you to understand how whisky-making is a process of barely contained energy. 
That same dynamism was there in manager Iain McAlister's body language and the way in which he spoke about his distillery, and of how it has been reborn. All it took was an owner who cared and could invest in good wood, a huge amount of white paint, and then trust in the people who knew how to make the whisky.
I've noticed over the years that most writing about Campbeltown and its whiskies conforms to the same, somewhat clichéd, pattern, dominated by talk about how many distilleries it used to support, and the end of its days of 'Whiskyopolis'. 
Writers embark on a variety of psychogeographic wanderings through its quiet streets, communing with the ghosts of distillers and distilleries long gone. 
Even if the drams are magnificent (and let's face it they usually are) any account has this back note of lament about it. What was lost seems more significant than what is actually here, right now.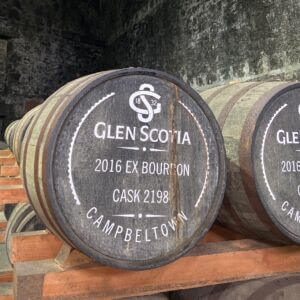 Time to turn this narrative around. For starters, Campbeltown isn't a backwater. The road, as Paul McCartney sang, is indeed long and winding, but it takes longer to get to Islay, or Skye. It takes the same length of time to drive to Speyside. Why then is Campbeltown the one which is 'remote'? 
The town is home to three distilleries, making (as far as I can tell) eight different styles, and is also home to two independent bottlers (Cadenhead of course, and the excellent Watt Whisky). There's 3,000 drams to try at the Ardshiel Hotel. Hardly a dead end.
I was at Glen Scotia on a secret mission to look at Something Very Special which I can't talk about yet, but which is worth keeping your eyes peeled for. As I sat chatting with Iain in a freezing dunnage warehouse, the subject of what makes the town's whiskies special came up. 'It's dirty…in a good way', he says and he's right. Of course he is. 
That mix of oil, smoke, and a tiny saline bite. That robust element which underpins fruits and citrus, a dram – as they all are – which is grounded, not overly pretty, but real. It persists, just as the town has.
That night at the Ardsheil the talk revolves around the rumours about new distilleries in the town – up to five one person suggested. Checking my phone, I spot that Alasdair Day of Isle of Raasay Distillery is in town. It's not a holiday as it turns out, but to confirm the building of one of the new arrivals – down the road at Machrihanish. 
Parent firm, R&B Distillers, has bought the Dhurrie dairy farm and will convert it into a 400,000 lpa, 'farm-to-bottle' enterprise, using local barley, malting it on site, then distilling and bottling there. In an area which still has high unemployment, there will be 20 new jobs. Planning is expected to be completed this year, with ground being broken in 2023.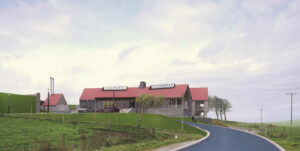 'We have learned a lot from Raasay,' he tells me, 'and Campbeltown made sense as Bill [Dobbie, R&B's executive chairman] had family connections there – and you couldn't argue that it wasn't a great place to have a distillery.
'The intention was always to have another distillery but, as with Raasay, it had to be in a location where it means something to the people and the community, rather than just plonking it do a distillery down in some place arbitrarily.'
Meetings have already underway with farmers about growing barley. 'It will be another thread linking the two,' he says. 'The local farms will provide Machrihanish's requirements as well as growing some for Raasay.' 
Making the distillery as sustainable as possible is also high on the agenda. A heat pump with heat recovery system is planned, with drum maltings being considered and, as Alasdair says, 'there's also a really nice peat bog nearby…'
The firm's expansion doesn't stop there. R&B stands for Raasay & Borders and Alasdair's original plan was to build a distillery in Coldstream where his great-grandfather, Richard,   was the owner and blender for J&A Davidson. When Alasdair inherited a ledger containing all of the firm's blend recipes, he started recreating the long-vanished Tweeddale blend in his kitchen.
Finally, the dream will become reality with (once planning is approved) the building of a small distillery in Duke Street, Coldstream. 'And when I say small, it'll be tiny,' he says. 'Three Hoga stills making grain whisky in the sense that it's not single malt.' Expect rye, oats, bere, mixed mashbills …in fact anything is possible. 
One of the themes of the new world of Scotch whisky is about rebalancing the offering – in size, in location, in approach.Nothing is remote any more, nothing is at a dead end or forced to live in the shadow of the past.