Not all whisky has to cost hundreds, or thousands of pounds. Every bottle in the first of this week's roundups represents great value for money – plus there's a blend that has to be tried to believe, a chance to help restore peat bogs while enjoying a dram, a couple of rarities, and a birthday celebration. Dive in!   
Brand: Blended Scotch 10 year old, Watt Whisky, 56.5%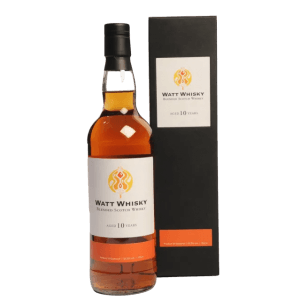 Nose: Initially hot, but shoogle it about and get some air in. When fully rested you get  ripe fruits, olive oil, a little touch of Taiwanese Oolong, and ripe melon, backed with crisp oak, milk chocolate/vanilla pod, rhubarb, and cherry stone. With water, there's an intense hit of Turkish Delight/rosewater which flies off leaving cooked plum and sweet fruits. Fascinating.
Palate: There's milky coffee on the tip of the tongue closely followed by sweeter and now darker fruits alongside light oak, and ginger chocolate. 
Silkily soft which adds a textural quality to the juicy rich fruits in the middle of the tongue before you get a counterpunch of salty liquorice and tart red fruits. Water dries it slightly but also brings out fresh orchard fruits.
Finish: Long,. Ginger and citrus.
Conclusion: This is everything you want from a blend – coherent and balanced, but with flavours pulling in many directions at the same time.  It's also a snip at £44. A must have.
Rating: ***** 
Brand: Creag Dhu, 40.2%
Nose: A bold opening, with sultana, toasted hazelnut, and a touch of drying bracken. Things then relax and reveal soft, rich depths (Highland toffee, fruit cake), as well as a linseed oil-like quality. Water brings out some walnut, a little tree bark, and sweet black fruits. Classically autumnal. 
Palate: Equally robust (yet soft) on the palate. There's light malt extract, some heavy honey and while there's a slight tightening of the grip early on, it then takes the opposite tack, smoothing into black cherry jam and date. Supple and long. A drop or so of water brings out more of the fruit and nut mix. This has great confidence and style.  
Finish: Long, quite dense, and fruity. 
Conclusion: A newie from Chris Molyneaux who, the spirits literate among you will know, is the man behind the (wonderful) Daffy's gin and owner of the Strathmashie distillery near Newtonmore. 
Creag Dhu was the result of him being a cuckoo in a Speyside distillery's nest where he was allowed to produce a new make to his own specs which was then matured (predominantly) in toasted and heavily charred ex-sherry casks. 
A percentage of each bottle sold will go directly to the Peatland Restoration Project. Read more here A whisky of this quality for £34? Form a disorderly queue. 
Rating: ****(*)
Brand: Dalmunach 5 year old, Dram Mor, 57%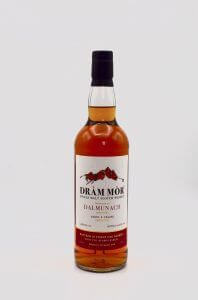 Nose: Well… this was a pleasant surprise. Dalmunachs have been rarely-spotted beasts. The colour is already deep gold, indicating an active cask (it's a first fill ex-Bourbon barrel) . The nose starts with suet pudding elements mixed with ripe berries (blueberries especially) and a nutty background. Seems older (or more mature) than you'd expect. In time you get some roasted coriander, more malt and vanilla ice cream, then a syrupy sweetness. 
Palate: Rich and quite full, with muesli-like qualities, some violet and hints of caramel. That nuttiness comes over by the mid-palate, with roasted nuts, ginger snaps, and sesame oil. With water the individual elements are more exposed – which is more in line with what you'd expect from a whisky at this stage of its life.
Finish: Short and fresh.
Conclusion: A snapshot of a new distillery finding its feet. Well worth a look. (Marked in its competitive set).
Rating: ****
Brand: Glenfarclas 185th Anniversary, 46%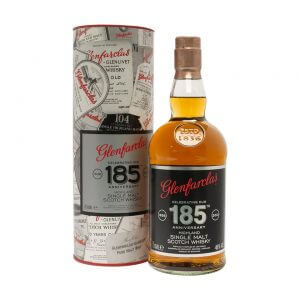 Nose: Elegant with classic waxy maturity, some dried apricot, blackcurrant, and blood orange. The effect is of great concentration with a sweet/savoury mix where tangerine and pure fruits gives lift, while classic earthiness rumbles away below. There is a sense of layering, but also of the extended length of oily oxidised fruits which only comes with time. Water adds in more raisin and fruit cake as well as sealing wax and, still, those precise top notes.
Palate: A slightly muted start, old paper, juicy citrus, but also more ripe black fruits with some lilac blossom coming in alongside dry grass. The tannins are fine, while the light acidity gives an overall freshness and lift. A little drop of water is recommended as it adds extra layers: Yellow Chartreuse, honey, more of the waxiness and date – but that purity of fruit seen on the nose is not in any way diminished.
Finish: Darker and slightly earthy.
Conclusion: Surprisingly gentle and soft for those who might have expected a big sherry bomb. A true celebration drawing from a range of casks across many decades. Happy 185th birthday!
Rating: *****
Brand: Inchfad 14 year old, Dram Mor, 54.7%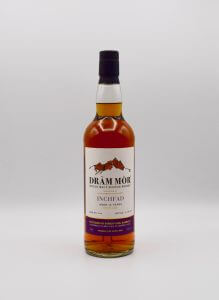 Nose: This is an odd one, with aromas of turfy smoke, wet rye dough, and a vegetal element. Things start to become toasted with dubbin, fennel and a growing lard like quality. Old orange, cattle cake, fig and smoke. With water there's some honey and nuts amongst the smoky farmyard elements. There's nothing quite like it
Palate: Everything on the nose is here as well – it's oddly very non-Scotch in some ways. It's more in line with a heavy malt-wine genever (albeit a smoky one). In time you get digestive biscuits dunked in sweet tea and a caramelised/burnt edge – if you could taste a Maillard reaction then this would be it. Bacon fat and smoke. There's a loss of that impact when water is added, so keep it neat and dive in.
Finish: Rich, thick, long, and oily, with a hint of milk chocolate
Conclusion: Another rarely spotted dram, this time Loch Lomond's most heavily peated expression. It spent the last four months maturing in PX casks. Mightily weird, but fascinating. 
Rating: ****