The first releases from Torabhaig, Skye's newest distillery has arrived, and it is a belter. Inevitably this will sell out rapidly but hopefully there will be purchasers who are more driven by interest in flavour than venality. More on the distillery next week, but figured this ought to be out there straight away. 
Brand: Torabhaig 2017, Inaugural Release, 46%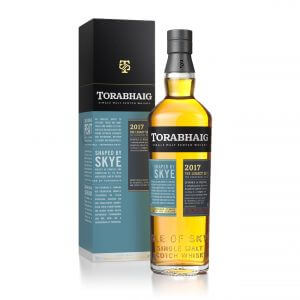 Nose: Light straw. There is light oiliness, and a real juicy melon-like sweetness melon. Behind this is smouldering smoke, and light mint leaf. Overall it comes across as cool and airy… and balanced with a poise belying its youth. The herbal side then comes through – sweet cicely, and green fern mixing with fresh mint, and then some dried beans which morphs into fresh barley. With a little water added, you get salt-washed rock, grapefruit, light smoke and potato starch.
Palate: A sweet start smoke with touches of salted liquorice, violet and soft smoke. The mid-palate is beautifully textured, rounded and lightly clinging. It's unusual to have such concentration so early in maturation.
In the middle of it all is prickly smoke, gentle fruit, light brine. Water shows the balance beautifully and the lack of any green edginess, or hollowness. There's also more cereal now.
Finish: Blooms in to fresh fruits, and salt/smoke.
Conclusion: Love the fact that the label has listed residual phenols (16ppm. for the geeks out there) rather than just the oft-misunderstood in-grain level (55ppm). Barley variety? Concerto. Yeast type? Pinnacle MG+. A new star is born. Talisker.. you've got serious competition. If you manage to get a bottle, for Christ's sake open it.
Rating: *****
Brand: Torabhaig 2017, single cask #307, 61.67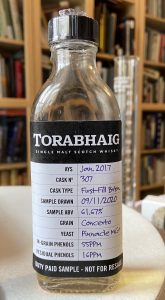 Nose: Slightly fuller colour and a little more cask in evidence. Theres mint once more though this time it's more pandrop rather than leaf. As is often the case with cask strength peated whiskies the smoke seems to hand back. There's a little more hay-like elements. Quiet and undemonstrative. Water changes things dramatically. A pungent hit of smoke, crisp barley and vanilla as well as an intriguing waxed note and cooked apple. In time, the smoke pulls clear. Spent ashes.
Palate: Comes alive on the palate. The texture is remarkably hefty. There is weight here, the oils a pressing down and this textural element balances the peppery spiciness and building smoke. Water added you get kiwi, green melon, apple skin, grapefruit, and a growing salinity. Superb balance. Impressive.
Finish: The brininess picks up. 
Conclusion: The same spec as the inaugural release. Style? Think of Caol Ila as your starting point, but Torabhaig is already its own beast. Recommended.
Rating: ****