An Irish Trio: Bushmills ahoy!
An Irish trio: two from Bushmills' Causeway Collection and a single grain from those cheeky chaps at Simply Whisky
Brand: Bushmills 2001, Feuillette Cask, Causeway Collection, 49%

Nose: Very Busmills in the second phase of its maturation, where the nectarines and apricots are beginning to ease the youthfull grassiness aside. It's this burst of juicy fruits (soft and pulpy, mixed with red cherry and hawthorn jelly) and marzipan which starts things off – there's even a little touch of waxiness (floor polish). Leave it to breathe and the wood starts its steady creep forward along with French oak spiciness, then rhubarb. Water brings out some hot sawdust, sandalwood, a slight sappiness, and burnt fruit sugars around the edge of a fruit pie – there's even a little pastry-like note.
Palate: Barley sugar-sweet with some honeyed elements, raspberry jam, and blackcurrant leaf, then this mix of sour cherry and plum which lends a surprisingly saline quality to things. The mid-palate is filled with this relaxed sweet/sour mix, then things become more grippy and crunchy as the, now slightly resinous, oak comes in. Dilution mixes together fruit crumble (with oatmeal topping) black fruits, and some oak-laden weight.
Finish: Dry, cedary, and those sour cherries again (I hasten to add, this is A Good Thing).
Conclusion: A Feuillette cask, by the way, is a half size (120 litre) French oak cask usually used in Burgundy – this one had previously held 'red wine'. The finishing period was two years. There's a tightrope act needed to achieve balance, but it works. [This was an exclusive for The Whisky Shop. Suspect it may have already gone but will probably appear on auction sites soon. It's the way of the world.]
Rating: ****
Brand: Bushmills 30 year old, 48.4%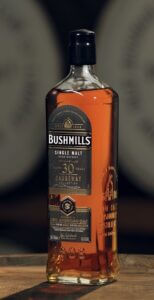 Nose: With maturity often comes a slight oiliness and that's the case here. There's still some of the signature dry grassiness, plus light coconut, and a sense of weight. It is aromatically rich with blackberry, baked peach, honey and pollen, with some light and beautifully balanced oak. A drop of water brings out liquorice, and cacao. Complex.
Palate: It starts off with an intriguing musky, herbal quality along with pot pourri. The fruits are now chewy with a sprinkling of fig and prune in the background. As it opens, so the start takes on a more oudh-like incense quality, which then softens into caramel toffee, those mature, tropical fruit syrups, and finally  a mix of chocolate and spicy ginger, and supple tannins. With water added, the spiced/oak element is upped. Personally, I'd leave things neat. 
Finish: Milk chocolate and blackberry.
Conclusion: This spent the first 14 years of its life in ex-oloroso and bourbon befofre a further 16 years in American oak. The balance is fantastic. Great to see Bushmills finally bottling some of its old stock – there's been plenty of it appearing under the names of other bottlers!
Rating: *****
Brand: 'Good Times' 8 year old, Single grain, Simply Whisky, 45.6%

Nose: Light in colour and aroma. A slightly sharp start with lemon and lime and the metallic touch you sometimes get with younger grain. This then relaxes into banana, and wet straw. Water makes things fresher and even more zippy, but it never loses its slight coolness in terms of attitude.
Palate: A sweet, slightly powdery, start and though light-bodied, there's some toasted marshmallow in the middle of the tongue along with some estery notes, mashed banana, pear drops, and cinnamon balls, as well as that lime element seen on the nose. Water helps the flow and adds a little more weight. Light and easy going, with decent balance.
Finish: Sugary sweet with a light mintiness.
Conclusion: A perfectly nice single grain. 
Rating: ***