With the arrival of Blue Spot, Mitchell & Sons.' family of single pot still whiskeys is reunited for the first time since the early 1960s, and another step is taken in the revival of Irish single pot still whiskey.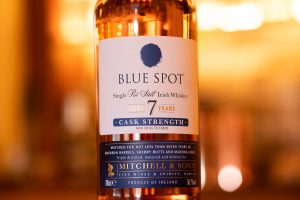 The story of the Mitchell family starts in 1805, when William Mitchell began as a coffee merchant and confectioner in Dublin's Grafton Street.
It was his grandson Robert, however, who made the move into wine and spirits with the purchase of a shop in Kildare Street in 1887. Like most merchants of the time, the Mitchell's became whiskey bonders, buying casks from distillers, blending the whiskey to their style, and selling it under their name. Quite often there was no indication of which distiller had supplied the spirit. 
In the Mitchell's case, the whiskey came from Jameson's Bow St. distillery. A four-strong range was quickly established, made up of different ages and using a range of fortified wine casks – as wine importers the firm had a ready supply. Each cask was marked with a spot of paint, the colours designating age and style.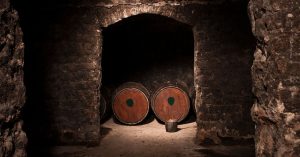 Bonders slowly disappeared during the great Irish whiskey slump, as did the style of whiskey they were most famous for – single pot still. By the late 1960s, only two were left, Gilbey's (which owned Redbreast) and Mitchell's. 
Irish Distillers then took the decision to stop supplying bonders, but with a hefty amount of stock in bond and a loyal clientele among Dublin's great and good, Mitchell's Green Spot (the only one of the range left) survived. 
A deal was done. IDL would buy the brand and supply the liquid, the family firm would have exclusive rights to distribution in Ireland. In those lean years for pot still, its true believers had to make the trip to Mitchell's shop to stock up – no great hardship. 
Among them were friends of Samuel Beckett who used to take a case of Green Spot with them when visiting the writer in Paris.
The recent revival in single pot still (even if, sadly, it and the term 'bonder' are not properly defined) prompted IDL to recreate the Spot range. 
All of the Spot whiskies are made from a 'mod pot' (medium-weight single pot still) base and are a blend of ex-Bourbon, ex-seasoned oloroso seasoned and, in the case of Yellow., Red, and Blue, another type of fortified wine.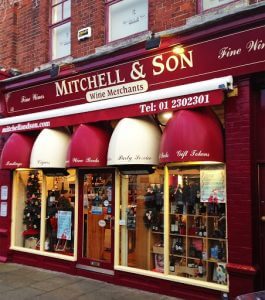 With the original quartet complete, the question is, will there be any more Spots? IDL's master distiller Kevin O'Gorman was slightly coy when asked. Jonathan Mitchell on the other hand said 'watch this Spot!'.
Personally, I've always felt that the world needs a rum-accented Black Spot, but there are plenty of other colours available  – and fortified wines for that matter. Time will tell. 
It seems churlish to even ask the question, so in the meantime enjoy the new Blue Spot. It's a belter.
Brand: Green Spot, 40%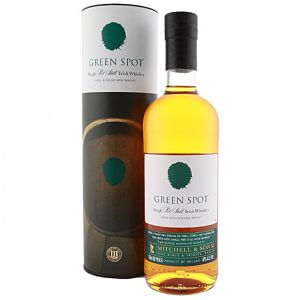 Nose: I'm sure it's not auto-suggestion, but this is so… green. Apples, William pear, (and pear drop), grass, celery, kiwi. Behind that, however, is a little sultana from the ex-sherry, a light smear of oil and a sparkling spiciness (nutmeg and cinnamon sugar) from the pot still. It's all very up and bright. Water adds a tiny powdery touch along with some creme brûlée, and a little pain au raisin, the suggestion of oak, then a return to the green theme with chlorophyll and sencha tea.
Palate: Soft and silky. The sugar seen on the nose is now on top of a hot apple pie with a little dribble of cream. There's a little currant leaf, more of the crisp green fruits. With  water, it becomes considerably more spicy and mouthwatering with a slight oiliness.
Finish: Everything softens, then the spices return along with apple, and light barley notes.
Conclusion: Originally a 10 year old, Gree Spot is now between seven and 10. A must-have on any respecting whisky shelf (no matter how you spell it). It seems just a smidge sweeter and fuller than in the past.
Rating: ****(*)
Brand: Yellow Spot, 12 year old, 46%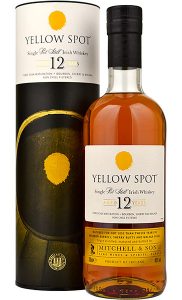 Nose: If Green is all about freshness, the yellow is a fruit bomb. White peach, nectarine. juicy apricot, and Galia melon mix with clover honey, and a zesty citric element. Behind this is a musky spiciness and, in time, massive blueberry. In time, things start to deepen – some honeysuckle, caramel toffee, a lick of leather oils. Water adds in some mango puree, fresh blueberry, and cherry yoghurt before a light bready/malt note adds a touch of dryness.
Palate: There's slightly darker fruits more apparent here, sweet plum, chocolate-covered cherry. That extra age has allowed the pot still to build in terms of weight. Here the spice and a little hay adds a drying, textural element – a check on the growing sweetness, and giving balance. Water does nothing to diminish its generosity and adds allspice, ginger, and currant to the mix.
Finish: Ripe fruit, and spice.
Conclusion: Yellow Spot disappeared in the early 1960s and was only revived after an old bottle was found in the Museum of Dublin. Here, Malaga casks are used as well as the base of ex-Bourbon and oloroso. 
Rating: ****
Brand: Red Spot, 15 year old, 46%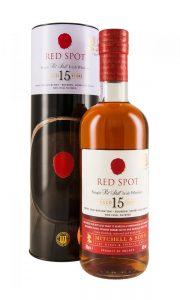 Nose: Richer again.There's mature pot still elements from the start – a lovely chamois leather note –  alongside a pleasant dustiness, then comes Taiwanese Oolong, and barberry spice. Appropriately enough, there's red fruit (cherry, pomegranate) along with baked apple. There's good heft to this, seen when water is added, triggering a funky note and a chocolate-accented earthiness. 
Palate: Though you still get that rippling silky feel, Red is the clearest in terms of structure and grip – and mature pot still influence. There's a lovely interplay here between the slight grip of the oak, the mace-like spice, sweet black fruits, and polished oak. With water, a little more sweetness pops up at the start. There's date, a little raisin and cooked plum – then oiled leather.
Finish: Toasty oak and spice.
Conclusion: Another which disappeared in the early 60s, Red Spot was relaunched in 2018. Here Marsala casks work as a double team with the ex-sherry, the ex-Bourbon playing a background role. For those who like things a little drier and more structured. 
Rating: ****(*)
Brand: Blue Spot, 7 year old, 58.7%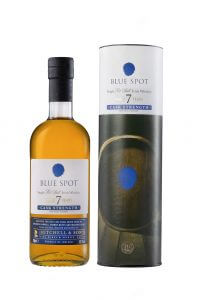 Nose: Though cask strength, there's no great heat here. The vanilla/butterscotch of American oak tales the initial lead, but soon this is balanced by masses of ripe dark fruit, toffee, barbecued pineapple, dry roasted spice, and a nuttiness which could be oak, barley or Madeira (or all three I suppose). Much deeper than you might expect from the age statement with plenty of black cherry, ripe berry fruits, damson and even a little bitter twang of sloe. There's mature depth, sweet leather, blackcurrant, and green fig. Water broadens it further – plum, date, and roasting coffee bean.
Palate: Luscious and long. I'd say that the pot still element is more apparent now. The fresh directness on the start takes you back to Green, while the sweet fruits nod to Yellow, and the depth which fully emerges in the middle of the tongue has something in common with Red. The nature of the supple cooked red and black fruits is however its own. Water adds in some figgy elements and bruised dark fruits. 
Finish: Long and slightly spicy. Tiny hint of heat. 
Conclusion: Here the fortified cask is a Tinta Negra-based Madeira from Henriques & Henriques. While it's legally a seven year old, some of those Madeira casks are 20 years old. This mix of extra mature pot still with younger fresher drive gives a fascinating complexity. 
Rating: *****