A run through of five new smoky malts – three show different aspects of Caol Ila, there's a remarkable wild ride of a Lochindaal from Bramble Whisky, and the newest arrival in Torabhaig's Legacy Series – and it's a cracker. Buckle up!
Brand: Caol Ila 9 year old, James Eadie, 46%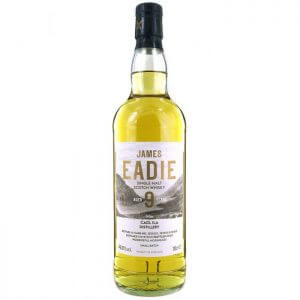 Nose: There's a some cask action here, allowing the fruits to come out rather than just the smoke. Some light pear still, a light vegetal element, smouldering smoke, then crab meat, sea salt, and wet pebbles. The smoke becomes steadily drier, giving things a flinty quality. Water adds in lemon peel, brine, and a whiff of cordite.
Palate: Quite a lean, yet sweet start, with preserved lemon, some oats, and more of the pear. The smoke hangs like a cloud. Well integrated with some clam juice swirling around. A slight waxiness emerges with water, but though softer it's a little simpler.
Finish: Light mineral salts, with some effervescence.
Conc: Easy and approachable. Nice to have James Eadie back.
Rating: ***(*)
Brand: Caol Ila 2008, Samaroli, 45%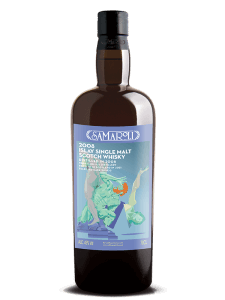 Nose: … and welcome Samaroli! The oldest of the trio, showing the most mature nose with plenty of that Samaroli restraint. The smoke is fully integrated smoke with a touch of juniper and kumquat adding a lift to the gentle fruits. As it develops, you can pick out blanched almond, and fleshy florals (orchid, lily). Water produces ripe pear and considerably more smoke, and mont though, like the Eadie it's less complex now.
Palate: A sweet start with a slow release that's quite different to the eagerness of the others. Gentle, balanced, and subtle with a perfumed element (rosemary, juniper) as well as some oyster and Nori seaweed, then the smoke returns. Subtle, long, and balanced.
With water, it becomes more gentle, with light oiliness. 
Finish: Smoke and silk.
Conc: Less overt than the other two, Caol Ilas this is as much about the feel as anything.Its subtlety might be a turn-off for some. If so, keep reading…
Rating: ****
Brand: Caol Ila 10 year old, Watt Whisky, 58.2%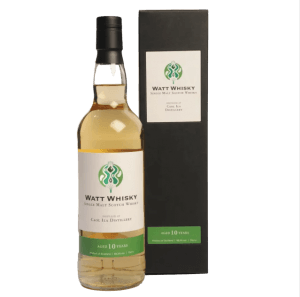 Nose: Unencumbered by oak, so there's still a slightly green element. Imagine the  the smoke of a garden bonfire mixed with whittled stick. There's also a little farmyard element (silage), then prickly pear and a light (but not unpleasant) cabbagey element. It becomes more medicinal and mineral with water added – there's also some dried kelp and much more of the smoke.
Palate: Smouldering peat fire with a malty element (smoked flour), as well as some of the distillery's oils which helps to smooth and prevent it getting too dry.
There are some sulphury notes elements in time spreading, while the back plate is all salt, and jalapeño peppers. Water makes it more bracing.
Finish: Peppery, smoky and dry.
Conc: There's no quarter given here. A bold smoky style which has its fans.
Rating: ***(*)
Brand: Lochindaal 13 year old single cask, Bramble Whisky Co., 56.9%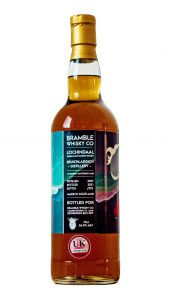 Nose: A powerful and potent mix of honeyed sweetness and fragrantly smoking cypress wood that gives an incense-like quality. Smouldering ashes, apricot tarte tatin (with slightly singed pastry). The effect is rich, and all-enveloping. 
In time, there's  some hissing pine logs, and greater concentration of the sweet fruits, some Oolong tea, and bacon fat. 
Water brings out more oak, some sweet farmyard notes and more of the honey, but for impact, I'd keep it neat. 
Palate: Woodsmoke from the get go, then comes an oddly savoury mix of wet straw/wet dog, honey-glazed ham, thickening syrups and then some lemon curd-like lift which adds energy and saves it getting too one dimensional. 
By the back palate there's cinnamon and white pepper. 
Water gives greater control to this explosive mix of weirdness as well as adding creosote, and oxidised elements – but a lot more of the wood – so, again, neat would be best.
Finish: Long, off-dry, smoky still. 
Conc: 13 year in Sauternes produces a wild ride. Bramble Whisky Co. does it again. Hurry, stocks are limited.
Rating: ****(*)
Brand: Torabhaig Legacy, 'Allt Gleann', 46%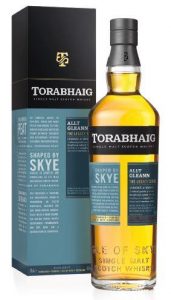 Nose: Musky smoke, mixed with crystalline saltiness and a slight bready quality (fresh baguette) acting as underpinning. There's real soft fruit sweetness, a little hint of turmeric and curry leaf. More direct with water, there's now some green olive and brine as well as just-mown grass. Balanced.
Palate: A sweet, smoky, and minty start with some sage/heather-like quality and an oily feel. Lemon zest, salt. the sense of fresh sashimi (texture, floral touches, a hint of the sea), then comes menthol elements, dried flowers,and sea lettuce. The length for a young whisky is quite amazing. Very gentle on entry with water – this will make a substantially good Highball. As it dries, the salt crystals seem to form but there is also rich fragrant/smoky mid-palate complexity. 
Finish: Long, drying, some ashes.
Conc: This is a distillery that's set up beautifully. Don't just sit back and wait .. leap in now.
Rating: *****