I'm ancient enough to remember the days when rye whisky was almost impossible to find.  It was a lost style, a whiskey whose heyday had been in the pre-Prohibition era. Now? It seems to be the hottest grain on the scene. 
I sometimes wonder whether it is because distillers know it is a challenge to make: it sticks in the mashtun, it foams in the fermenters. Despite the horror stories, they persevere. The reason? The flavour is addictive: the crackling spices, the acidity, the bite. Rye has drive and braggadocio. 
Late last year the wonderful folks at That Boutique-y Whisky Co.  launched an 7-strong series of ryes from around the world. The seven scenes of rye if you like. I thought it might be interesting to throw in some others which I had around – Arbikie, Lot 40, and The Gospel. 
What emerged was a fascinating range of approaches and interpretations. All identifiably rye but all different. Dive in …  
Brand: 291 Distillery Rye, Batch 1, 11 months, The Boutique-y Whisky Co [TWBC], 49.9%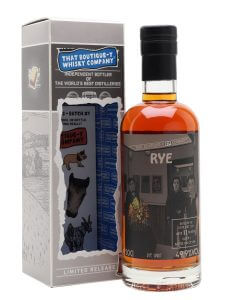 Nose: Jeeeez that's some intensity of colour for less than a year. Very lush in terms of oak, with a long pepper/camphor-like aroma which drifts towards naphthalene (mothballs to you), as well as cardamom. Things start to soften and sweeten into a mix of lactone and pumpkin flesh, then orange bitters. Water brings out the dusty rye grain more clearly, but it's nicely balanced with sweet, mellow oak, and a tiny jag of lemon peel.
Palate: Sweet red fruit comes first – there's an abundance of maraschino – then red apple, dried orange peel, a hint of dried apricot, and more of the peppery spice. All of this is balanced by a maple syrup richness before things start to dry – which you want with rye – into fennel, anise, and light clove. Water brings in some caramel, then the cardamom/pepper combo.
Finish: Allspice and honey.
Conclusion: Distillery 291 is in Colorado Springs and uses an IPA stillage in its fermentation [aka the El Paso County Process]. A mellow and remarkably balanced rye for such a young age. 
Rating: ****(*)
Brand: Arbikie Highland Rye, 2020, 48%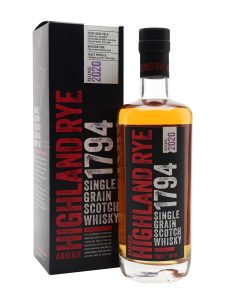 Nose: Compared to the others on show here (all were tasted blind by the way), this is quite plain and in similar vein to the Helsinki [see below] in its focus on rye's cereal/bready side. There's touches of clove and a suggestion of sweetness. Water thins it out.
Palate: The tip of the tongue is slightly yeasty before you get the rye bread bite which also flirts with green spices, pepper, some nuttiness, then the lemon. It dips in the centre, but things start to sweeten into corn syrup towards the back. 
Finish: Light dustiness, and an almost phenolic quality.
Conclusion: It's fascinating to put this, the first commercialised Scottish rye, within this global roundup. There's a dip in the centre which will be filled in with more time in active casks. Well made though.
Rating: ***
Brand: Empire Rye, 2 year old Batch 1, TBWC, 50%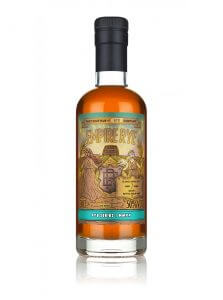 Nose: An upfront spiciness: lemon myrtle, powdered lime, (plus the inevitable allspice and clove) but things quickly move into a sweeter area. Vibrant, but not aggressive. With water there's some buttery toffee.
Palate: Concentrated, with immediate banana, then chili chocolate. Initially, the spices are coated by a thick toffee-like texture from the oak, but by the middle of the tongue the former begin to come into play giving a fascinating, almost gritty, quality, which adds another element to that existing sweet/dry interplay. Now you get citrus, ginger, sumac and the rye crunch. Water does simplify things, albeit adding in hazelnut butter.
Finish: Lemon zest and a fresh acidic bite.
Conclusion: The Empire rye designation is the brainchild of nine distillers in New York State. To qualify, it has to to be mashed, fermented, distilled, and matured in the state. Additionally, a minimum of 75% of the mashbill must be made up of rye grown in the state. The spirit must be distilled to a maximum of 160˚ (80%abv), barrelled at a minimum of 115˚, (57.5%) then aged for a minimum of two years in new charred casks. This is a blended example, drawing on Empire rye spirit from the nine founders. A style that works with rye's aromatic side and is probably best enjoyed neat. 
Rating: ***(*)
Brand: The Gospel Rye, single cask #35, 48%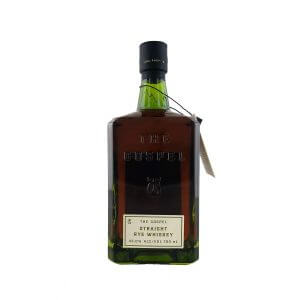 Nose: The deepest colour and the most fruit-accented of them all: damson, sloe, and blue fruit muskiness. Behind that is some strawberry chews before the rye comes out, luscious and layered. Things then continue on the orange side of things alongside berry fruits, five-spice, allspice, clove oil, black pepper, and a touch of tamarind. Water adds in a slightly smoky edge along with coffee, red berries and, in the background, some apple.
Palate: Thick in texture, with dried black (cherry) fruits coming in. You get some roasted Oolong tea, and then the rye gently parts these heavy velvet drapes. The savoury/sweet thing, the dusty whisper, then Manuka honey, dark fruits. A fluxing mix of cask, fruit, and rye grain. When diluted you can see the excellent balance even more clearly.
Finish: Lightly acidic, citric bite.
Conclusion: A different angle of attack for rye and a welcome one.
Those of you who have been hanging around since the early days may recall that I tasted this when in lockdown in New Zealand. I figured it would be good to put it into this worldwide mix. As you can see it holds up well – in fact the score was a smidgin higher. The alcohol level is lower but the first was a cask sample.
It's always great to revisit whiskies and taste them in a different context, because different aromas will emerge. I reckon the two notes are fairly well aligned though. Fingers crossed we'll get some of this in the UK soon. 
Rating: *****
Brand: Helsinki Distilling Co., 2 year old rye, Batch 1, TBWC, 49%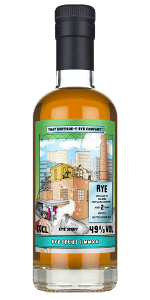 Nose: Light gold. This is in a very different style, with much more rye bread/pumpernickel/ malted rye flour, and a touch of green apple/grassiness. You then start to pick out roasted and toasted bakery spices and a crisp chocolate like aroma – there's even a slight doughy quality. Water makes it leaner and drier.
Palate: A similar bready/nutty start, but there's a fairly soft mid-palate. Less of the classic spices and more green fennel seed even a hint of dried fruit. One of the more boisterous ones. All the spiced elements are retained when water is added, if anything things start to tighten and become more steely. 
Finish: Drying and a little green
Conclusion: Quite simple and direct. It shows its youth and while more time will add weight, this is promising stuff
Rating: ***
Brand: Kentucky Peerless Rye, 3 year old, Batch 1, TBWC, 49.1%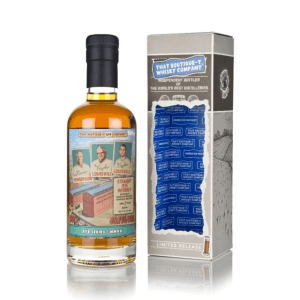 Nose: Full gold. Upfront. There's a bakery element here as well, but compared to the Helsinki this starts off on the fancy pastry side: cinnamon buns with a glass of chai. After this sweet opening things become more green and almost vegetal (think broad bean pods) before it switches back again to light syrup that stirs those spices together. Water highlights the savoury elements: white pepper, turmeric, caraway and a punchy youthful side.
Palate: A sweet slightly tingling start, alongside lemon balm, marzipan. Then comes the classic Kentucky shift in gear from the mid-palate on with the prickly, drying rye picking up along with ginger and Szechuan pepper. Water allows a soft, sweet rock candy to develop.
Finish: Drying and dusty.
Conclusion: Really well controlled. 
Rating: ***(*)
Brand: Lot 40 Cask Strength, 3rd Edition, 57%

Nose: There's some wood in here, adding a spicy slightly caramelised note to flamed orange peel, and the clearly defined, dry, rye spices (dry-roast caraway, allspice, cassia, fennel seed, black pepper) and even a little signature green apple in the background warm. There is this lovely interplay between sweet and dry, spices and savoury elements. Add some water and there's a touch of old attic, then dry pine needles/logs, a little black banana, and dried red fruit
Palate: Beautifully balanced from the word go. There's a tongue tingling touch of alcohol and dry spices (coriander and cumin seeds, and ginger are added to the mix), but in no sense is this abrasive because it is enveloped within a gentle, sweet, runny caramel warmth. There's some candied fruits, and some of Lot 40's signature cooked plum, rhubarb. Add water and you get more of the spice cupboard, and a slightly floral lift, but also a toffee note. Uncompromising, yet balanced.  The oak is there but the spice the fruit water lightly chewy still 
Finish: Light oak and enormous length.
Conclusion: Lot 40 is passed through a beer column and then redistilled in a copper pot.  Three-quarters of this latest edition has also been given an extended period in new French oak – which has upped the spice element. A benchmark rye. A benchmark whisky. If you haven't yet discovered the glories of Canadian whisky, start here. 
Rating *****
Brand: Millstone 3 year old rye, B4, TBWC, 55%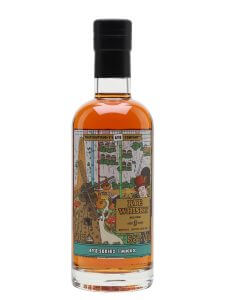 Nose: Full gold. Be prepared.This moves in many directions simultaneously. At the top is an exotic pot pourri element, some green apple and intense lime. The core is spiciness (angelica, caraway, and cardamom, allspice), while the base has an almost boot polish-like character. Water does little to diminish this sheer mass, it even brings in toasted (and buttered) rye bread, a botanical edge, and this smoky element – possibly from the cask.
Palate: A very perfumed start, with a suggestion of parma violet, then ripe fruits, and blood orange. The almost botanical elements then emerge, followed swiftly by a fusillade of spices. There is a seamless quality to this, rather than the crunch of gears that you can get with rye. Refined and elegant. Water amplifies the clove-studded orange as things become considerably spicier without ever losing that steadily paced flow.
Finish: Drying and tightening, with more cracked pepper now, though never losing its sweeter undertone. 
Conclusion: Perfumed, exotic, spiced, sweet. It has an extra dimension, rye's fundamentals brewing shifted into a new dimension. An exploration of the potential of rye's flavours. Think of it as the bridge between the European and US approaches.
Rating: *****
Brand: Stauning 3 year old rye, Batch 1, TBWC, 48.5%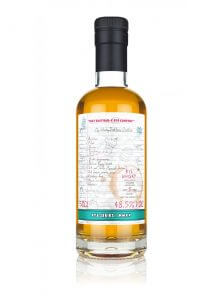 Nose: Full gold. Controlled and sweet, with gentle oak, some orange, and then a slight leathery element. Another on the breadier side, with some cooked apple behind – there's also a hint of acetone/nail varnish, then freshly-polished wood and finally a blast of cinnamon. Water shows its breadth.
Palate: The cask begins to show now, with soft vanilla elements mixing with white pepper, toasted caraway, allspice, and rye flour. There is a relaxed control about this, the rye being totally well behaved, permitting the cask to tame its more excessive elements. With water you get raspberry and some toffee, then the rye is finally allowed to frolic free.
Finish: Bracing, with roasted cereal notes.
Conclusion: This achieves the tricky balance required with young rye. You need pep and spice, but must also have sufficient weight and substance to prevent things from becoming too skeletal. Sippable and mixable.
Rating: ****(*)
Brand: Tennessee Rye 4 year old, Batch 3, TBWC, 45%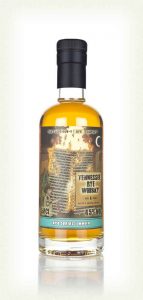 Nose: There's some grassy elements here, a little nutmeg, a touch of sumac, and wintergreen but after that first blast things soften and relax – there's spiced honey, juicy orchard fruits and even a touch of sandalwood. It needs a little time. Water shows rye's green apple and acidic/citric side before we are back in Opal Fruits/Starburst territory.
Palate: That green apple? It's here from the start along with (green) anise/fennel,  then it dips into the pool of sweet soft fruits. Sweet and toffee like on the mid-palate it then straightens out and becomes fiercer towards the back with more of the camphor/wintergreen. Add a little water and out comes thick honey, the sweet fruits and a dying fire.
Finish: Fruity, lightly spiced with a subtle charred note.
Conclusion: This oscillates madly between two extremes but add some water and you shall be rewarded. 
Rating: ****