High time to try some of the new rums that have arrived, and what a selection. Three from the new Jung & Wulff range,Watt Whisky's first foray into rum,  a brand new 7 year old Cuban, Black Tot's 50th Anniversary bottling, a new 15 year old addition to the Saint James range and the first pair from Taiwan's Renaissance distillery. Seven countries, one blend. There will be something there to blow your tiny minds. 
Brand: Barbados #1, Jung & Wulff, 43%

Nose: There's a touch of weight on the nose giving it a slight funkiness along with banana peel, nectarine, some coconut oil, and a little macadamia. As the funkiness lifts off, so you get more of a sweet-tempered Bajan style. Water brings out chocolate, fresh fruit, and molasses.
Palate: A very soft start, then a leathery (suede-like) quality creeps forward, alongside  nutmeg, cinnamon and pepper, though not in as extreme a fashion as as the Trini (below). The mid-palate has bruised peach, with some drying oak adding a light chocolate edge and an almost burnt molasses element on the end. Water lightens but also lengthens adding n vanilla, light citrus, and candied fruits.
Finish: Spices. Molasses
Conclusion: Easy going, nicely balanced, with decent weight and some maturity. It's 'primarily' aged in Barbados. Hopefully soon 'Barbados rum' will mean it's been aged for its entire life there. 
Rating: ***(*)
Brand: Belize 13 year old (Traveller's distillery), Watt Whisky, 57.1%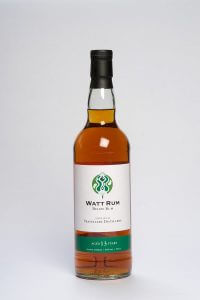 Nose: Slightly closed – strange for such strength – but you can pick out concentrated sweetness, muscovado sugar/golden syrup and overripe tropical fruit. With water there's a heavy floral perfume (geranium/rosewater) mixing with cooked pineapple and cinnamon balls. 
Palate: Thick and buttery with a heightened perfumed quality, that mixes floral elements with clove oil and anise. The alcohol gives the mid-palate a bit of a kick, along with some butterscotch, then cacao. Water gives better control, and while things are still aromatic there's a better and more supple feel.
Finish: Hot and spicy. 
Conclusion: That perfumed thing is something I've seen in Belize rums before. You'll either like it … or not. Try it at least. 
Rating: ***(*)
Brand: Black Tot 50th Anniversary 54.5%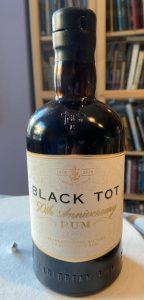 Nose: Deep and rich, with immediate funkiness, rich molasses, melting dark chocolate, chewy liquorice, and dried cherry; but there's also a lift of unripe melon, sweet spices, then fresh citrus peels.Water brings out clear mature elements (which many rums, sadly, try to obscure) along with cigar, pomegranate molasses and a treacle toffee.
Palate: After a soft, vanilla pod-led start, that deep, treacle power begins to build. There's  layers of dark fruits (blackberry especially), and a build-up of mushroomy/feral qualities, and bitter coffee, all balanced by light tannins. The generosity isn't diminished with water. If anything you get more of an idea of the multi-toned elements – some black banana, dried fruits, a sudden flare of citrus and this interplay between soft flavours and decent grippiness
Finish: Blackberry and light spice. Lightly drying. Great length.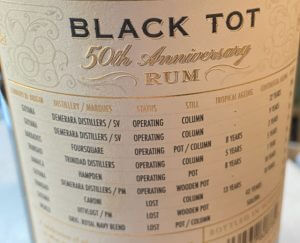 Conclusion: A blend needs to be/should be multifaceted… This is. Heartily recommended. And three cheers for the transparency on the label [see pic]
Rating: ***** 
Brand: Eminente Reserva, 7 year old, 41.3%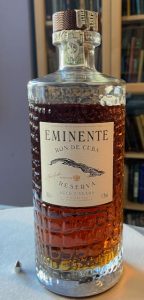 Nose: This has a very Cuban mx of hot earth, crushed berries, coffee, and black fruits mixed with tangerine marmalade, and rosehip syrup. Soft and easy, but with clear age on it. Drier elements emerge with water, light tobacco, ginger, flamed orange peel. Good complexity cuban spice is there scented corsndeplate
Palate: The tip of the tongue is a mix of sugary black coffee (with a little chocolate to nibble on), then the mid-palate juicy fruits, vanilla ice cream then dries a little as the oak comes in along with dry spices, that hint of dusty road and some of the deliberate austerity that is on some Cuban bases.
Finish: Crisp, with some molasses and a light leather element showing there's some decent age in here.
Conclusion: Very Cuban in its conversation between dry and sweet, the citrus and coffee. I don't usually bother with such things in notes, but what amazing packaging. A really welcome addition.
Rating: ****
Brand: Guyana #2, Jung & Wulff, 43%

Nose: There is good Guyanan solidity to this, as well as a slight metallic touch indicative of youth mixing with the iron edges of molasses, then black banana, and slight fungal qualities but it has energy and lift. A slightly gassy/marsh gas element. Odd. This, thankfully, is lost with water added.
Palate: After the unusual nose, it's lighter than it might seem but also cleaner. A quiet start before settling in nicely in the middle of the tongue mingling pitchy citrus with liquorice and a building (and very J&W spiciness), Water shows more of the firm oak.
Finish: Dries quickly.
Conclusion: Straight-ahead and easy-going. 
Rating: ***
Brand: Renaissance 2018 Limousin Single Cask #18067, 69.1%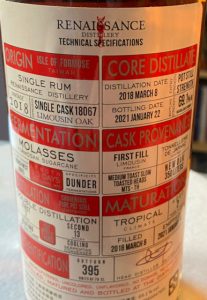 Nose: Scarily strong, though you would necessarily guess than from the nose which  manages to be fragrant and slightly meaty at the same time. Rum on the savoury edge with a cedary, cypress element. Fleshy fruits then start to emerge along with a za'atar like herbal element, then runny caramel and whiffs of dunder. With water, the meatier side grows alongside vellum, toasted oak and spice.
Palate: Polished both in style and also flavour – wood polish/oak. It needs water so don't kill your palate by trying to drink it neat. Sophisticated, with the French oak notes taking you towards agricole, then the dunder heads you towards Jamaica. The weight and tamarind like richness is balanced by a light astringency, while at the back there's a hint of soft smokiness.
Finish: Dunder. Long.
Conclusion: A remarkable rum from a remarkable distillery. All the details on production are on the back label [see pic].
Rating: ****(*)
Brand: Renaissance 2018 Mizunara Alligator Finish, Single Cask #, 63.5%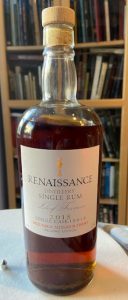 Nose: This is more rounded and on the dried black fruit (prune, hascap) side, cooked peach, coconut, a hint of solvent-like funk, and roasting coffee bean. Generous and rounded. Thick, sweet and layered. With water there's tamarind paste, dried apricot, and an amazing espresso quality. I don't drink coffee. Pour me one of these instead.
Palate: Massive, bittersweet. The tip of the tongue is all scented, spicy, clove. Then comes  a mix of ripe black and tropical fruits, with added roasted spices, and toasted coconut. There's real power, but also elegance. With a little water there's extra chewiness, dried flowers, molasses/dunder.  elegant and rich superb balance just not afraid
Finish: Long and fruited, with a touch of clean acidity. Balanced, complex, and two years old. 
Conclusion: Rum in noble rot casks? Why not then finish in mizunara? Why not have direct fire on the pots and use dunder as well? Remember how Kavalan blew people's minds? Renaissance will do the same for rum. 
Rating: *****
Brand: Saint James 15ans, 43%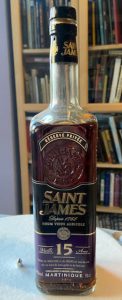 Nose: Dried raspberries, ripe melon, black grape, damson jam and some heavy florals, that polish note that you get with genuinely old rums – even a little hint of ink – before the heady sweetness of cane. Concentrated with some maraschino, then tomato puree and leaf Water shows a more structured approach. Moving into tea leaves, and dried lime. Complex.
Palate: A coating of sweet black fruits, then some white pepper and balancing crisp oak. It's almost saline at times. The generosity of the fruit is still there when water is added but the oak, bay rum and clove are now more prominent.
Finish: When neat it's pure Ribena.
Conclusion: A new permanent addition to the already exemplary Saint James range. A rhum for whisky lovers (and anyone who loves great spirits). Sophisticated.
Rating: *****
Brand: Trinidad #1, Jung & Wulff, 43%
Nose: Light, sweet, some banana, pink peppercorn, and a touch of toasty wood/cashew then a very Trini blast of bright grapefruit and yuzu. With water there's slightly more oak,  plasticine and a little pineapple.
Palate: The start is gentle with an almost syrupy coating of sweet caramelised fruits, then there's an abrupt shift to insane levels of spiciness. By the back palate the sweet vanilla notes are struggling to be seen. Water gives more of a pillowy quality but there's still that sudden shift into pepper.
Finish: Spiced up.
Conclusion: A rum of two very distinct halves, but the spiciness knocks the balance.
Rating: ***(*)