New Zealand Tour 3: Pōkeno
DAY 3
Pōkeno
Today was on a slow southward trajectory out of Auckland with Aaron Savage, Irish bartender and now sales manager for Pōkeno. It's impossible to keep up with all of the new distilleries on the world, which is understandable when dealing with small operations, but by all accounts Pōkeno is large, vying for the title of the biggest in New Zealand. It had mature whisky, was lining up export, but its existence had been a secret. Throughout my trip its name kept cropping up, as did the that of its founder/owner/head Matt Johns. Pōkeno was becoming a focal point for New Zealand whisky, but was invisible. Go figure.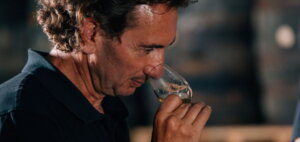 Once out of the city's sticky grip we speed up. Sky rainclouded, switchback road, Aaron telling me of Pōkeno (the town's) ridiculously huge ice creams, and famous bacon. We're 40 clicks down the road when we take the turn off. No time for ice cream. Matt and his wife Céline meet us, suitably, given the cloaked nature of this place, clad in black. 
Matt came to New Zealand on a family visit in 2013 and, as happens, got stuck after figuring that he could as easily do his work as commercial director of Terroirs Distillers, owner of Tullibardine, Muirhead's, and Highland Queen, from here.
'For the first two years I was flying back and forth to Scotland every few weeks,' he says blithely. It's taken me a week to shrug off jet-lag, clearly he is made of sterner stuff. Eventually that schedule was proving too crazy even for him. 'We figured that if the move was to be permanent it had to be whisky-related. I was 45, and there was one last big project in me. It was logical to build a distillery.' Again not necessarily the leap that most of us would take. 
The vision was always big and business-driven, rather than emotional. Maybe with Matt's decades-long experience, the approach was always going to be different. Taking his knowledge of Scotch on an international scale and applying that to New Zealand.
The first issue was finding the site.
'The driving force was the water,' he explains. 'So we began searching for possible locations an hour and half around Auckland. Pōkeno was perfect. We're surrounded by volcanic hills and sit on top of a mineral-rich aquifer.' In 2017, the business was established, the distillery was completed a year later, and in 2019 they started producing.
After the previous day looking at home-made equipment, Pōkeno's layout comes as a bit of a shock. This is a classic, modern distillery – all steel and copper all of which, bar the stills (two wash and one spirit, from McMillans of Prestonpans) was designed and built here.
The new make starts from super clear wort and 80 hour ferments, before distillation in stills which maximise reflux and which are given air rests between distillations to refresh the copper (Royal Lochnagar/Oban style). 'The aim,' matt explains 'is to make the new make drinkable. I like sweet and smooth, and clean whiskies, fruit-forward. The process was designed around that.' Aim for a flavour, then work back. 
It seems compact and can make 250,000 litres a year but there's space for another half dozen washbacks. Pōkeno's plans are not small – as becomes clear when we hit the warehouse that's already filling up. I run my hand over a cask. It's damp, the bung's protruding. Matt spots my confusion.
'We're actually below sea level, which gives us this weird microclimate. There's heavy mists every morning and 93-97% humidity. The air pressure is so high that the bungs are popping out. Maturation is… quick, about 9-10% a year, but we take the losses. It's what makes our signature.' As they're using 80% first fill bourbon, he reckons that six years might be the maximum length of maturation before the oak starts to take over. 
He's discovered that making whisky here isn't just about understanding resources and working with conditions but the lack of infrastructure. Whisky is reliant on other ancillary services – coppersmiths, cooperages, glass producers – all of which are either scare or non-existent here.
'We've had to do everything on-site,' Matt says. 'Hence this.' He opens a door and we enter a small cooperage, with a dechar-rechar for STR casks and a cooper who has come over from Scotland. Pōkeno is importing casks and supplying them to the industry, as well as selling-on its own after use. It's another example of the teething problems of a young, remote, industry and another facet of the need for self-reliance. Local solutions come in many forms.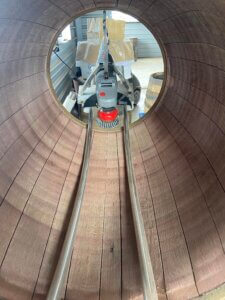 We head back to the office to taste.
That sweetness Matt has spoken about is to the fore on the 100% first-fill, ex-bourbon 'Origin', along with lemon blossom, tangerine and a light floral element. Peach jelly and passion fruit, and only a touch of oak.
'Discovery' adds in oloroso and PX-matured whisky to the ex-bourbon, mixing the green fig/grassiness of the new make with soft purple fruits, and echinacea. A touch of butterscotch and the returning citrus finishes things off nicely.
The third of the cote range, 'Revelation' uses the New Zealand signature nix of ex-local red wine casks with the first fill ex-bourbon to get a richer, fatter result, with some cooked fruits, marzipan, pancake batter, and a roasted element coming in on the end.
All have a generous, almost fat element in the middle of the tongue. It's the same textural quality I've seen in each distillery's drams. Might there be something in New Zealand barley giving this apparent commonality?
In the distillery, Matt had said that for three weeks a year 'we play'. For me the hits from this were a triple-distilled cask sample where the citrus was punched up along with massive green estery elements, toasted marshmallow, and lemon meringue pie. It's a direction well worth exploring.
Even more exciting was a sample of a three year old first-fill whisky that had spent seven weeks in a cask made from native Totara wood. Resinous, roasted, and almost smoky there's a mix of pot pourri, coconut cream, and higher red fruit acidity. It bodes well.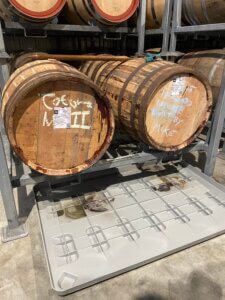 'This is our first experiment with native wood,' Matt explains. 'We've signed up to work alongside native forestry and will be starting a major experiment with wind-blown native woods. You have to ask the question.'
It begins to answer the inevitable question – how do you cut through? Not just on the domestic market, but internationally. You can't simply be nice and well-made any more. There has to be a quality-driven edge, a story, a link to place. Something which will pique interest and make people buy not just one bottle, but go back for the second.
There's another factor to bear in mind, that of costs. Thanks to that reliance on imports, it's expensive to make whisky in New Zealand, meaning that the base price will be 20% above single malt Scotch. It not only has to be different and quality, it has to be worth it. 'Interesting' won't cut it.
Pōkeno is likely to be most people's first contact with Kiwi whisky internationally. A country of five million people cannot sustain a distillery this size. Export is vital. 
'The local market will be crowded in the next five years,' says Matt, 'so we have to scale up and build an International brand market by market, measuring ourselves against Starward, Paul John, Amrut, and Kavalan.' There's a lot riding on this being right.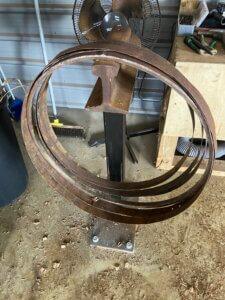 But why keep quiet for so long? 'Why make noise if you haven't got anything to shout about?' He replies. 'We're discreet. The aim was always to show people when we had something to show.'
Every angle seems to be covered. 'We knew what we were doing, we knew the model so we knew that we could fund this for 10 years. It had to be lean and self-sustaining. For three and a half years there were only three of us here.'
To say Matt is driven is an understatement. You don't imagine him taking a break to go and eat Pōkeno's ice creams. But any new industry needs its Matt Johns.
Four distilleries in three days, all with different mindsets and excitingly different approaches. I'm not looking for a Kiwi style – it would be absurd to ttry and force that issue. There are shared principles and mindset though, then there's that texture, that sweetness.
More to unravel as I head south … then west.