New whiskies from around the world
A chance to try some of the newer releases from the ever growing world of whisky. Northern Ireland leads off, followed by Texas, an England/Scotland blend, English rye, and two pioneering examples from the Pacific Northwest. Different finishes, oak species, barley varieties, and grain types.   
Brand: Bushmills, American Oak cask finish, 40%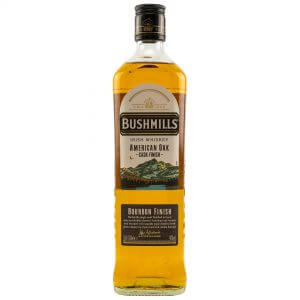 Nose: It's all golden syrup, spun sugar, lemon drizzle cake to start with. There's also a background of light grassiness and some freshly-planed oak (even a hint of cypress), and just enough black fruit to suggest an extra dimension though this flies off in time. Water makes it drier, and more cask-driven.
Palate: The sweetness is back – iced doughnut, double cream, spikes of cinnamon, and a sherbety tingle. The elements cohere on the mid-palate with toffee, then light berry fruit. As with the nose, the addition of water brings out wood (and wood sugars).
Finish: Gentle. Vanilla and lots of sweet spice.
Conclusion: It does exactly what you'd expect. Easy-going and approachable, and what's wrong with that, eh? 
Rating: ****
Brand: Bushmills, Caribbean Rum cask finish, 40%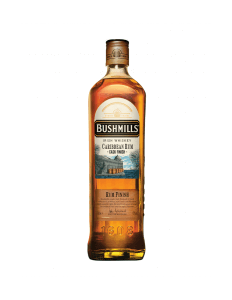 Nose: Certainly rummy. There's some light molasses (on the more mineral rather than treacle side) and a tiny metallic edge as it opens. Water softens it slightly. but it's not hugely expressive. 
Palate: A soft and a slightly quiet start that leads into nutmeg, candied fruit, then a burst of acidity and spiciness as the cask starts to exert itself. This fizzy quality at the end slightly disturbs the overall balance. Water makes it more about wood than rum.
Finish: Dry, and a little tight. 
Conclusion: The partnership doesn't seem fully resolved. Needs more weight mid-palate to anchor the different elements. 
Rating: ***
Brand: Dream BIG straight corn 4 year old, Simply Whisky, 65.7%

Nose: Sweet again (I'll need a visit to the dentist after all of this) with some condensed milk and cinnamon buns, then ripe banana, millionaire shortbread, butterscotch toffee. Water pulls out roast coconut, some acetone and, with time, some honey. 
Palate: The tip of the tongue is filled with toffee (Rolos) chewy red fruits and not inconsiderable heat (unsurprisingly, given the strength). Get over that and you can find fat slightly oily corn, tangerine peel, and banana chews. In time, and with water, there's a slight green sappiness. 
Finish: Coconut cream and butter. 
Conclusion: A fun glass (made at Balcones) from those fun chaps at Simply Whisky which is calling out for some tiki treatment.
Rating: ****
Brand: Lakes The One Blended, Moscatel Cask Finish, 46.6%
Nose: You're never in doubt about the finishing cask here. A bucket of blue fruits, and sweet plum jam give a scented floral muskiness to proceedings alongside some sweet grain and crisp oak. With water added, all the fruits get mashed together.
Palate: Though starting with orange blossom water, those blue fruits quickly make themselves known.
While the Moscatel adds this comfort blanket of heightened, and slightly exotic, sweetness, there's some coffee bean behind, adding an almost phenolic edge, as well as galangal, some floral elements, and a candied quality. It becomes fatter and more overtly vinous when water is added.
Finish: Plummy. Liqueur whisky, 21st century style. 
Conclusion: The latest in an ongoing series of blends from Lakes comprising its own single malt, plus Scotch single malts and grain. It won't be for everyone, but it works, though one glass per session would be sufficient for me. 
Rating: ****
Brand: Oxford Rye, 2017 harvest, 46.3%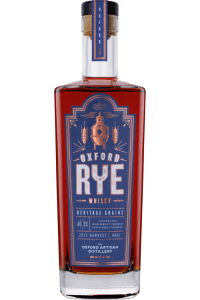 Nose: A sweetly assertive rye which is on the lifted and aromatic, (rather than dusty/rye flour) side. There's some preserved lemon/yuzu, then five spice, dried orange peel, all within a lush oak surround. Balanced, with a pure and very polished quality, it manages to be both buttery, citric, and spicy at the same time. As it develops, so drier notes of anise and  wormwood come out. Water shows the rye grain itself more clearly, and brings in greener elements.
Palate: Though filled with youthful energy, there's already some decent complexity on show. Ryes can have a strange moment of blankness before everything rushes into fill the apparent void and when that surge happens here, you get green apple tartness, mixed with allspice, clove, black cardamom, then crushed fennel seed. Water makes it all more focused and slightly tighter.
Finish: Stinging and mentholic.
Conclusion: This in an extremely assured debut which shows huge promise. English whisky just got even more interesting. Hope that the folks who rushed to buy the first batch  opened their bottles.
Rating: ****(*)
Brand: Westland Colere 1st edition, 50%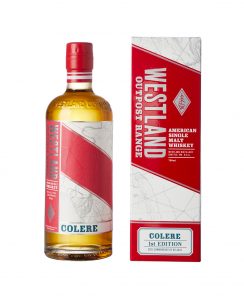 Nose: A beautifully fresh opening, which mixes fresh lychee, tinned peach, and pineapple with a suggestion of almond, and very light oak. It's clearly well balanced from the off. In time, there's some fresh leafy herbs and with water a fresh bakery element emerges as the malt begins to show its hand more clearly. 
Palate: A sweet and aromatically lifted opening with light mace. Light, yet gentle and persistent, there's  some juicy, peachy fruits being balanced by cocoa/coffee ands nuts, adding dryness and depth. Water accentuates the fruity roundness of the mid palate along with some cocoa powder, and some ginger.
Finish: Lightly nutty. Long and complex.
Conclusion: Westland has been at the forefront of the growing for flavour movement and this is the first release of its individual barley trials. In this case the strain is Alba (six-row winter barley) aged in refill casks.  
Rating: *****
Brand: Westland Garryana, 5th Edition, 50%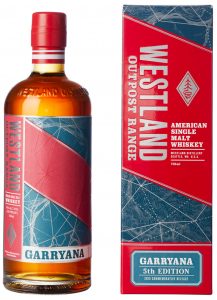 Nose: What a difference to Colere. While that is a showcase for individual barley varieties, Garryana is all about an oak species.
Bold, spicy, with highly concentrated wood sugars, maple syrup, and dark honey. Things move relentlessly to the earthy side as a charred cedar element comes in alongside resinous elements. A forest floor: leaf mould, sap, hot oil. Savoury and meaty (barbecue sauce).
Palate: That big, smoked/charred start leads to a massive extract of ripe dark fruits, more of that sweet earthiness, some mulled spices, clove oil (told you I'd need the dentist), and an assertive structure. That grip is balanced by the length and richness of the mid-palate. Water brings it under slightly more control, but the boldness cannot really be held in check.
Finish: Robust and slightly meaty.
Conclusion: Quercus Garryana is a Pacific Northwest native species whose range has been drastically reduced in recent times. A protected species, only windblown trees can be used for coopering.  It is also extremely rich in flavour – and though this edition only contains 36% Garry there's no doubt that it is in charge. A thrilling whiskey. 
Rating: ****(*)