Midleton Very Rare 2022 (and some older ones)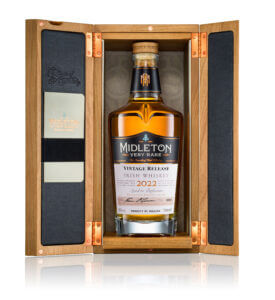 In the early 1980s, there were only two whiskey distilleries in Ireland, Midleton in Co.Cork and Bushmills in Co. Antrim. Both were owned by Irish Distillers Ltd. Whisky, no matter which way you spelled it, was facing tough times. 
Launching a top-end Irish blend at this time therefore might therefore have seemed like an act of madness. Now though it can be seen as the first element in Irish whiskey's rebirth.
I remember my first trip to Midleton and hearing a very different story than that of the history books. Not tales of decline, but of how, when the remaining Irish firms consolidated production there in 1975, the distillery was set up to preserve rather than homogenise flavours, how recipes and approaches were retained, and a wood policy put in place – long before the term had ever been thought of in Scotland.
It showed that there was more to Irish whiskey than Jameson, Paddy, and (in Ireland), Power's. There was also Crested Ten, Redbreast, Green Spot. Then, in 1984, there was Midleton Very Rare [MVR], a blend of grain and single pot still whiskey which Barry Crockett created as a showcase for the distillery.
Though the whiskey was well received, Barry once told me that the press baulked at the price – IR£40 a bottle (€112 in today's money). From today's perspective you can say that Ireland was in the premium market early. 
There's a sample of the 1985 in front of me. Given the new distillery was only a decade old, there was a limited number of casks to choose from (32 casks were selected for the 1984) and the blend was made up of young whiskies.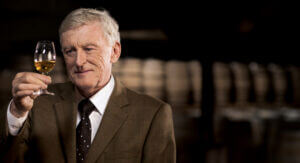 Anyway…
MVR 1985 Release It's dry and precise, with light oak, and some barley notes in the back. Underneath, there's blackcurrant leaf, apple, and tinned peach. There's also some slightly foxed, old bottle notes, which adds to its charm. With water you get more of a sense of concentration alongside lemon verbena, and creamy toffee.
That concentration is shown on the palate – the fruits feel bunched up in the middle of the tongue. It's sweeter than the nose suggests, with some honeyed elements. Then comes powdered ginger as the pot still spices kick in. Dilution releases fragrant top notes, and some creaminess, but things remain reserved.
There are only two rules for MVR. It is a blend, and it comes from American oak casks. That allows a lot of flexibility. The casks can be first-fill or refill, the pot still can be light, medium [mod pot], or heavy; the ratio of pot to grain can (and does) vary, while there's no fixed age. There is an MVR style, but not a fixed recipe, meaning that each release is different.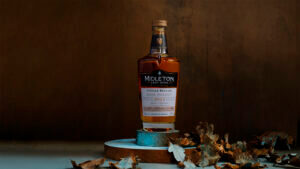 Stocks were still tight in the 1990s, but the investment in oak was beginning to show itself, as can be seen in the MVR 1996 Release
Here, the fruit content is upped significantly (though my past notes show it was even higher the previous year) with ripe melon, citrus and some of the classic Irish juicy peachiness and Ribena. The oak adds more overt vanilla elements, while the pot still element is giving a suggestion of oiliness.  As it opens, so the dry spices reveal their hand. 
It's softer and more generous than the '85, flowing nicely on the tongue with an interplay between poached pear, blackcurrant, and the tight, crisp, peppery finish. Water adds to the tongue-clinging succulence. Elegant, it's a whiskey that wears its heart in its sleeve.
Barry's tenure ended in 2013. By now the stock levels were healthier – and demand was growing. He could now draw from 100 casks and use older whiskies – up to 24 years old. This farewell release balances the generosity of the '96 with the restraint of the '85 and was his favourite.
MVR 2013 Release 
There's more overt nuttiness here – hazelnut praline – as well as a tobacco element which gives a dry frame, but within it is tablet and butterscotch, thick fruit syrup, light citrus and, with water, more estery and floral elements.
In the mouth there's an unctuous mix of chocolate and apricot, while again the finish combines cereal elements and an explosive spiciness: pepper flakes and green apple. All however is controlled, with the different elements seamlessly working together. It is deeper, more structured… and broader. 
Looking back at these three you can see the same elements at play, but the fascination is how each of them plays different tunes with them. There's always honeyed elements, and fruit; there's vanilla (or butterscotch/fudge), a floral/estery element, and spices, but it is the manner in which these building blocks are shifted around that makes this such a fascinating series.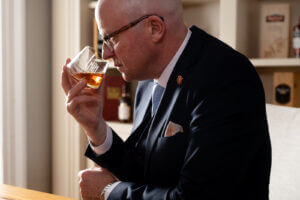 This year's release is the first under IDL's new master distiller Kevin O'Gorman's watch. He was previously the firm's 'Master of Maturation' (i.e. in charge of that wood policy), so maybe there's little surprise that he's upped the first-fill element. The age spread is also wider, now spanning 12 to 33 years. The grain element has been dialled down a touch, allowing the pot still more of a say – and all three pot still styles have been used.
MVR 2022 Release, 40%
A shade deeper than the 2013, there's more mature elements coming out. The apple is now tarte tatin (the oak is the pastry), the oils are a little waxy and the pot still power is driving the fruity element forward. As it opens so there's some bergamot, rose, then milk chocolate, and that signature honey. Water shows more of the dry underpinnings, green apple/pear drops, and blue fruits.
The palate is brimming with character – layers of ripe and dried pulpy fruits, then some sumac-like brightness, a floral element, and a melting, toffee-like centre. Then the spices come in: Szechuan  pepper, ginger, mace. Layered, complex, and rewarding.
Today, Ireland has close on 40 whiskey distilleries and the range of styles is expanding as old recipes and approaches are combined with new. It's a hugely exciting prospect, but don't forget the whiskeys which kept the flame alive – and one in particular which showed a way forward.
MVR 2022 is available now through most reputable retailers and will set you back around €200.