Johnnie Walker Anniversary Trio
Johnnie Walker is 200 years old this year. As well as a rather fine book, there's a trio of special releases inspired by the firm's story to suit every pocket. Read on…
Brand: Johnnie Walker Celebratory Blend, 51%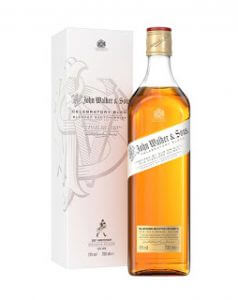 Nose: Rich, with turfy smoke mixed with dried fruit, and a background note of crisp malt . Once it starts to open, there's more of a citric edge – dried orange peel – mixed with toffee and chocolate (i.e. Terrys Chocolate Orange) then sweet ginger. While full-flavoured, there is a bright freshness and, with water, even a touch of the chypre which you get on Green Label. Now it is gentle with that citrus balanced by hay, smoke, almond, banana chews, and red fruit.
Palate: A sweet start with plenty tingling gingery heat, nut and oak. The mid-palate is where you get some dried fruit, spice, and a drift of smoke. Water balances these elements, pulling the spice attack into a more orderly shape, allowing the grains to add a more toffee-like quality.
Finish: Spiced greek honey, pepper and smoke. 
Conclusion: This uses whiskies from distilleries which were open when Walker's Old Highland was launched in the 1860s. Reading Dr Nick's 'A Long Stride', this should mean it will be ideal for toddies (and I'd say Old Fashioned, and Bobbie Burns as well). A must-try. Retails at around £50.
Rating: 4.5
Brand: Johnnie Walker, Legendary Eight, 43.8%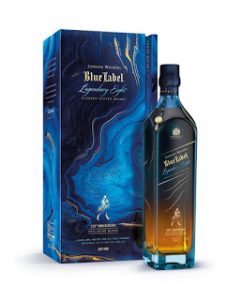 Nose: Softly mature from the word go: thick, honeyed, runny caramel, and super-ripe fruit along with a wisp of smoke. Allow it to breathe and secondary aromas emerge: hazelnut spread, a maritime smokiness, praline, and black berries. This smokiness is upped with a drop of water (but be careful not to add too much) – whisky-soaked barrel staves on a pea fire – which now combines with butterscotch-like grain, black fruit and finally a lift of green tea leaf.
Palate: Richly concentrated with a silky, creamy, mouthcoating quality. It's slightly spicier (coriander seed and mace) than the nose, while ripe apricot and apple are now stirred into the mix alongside tangerine. That drop of water now ups the orchard fruits, adds some coconut and while you lose the clinging quality,  now you see more of the maritime edge.
Finish: Light smoke, then a slightly salinity.
Conclusion: Though the name sounds like a Tarantino movie, the legends in this case are Blair Athol, Brora, Lagavulin, Oban, Teaninich for the malts, and Cambus, Port Dundas, and Carsebridge. Around £230 for a beautifully crafted dram. 
Rating: 4.5
Brand: Johnnie Walker Bicentenary Blend, 28 years old, 46%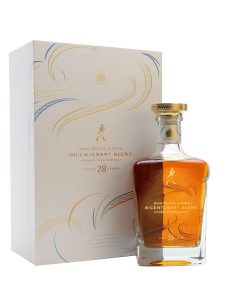 Nose: Patience is required on the drinker's part here. Like so many older whiskies, this needs time to reveal its complexities. Initially, there is simply a sense of concentration, a mass of fruits in various stages from fresh to dried, a sweetness, but also a savoury element. Only with time do you get the dried quince, faded flowers, autumnal berries and damp leaves and time-drenched oak. There's a covering of beeswax, then more dried fig, date, light (sweet) leather, and no more than a touch of smoke. Water eases the multiple layers apart a little more. Now there's tropical fruit, cling peaches, rhubarb, and then polished church pews. Great balance and complexity.
Palate: Thick and rounded with a soft power. The layers of soft fruits are there, but now an added touch of preserved lemon, and sumac before a lightly nutty, nougat-like element comes in. Like low afternoon sunshine filtering through windows in autumn. Like many old blends, its quality comes as much from texture as flavour. Thick, and redolent with a calm, considered sense of time passed. Water adds in slightly bletted fruit, lemon myrtle, sugar puffs, then fragrant north African spices.
Finish: Refuses to leave. A mix of cacao, Manuka honey and a little smoke.  
Conclusion: Drawing inspiration from the first stock list of John Walker's store in 1820. Mature grain is, for me at least, the key. From the fireworks of 'Celebratory' to the sense of job well done here. Quite the celebration. Yours for around £740.