IB roundup: Watt Whisky and Single Malts of Scotland
A quick roundup of new batches from Single Malts of Scotland and Watt Whisky. Some beauties await – but there's not a lot to go round.
Brand: Arran 8 year old, Watt Whisky, 59.2%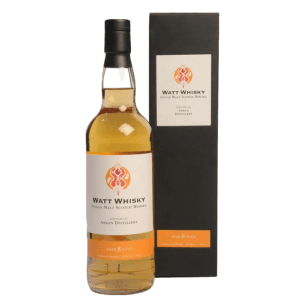 Nose: Well, this is rather lovely. Light, slightly creamy – think cream soda and you'll not be far off, candy floss, and seaside rock. Sits on Arran's more floral and aromatic side, with an extra scoosh of ginger beer and lime. The alcohol is kept at bay well. Water extends this summery sugar rush with a hint of sherbet dabs.
Palate: The start is citric – very Arran – and given the light elements on the nose, the thickness of the texture comes as a (pleasant) surprise. There's a wee explosion of soft fruits and cooked apple mid-palate, then comes the gingery bite adding lift and buzz – that'll be that sherbet returning. Water adds in more cask-derived elements which add weight and complexity – there's still lashings of ginger beer though.
Finish: Lightly peachy.
Conclusion: The Famous Five go to Arran. Delicious. 
Rating: ****
Brand: Blair Athol 11 year old, Single Malts of Scotland Reserve Casks, Parcel 5, 48%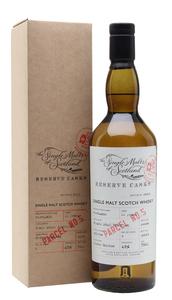 Nose: What a sumptuous nose. Mead like, thick honey on heavily buttered spelt bread. There's also a touch of (yellow) duster with beeswax. Smells mature and 'older' than it is. There's even hints of oxidation, and mango lassi. Like the Arran, there's more oak with water alongside cake, flapjacks but no diminishing of the energy.
Palate: Languorous and soft and though it slumps a little in the middle of the tongue there's tablet, almond butter and Crunchie bars.
Finish: Maybe a little short.
Conclusion: Gorgeous – especially on the nose. There have been some great Blair Athols recently – a cult in the making?
Rating: ****
Brand: A Highland Distillery 16 year old, Watt Whisky, 46%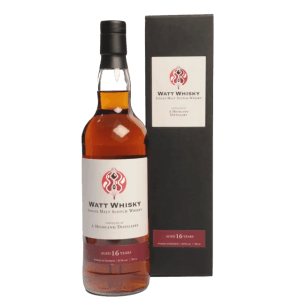 Nose: A rich mix of candied peels and balancing Seville orange-like bitterness, then some glue (on a buff envelope), musky fruits and light incense. A drop of water brings out treacle toffee and bramble jam, as well as a slight meaty edge (steak pie gravy).
Palate: Robust, with an immediately obvious structure bt those tannins are supple. Walnuts are now added to the pruney black fruits, while the alcohol gives a chilli-like lift.
Water brings the citrus zestiness back into play.
Finish: A touch of chocolate and chestnut honey.
Conclusion: The second in this series from the Watts, and a lovely, rich, balanced dram it is too
Rating: ****(*)
Brand: An Orkney Distillery 13 year old, Single Malts of Scotland Reserve Casks, Parcel 4, 48%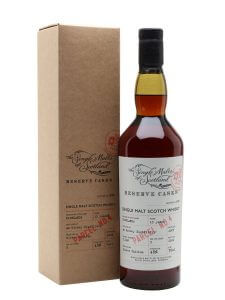 Nose: Though the colour is boldly red it's slightly shy, with a tin full of boiled sweets, jelly babies, fresh dates, some flat cola, and just a tingle of duty, heathery smoke. Water adds in touches of pipe smoke  and varnish, but everything is toned down.
Palate: Things remain on the gentle side with soft tannins. There's a surprising hazelnut-like sweetness (nocello) alongside light cacao. Maybe it's the low(ish) alcohol, but things just seems a little flat. Water adds in toffee.
Finish: Slowly dies.
Conclusion: Sweet certainly but a bit of a doughnut (a hole in the middle).  
Rating: ***(*)
Brand: Teaninich 11 year old, Single Malts of Scotland Reserve Casks, Parcel 5, 48%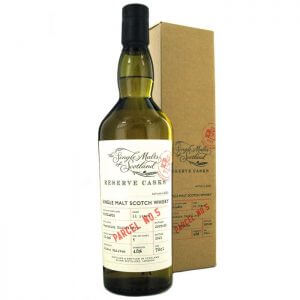 Nose: There's a mix of nettles and gooseberry with plenty of Teaninich's grassiness that comes across as fresh silage on the breeze. There'a also some lychee and light lemon.Water makes things more peppery.
Palate: Light, dry and slightly chalky.There's some lemongrass, stone fruits tussling with the starchy, crisp background.
It finally opens on the back palate when it becomes sweeter with hints of peach. Water eases things further – now there's ginger juice, galangal (not sure where all these Thai flavours), but it remains flinty.
Finish: Lemon peel and honey.
Conclusion: A pretty austere proposition, and though I like this Trocken style, a little more sweetness wouldn't have gone amiss. 
Rating: ***(*)
Brand: Tomintoul 10 year old, Watt Whisky, 56.7%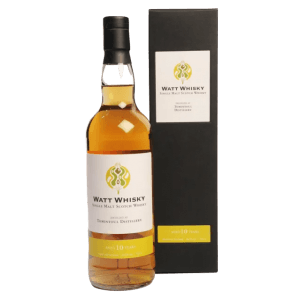 Nose: There's not inconsiderable cask influence here, (crème brȗlée, vanilla pod) as well as some green banana and cashew, before brioche sweetness returns. Water makes it a little more vegetal with daikon, and birch sap. 
Palate: Casky, lemony, and zingy. The tip is barley sugar, but balanced by bitter nuts, then a combination of stewed rhubarb, almond, and creamy toffee gives a softness to the mid-palate before things get all crazy and effervescent with cinnamon, and a touch of clove at the back. Who needs Prosecco when you have this? (Actually, who needs Prosecco in the first place?). Water brings out an almost vinous quality with a slightly leesy, fermented quality. Keep it neat say I, and damn the consequences.
Finish: Fresh and vanilla accented
Conclusion: There's a real swagger to this. Recommended.
Rating: ****