Extra-old drams – including the return of Rosebank
A clutch of extra-aged whiskies have arrived over the past few weeks so it made sense to group them together and see the variety of ways that time can affect a whisky. Its passing can thicken character, and create new accords. 
Oxidative elements can emerge if the oak has a light touch, or flip the other eay if it is more active. A distillery's carfully crafted character can be retained in new, thrilling forms, or be subsumed under the weight of wood. 
You can get waxiness and tropical fruits emerging, but you can also see how elements begin to separate and decay.
Time doesn't necessarily make a better whisky, it simply makes an older one. Age is a number, maturity is a character. 
Brand: Caol Ila 35 year old, TWE Directors' Special, 50.9%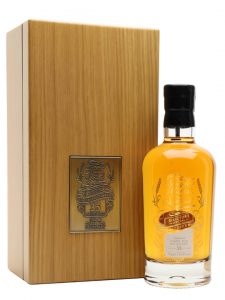 Nose: Still magnificently smoky, fragrant, and identifiably Caol Ila with its mineralic mix of salt spray, and lemon. There's also some whitecurrant and a hint of lavender, as well as an After Eight mint/chocolate combo. As it opens a fascinating musky quality emerges. The smoke hangs like a veil, not obscuring just touching every element. Wioth water there's seaweed tangle, black butter, oyster liquor, and a mature note of deck oil and oak, re reminiscent of a boat-shed.
Palate: Immediate, sweet, and smoky with a thick, and luscious texture. There's molasses-basted pork, then smoked oysters and berry fruits. It slips and slides over the entire mouth mixing sea, and shore. When water is added so the citric elements come out along with brine and a gamey underpinning.
Finish: Sweet crab meat, juniper and smoked salt. 
Conclusion: Is there any other single malt as consistently marvellous as Caol Ila? This is as good an example as I have had for years. Simple as that. Yours for £700, but hurry.
Rating: *****
Brand: Glenfarclas 60 year old, 40.9%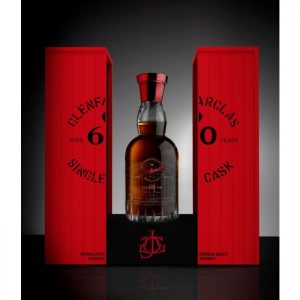 Nose: The first inhalation brings a mix of menthol and camphor mixed with citrus zest and some dried soft fruits which in turn lead into an exotic mix of dried rose petal, mulled spices, and tamarind paste. Then things swing towards a fine-boned, mature early-landed Cognac with its intense mix of soft dried fruit, and liquorice. Finally (and with a little water) you get a raisin-accented, sherried character along with a resinous punch. What a great nose.
Palate: In contrast to the nose the palate is tight and though it is astonishingly bright for its age, it's dry. All of the impact, flavour-wise, is upfront – again with the 'Cognac' element leading the charge. There's also some tobacco leaf elements, sultana, bitter chocolate and a little blood orange. There's also acidity. A lot of it. In time it's more akin to a very old, intense palo cortado – almost as if the whisky has gone and the sherry has, somehow, reasserted itself.
Finish: Finally, as the acid loosens, there's a hint of smoke, some wine gum and an unusual saline quality.
Conclusion: An amazing nose, but the acidity skews the palate. Yours for £19,000.
Rating: ****
Brand: Imperial 30 year old, TWE Directors' Special, 54.8%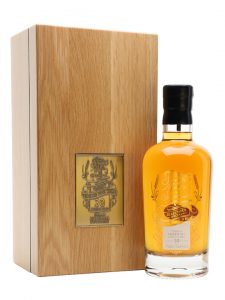 Nose: Now then … This is Imperial in fragrant and fruity guise: Turkish Delight/rosewater, super-juicy cantaloupe melon, papaya and a touch of smacked cucumber. It's creamy (as Imperial should be) but leave it in the glass and a dry spiciness begins to take control. A touch of water adds a drier element, as well as apple crumble with Demerara sugar and cinnamon.
Palate: Soft, though slightly hot, then fruit jelly and some of the waxy/tropical fruit elements you only get with super-mature whiskies that have been given relaxed maturation. The spices are now more assertive, the cinnamon now giving way to powdered ginger. Water tames this and rebalances things adding length and ripeness.
Finish: Sweet orchards fruits and, yes, spice.
Conclusion: This still has life in it. You get the feeling that there are still elements which are yet to be revealed and resolved but, hey, it's too late for that. Recommended. £400
Rating: ****(*)
Brand: North of Scotland 50 year old, 40.4%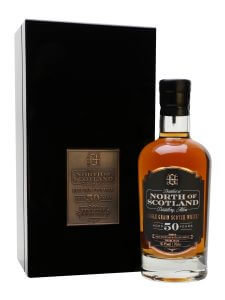 Nose: You don't see whiskies from Alloa's North of Scotland distillery very often, but any I've come across have been uniformly excellent. This also shows the waxy side of maturity but there's more active oak here than with the Imperial, and the fact it's a corn-based grain takes the aromas off in a different direction. There's fat toffee, butterscotch and maple syrup mixed with toffee apple and melting chocolate. In time there's a much-needed zip of orange peel, then baked banana, coconut cream, and raspberry jam.
As often happens with extra-old whiskies the addition of water shows the drier side and though there's a hint of chestnut honey we've moved from the sweet counter into an old warehouse.
Palate: Thick, with masses of coconut, then red fruits, cherry jam, pomegranate juice, gummy bears, and strawberry chews. It also has a ridiculously bouncy quality. It's Charlie Bucket's grandad beginning to dance. Water adds in creamy toffee but as the nose suggests, it's best neat. 
Finish: Fades gently, light nutty oak.
Conclusion: My spies tell me that this is the first ever official bottling from North of Scotland and since it closed in 1980 you wonder how many more there will be. Yours for £1,000
Rating: ****(*) 
Brand: Rosebank 30yo, 48.6%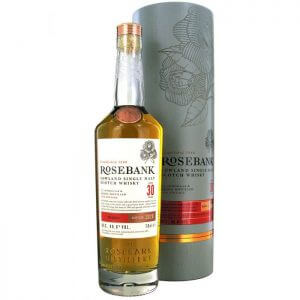 Nose: A perfumed cloud, floral, and lightly fruity, with hints of jasmine and orange blossom, mango and cream, lemon meringue and even a subtle dill-like element. Subtle, yet confident. As it develops so a talcum powder element emerges, while after dilution there's delicate fruit syrup, osmanthus, and layers of subtle tropical fruit.
Palate: Sweet certainly, but with the herbal element now becoming more apparent it begins to move in a similar area as Yellow Chartreuse. There's Angelica, gentian, propolis, then wild flowers. It's more akin to alpine scenery rather than the Forth & Clyde canal. You can sense the age which comes at you in an unconventional way, not with oak and weight but with a certain slowness in the delivery, and a hint of oxidation. Elegant and sophisticated.
Finish: Fragrant and long. 
Conclusion: North of Scotland and Imperial may have gone, but Rosebank will soon live once more. This is the first in a series of official bottlings leading to the reopening of this astonishing distillery. Taste a whisky this great and you wonder why on earth it was closed. Only 4,350 bottles and at £1,500 it's sure to become a collector's item. Sadly, as it demands to be consumed with friends.
Rating: *****
Brand: Singleton of Glen Ord 38 year old, 49.6%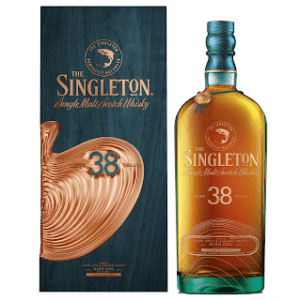 Nose: The deepest colour of all iof the selection with an aroma of chocolate, dry hay, polished oak, then cooked dark berry fruits, hawthorn jelly, and red apple, and caramel toffee. This generosity of character is signature Singleton. In time there's some varnish hinting at its age. Slowly it becomes more considered and the initial thrust of fruit giving way to drier, forested elements, baked apple, raisin, sweet chestnut, fig, plum and toffee.
Palate: Thick, chewy, and well structured, with supple tannins and now more sherried elements, some rosin, Jamaica ginger cake, then a port wine richness. Yes, it is old, but it is deep. It's not faded but soft and mellowed. Water tightens the grip but also reveals the layers of fruit, cedar, cypress, oak, and mulled spices. Your call.
Finish: A return to back to black fruit and a new almond/walnut note. 
Conclusion: After 12 years in ex-bourbon this spent the rest of its life in either ex-PX or virgin American oak. While it is cask-driven it's amazing hw restrained the virgin oak element is. PS Is it me or is it becoming harder to see on the label which of the Singleton distilleries a whisky is coming from? Yours for £2,100.
Rating: ****(*)