All whiskies are conceptual in some way. It could be an age statement, a flavour, even price point or packaging. All have been worked out through discussions between the marketing and whisky-making teams. A balance is, mostly, struck.
These days, however, you're beginning to see whiskies where the underlying concept has become ever grander and the liquid has to fit around it. 
'When an artist uses a conceptual form of art, it means that all of the planning and decisions are made beforehand and the execution is a perfunctory affair,' wrote Sol Lewitt in 1967. Is whisky moving into the same area? Surely, when the idea becomes the machine (in LeWitt's words) the whisky fails. The balance is lost. The tail wags the dog.
Here are five new ones which explore this area. 
Brand: Ardbeg Scorch (Committee Edition), 51.7%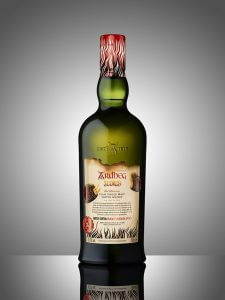 Nose: A slow starter which is initially less in your face than you might imagine given the strength and indeed the name (and dare I say concept). That said, there's no doubting that this is burnt: pitch pine logs sputtering on the fire, there's some wet moss and also a porky depth. A barbecue in a damp logging camp. The singed element continues with water, with added dry leaves, green tea, and spruce tips giving some lift.
Palate: Now the dry smoke hits, throwing you into a barbecue pit. Alongside this is a mezcal-like element (woodsmoke, green, vegetal intensity) suggesting youth. As in develops you get some scented woods and (not for the only time this week), some vetiver. The mid-palate is a little flat before you get Ardbeggian soot and a Iittle oil. Water shows this slightly awkward balance between dry smoke and the tomatillo-like acidity.
Finish: Parma violet, bog myrtle and more smoke.
Conclusion: Matured in 'fiercely-charred' (their words) casks it's pretty front-loaded and dry. Can't help but feel that the concept ruled on this one. 
Rating: ***(*)
Brand: Bruichladdich, The Ternary, 52.1%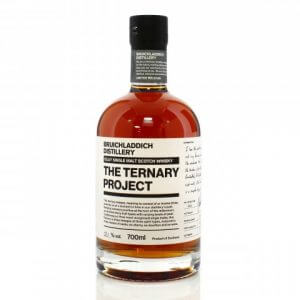 Nose: Things start with the slightly farmyardy aromas of older Bruichladdich (which I don't mind in small quantities) along with berry fruits, vetiver/cedar, some Oolong (Da Hong Pao) minerality and, ironically given the Talisker that comes later, salt water-slicked oilskins. In time, the Laddie's signature sweet fruitiness (red and black) comes through, along with figgy pudding. Water diminishes the intensity a little.
Palate: Full-bodied and thick. Smoked fruits, treacle scone, blueberry jam, vanilla, orange jelly cubes, Penguin biscuits, and a steady build of earthy peat smoke/pimentón. There's a feral edge to this, as well as a savoury touch of soy and miso. 
After the first wave passes, a more overtly vinous black cherry like quality develops. There's a lot of elements in here but there is, somehow, a harmony thanks to the smoke binding everything together. With water added you get more fruit syrups and an increase in the vinosity. I prefer it neat.
Finish: Pulsing, rich, sweet, smoked, All in all, rather splendid
Conclusion: I recall Adam Hannett producing this, or a prototype of this, as a surprise dram at a Féis tasting a few years back. Conceptually this is strong – a rare chance to try a blend of Bruichladdich's three styles (30% old regime Bruichladdich, 40% Port Charlotte, 30% Octomore)made even more complex by the use of 11 different cask types – ex-bourbon, virgin oak, ex-sherry, and multiple wine types [more details here]. It works a treat.
Rating: ****(*)
Brand: Glenfiddich 26 year old Grande Couronne, 43.8%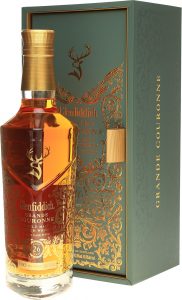 Nose: Lusciously fruity. Tinned apricot (with syrup), ripe mango, poached pear, apple sauce, as well as bright spice, tangerine. It becomes increasingly honeyed and, when neat, there's not a sharp edge to be seen. Water adds a slight firmness. There's some praline, cashew and chocolate and more distinct lightly oxidised mature notes.
Palate: Soft, sweet, and languorous, filled with exotic, slightly musky, fruits with more persimmon and peach.
A beautiful balance is struck as there is just sufficient oak adding in subtle drying elements of mace, cinnamon, clove and cacao. The transition from soft fruit to this drier element is seamless.
Finish: Sweet spices, light oak. Long. 
Conclusion: Relaxed, soft, and complex. The concept – finding a new harmonious flavour spectrum through using ex-Cognac casks for two years of final maturation – isn't groundbreaking, but the result is a triumph. Identifiably Glenfiddich, just never as you've quite seen it before. Easy drinking, even if £450 is a distinctly uneasy price.
Rating: *****
Brand: X by Glenmorangie, 40%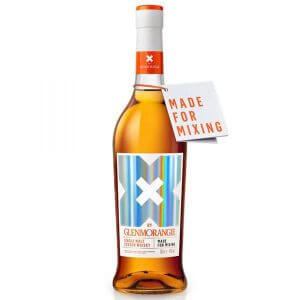 Nose: I found this fairly crisp and more barley-accented than you normally expect from Glenmo' though there are jags of citrus (grapefruit zest especially) along with primed canvas, Dolly Mixtures, Apple Sourz/pear drop, barley sugar sweets, and, oddly, rubber (eraser). Water makes it drier and firmer.
Palate: Light bodied a slightly hollow to start, the tip why oat milk, good central sweetness mid-palate with a blast of citrus and still that nutty undertow. It drops off quite quickly after this burst – hints of cashew, nutmeg then crisp oak.
You lose the sweetness when water is added, which makes me wonder how it will perform mixed. There are some of Glenmo's oily fruits, albeit slightly hidden.
Finish: Citrus, nuts, and juicy fruit. Short with water.
Conclusion: It's all very LVMH. Made to be mixed is the concept – though isn't all whisky mixable? Glenmo Original is brilliant with coconut water for example. Still… if it does bring new drinkers in and widen whisky's remit that's a huge plus. And it's £30, which is a snip these days. Balanced, if a little dry. It's fine.
Rating: ***(*)
Brand: Talisker 43 year old, 'Expedition Oak', 47.9%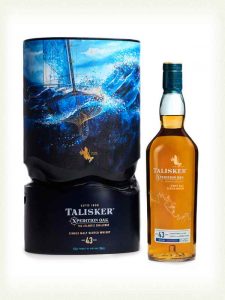 Nose: Well, it's clearly Talisker and Talisker in pretty sprightly guise for a whisky which can start to show the cracks of age in its third (or fourth) decade. OK, there's the impression of this being in sepia rather than technicolour, but there is still smoke, and that signature brininess which now comes across as oyster midden and cockles.
After that you pick out dry grass and smouldering wood and, in time, grapefruit, fresh herbs, and cod liver oil. It's a dram which is at ease with itself – quietly sitting beside the fire looking out at the waves.
Palate: The tip of the tongue is oily/grassy with some of the pear that you find way back in new make stage still hanging around. The smoke, however, is barely discernible. There is, however, drying bark, calamus, candied peels, bay rum, and light salt. It's got good flow, though things are firmly on the horizontal plane, with flavours following each other rather than layering up.
As it moves towards the back of the tongue you can pick out peat ash, gorse, heather root. As it doesn't have the concentration and compression you can get with time, it joins with the air quickly. Adding water brings out light fruit and more of the oils. Gentle, mildly saline, and scented. 
Finish: Whispers and fades.
Conclusion: So the concept here was using oak from a boat which had sailed across the Atlantic. Quite why is beyond me to be honest. What would this add to a whisky that was already 40-odd year old? And why did it have to come from that boat? Does the ocean give a specific flavour, or could you have just immersed a cask in Loch Harport and be done with it?
Maybe 'made by the sea' was seen to play both ways. I'm not sure the salty casks have added anything to be honest. It's simply a rather fine and gently elegant old Talisker that didn't need any more bells and (bosuns') whistles. £3,500? Hmmm.
Rating: ****