Clynelish '21 years of Friendship'
Thought I best post this when it might still be available. It's unlikely, but one has to try. Bottled to celebrate the 21 years that The Whisky Exchange's Sukhinder Singh and Toru Suzuki of Tokyo's incredible bar, The Mash Tun have known each other, here we have a single sherry butt of Clynelish, filled on April Fool's Day 1999 and bottled on 24th of August last year.
There are a total of 380 bottles split between Japan and the UK, with all of the UK's bottles being made available through TWE's website and shops.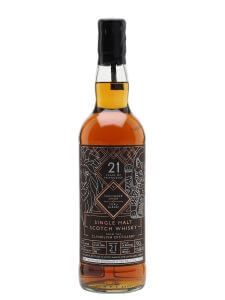 Brand: Clynelish 1999 '21 years of Friendship', 57.6%
Nose: Rich and mature. There's candlewax, a hint of brine, and then it becomes slightly confusing. There's some boiled sweets and even some pear drops. As these top notes fly away so a profound waxiness asserts itself. Yes, it is from a sherry butt (#305054 if you're taking notes) but this is no sherry bomb. Rather, you pick up blonde tobacco, toasted cashew, and then a chestnut honey depth. There's treacle pudding, rum and raisin, a hint of polished leather, suggestion of dates. A drop of water releases more of the same, but now with a distinctly funked-up, oxidised element. Massively complex. I could smell this all day.
Palate: An unctuous, crevice-filling ooze, but there's still some bite and energy (it's kept its strength remarkably well). There is a new exoticism on show, so in addition to the treacle, and ripe/dried dark fruits (black cherry, raisin, cooked plum), there is rose petal, ras el hanout and oddly, shea, butter. Mature and deep, this is whisky as experience. Water helps to show the density of its construction, how everything has been reduced to its essence: fruit, funk, molasses.
Finish: Lengthy, toffee, wax, and sultana.
Conclusion: You come across whiskies like these rarely. They are the ones which even in confirming expectations – it's an old Clynelish chosen by Sukhinder Singh from Wjosky Exchange and Toru Suzuki of that shrine to whisky Tokyo's Mash Tun of course it's good – still manages to confound them. It isn't conventional, or linear. Rather, it tests and teases, weaving elements from its arc of maturity into a seamless and balanced whole. 
Rating: *****