A look at three new(ish) releases from around the whisky world – specifically Norway, New Zealand and England. Young whiskies all, but how stylish they are. 
Read on …
Brand: Bivrost Nidavellir, 46%
Nose: There's a glimmer of smoke, just enough to let the Islay cask element through. There's some lightly malty, herbal elements, a buttery biscuit element and touches of still slightly green malt. As it opens so there's a ferny/green grass element, Brazil nut, and some caraway. Water amplifies its youthful and there's even a tiny suggestion of salinity and some tobacco.
Palate: The tip is lightly nutty with some smoke there, while by the middle you get some yellow plum and more weight than you might expect from the nose.  The barley also comes into sharper focus, adding to that biscuity quality. Water gives better cohesion. Cool and restrained. 
Finish: Lightly smoked.
Conclusion: The second of the Nordic Gods series from what remains the world's most northerly distillery. The character is building Keep your eyes on it.
Rating: ***(*)
Brand: Cardrona 'Growing Wings', Cask 101, 61.2%
Nose: Sherry coming atcha! Dried fruit, then honey moving into maple syrup layered with walnut and sultana. There's also a slightly leathery quality which you'd associate with much older whiskies. Opening up you can pick out stewed orange, date, green fig jam a hint of oxidation then this almost smoky, rich, figgy quality that's playing alongside the honeyed sweetness. Water? Bold, but balanced, subtle spice, and still great concentration. Quite extraordinary.
Palate: Casky notes to start, with some sherry funk ripe and dried fruit. Some heat (hey it's strong), but amazing elegance for its age. There's a rich back palate, filled with ripe black fruits and great flow. Be careful with the water. Overall, there's this languorous, layered quality. High extract but balanced.
Finish: Long, silky, blueberry.
Conclusion: This quality at this age? It's also the first cask they filled, FFS. Something magical is happening in the Cardrona valley.  
Rating: *****
Brand: Lakes, Whisky-maker's Edition, Colheita cask 52%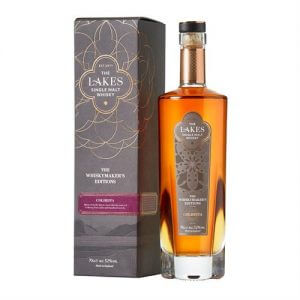 Nose: Very sweet and fruity – compôte, grape jelly, damson, cherry jam, and pomegranate. There's a distinct, musky perfume along with violet, and stewed rhubarb. There's also a nod towards Prune d'Occitan. Sweet and cask led. Water keeps things in this vein and though you lose a little of the compression there's more refreshing edge – fruit skin, light malt and nut.
Palate: A concentrated, fruit-drenched start, but now the cereal appears, adding some dryness, while the oak provides a light (but necessary) structure. This stops things being flabby and provides really excellent balance.
The almost liquorous fruits then edge forward in the middle of the tongue (pomegranate juice, rosehip syrup) adding a chewiness to the texture while at the back there's some malted milk and chocolate. Water brightens and slightly tightens.
Finish: Long and fruity. 
Conclusion: Fruity yet structured and not blootered by the cask. The best of the series so far… for me at least.
Rating: ****(*)