It's always a pleasant surprise when a package arrives from Campbeltown. When two arrive it's clear something is stirring in the Wee Toon.
In one, new releases from Watt Whisky. In the other, a selection from Frank McHardy, ex-manager of Springbank and Glengyle (… and also Bushmills and Bruichladdich). Frank's chosen them for the Quaich Bar in Singapore, but I'm sure they will filter out.
Who's best? There's only one way to find out …
Brand: Aberfeldy 15 year old, Frank McHardy Series, 55.3%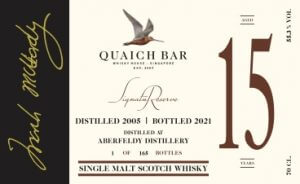 Nose: There's a dry heat coming off this, like sun-baked earth, but there's also some of that distinctively honeyed distillery character sitting behind. The strength makes it slightly hard to get into, but water brings out hot apple pie, a light peachiness, and apricot jam, while that dry edge now becomes more chalky. 
Palate: Sweet on the tip of the tongue, there's a numbing heat, some sherbet dabs and sweet spices. Once again, dilution is required. Now comes beeswax and a lighter, fresher effect, with decent fruit.
Finish: The sweetness moves into nutmeg. 
Conc: Needs water to show its style. A solid start.
Rating: ***(*)
Brand: Ardmore, 9 year old, Watt Whisky, 57.6%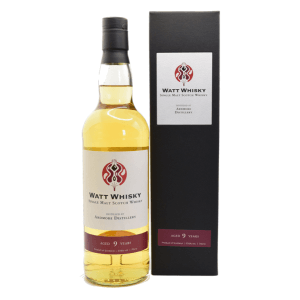 Nose: Fairly sweet, with a thread of smoke wrapping itself around white berries, some grass, and fruit blossom. Puts on some weight as it develops – there's a lovely, almost sweaty, hit of warm green bracken, then some menthol, with a touch of parma violet at the back. Fragrant yet complex. With water you get sage flower, moving towards heather, and Comice pear. Distillery forward (as Mr Watt would say).
Palate: A concentrated, sweet start with apple syrup, then sweetened porridge, and some pineapple. The smoke starts to creep in, adding a counterpoint. Soft texture and good length. It gleefully welcomes dilution, remaining sweet and gentle, with the smoke now more subtly integrated, and the fragrant top notes fully released.
Finish: Light nuttiness, some smoke. Long.
Conc: A classic example of the Ardmore Paradox – being simultaneously perfumed and smoky.
Rating: ***** [I don't see how even that generous fellow Serge could grade this higher, Mark]
Brand: Ardmore 11 year old, Frank McHardy Series, 43.7%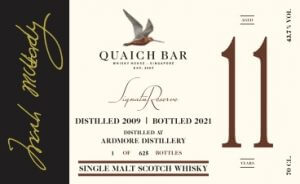 Nose: This shows Ardmore's more sugary side: lemon posset, lime, some mintiness, and a background creaminess. As it opens, you get a little burnt grass as the smoke starts to come more into focus, with a mealy/oat milk dryness also developing. Water pulls the lifted, and now more powdery, aromatics back to the forefront.
Palate: Lively, creamy and rounded, with some maltiness and a zip of spice. The smoke is lower in the mix than in the Watt example. The purity of the distillery character comes out when water added along with a bright, almost mineral acidity giving brightness and balance.
Finish: Energetic, lightly spiced, and dry.
Conc: Starts as a dessert whisky, ends as an aperitif.
Rating: ****
Brand: Braeval 24 year old, Frank McHardy Series, 49.5%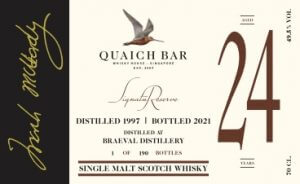 Nose: Coconut (Lamingtons/Tunnocks snowballs) with light strawberry, cut flowers and a hint of acetone. There's such charm here that you feel grubby offering even the mildest criticism. With water, night-scented flowers, then apple before it then fades.
Palate: As you might expect, it's very gentle and floral with a dustiness. You can sense it's mature but has retained remarkable freshness. It's slightly light in the middle of the tongue which makes the delivery falter slightly. I'd keep things neat.
Finish: When neat, flowers and estery fruits.
Conc: What's not to love? A perfect daytime dram.
Rating: ****
Brand: Bunnahabhain 12 year old, Frank McHardy Series, 67.1%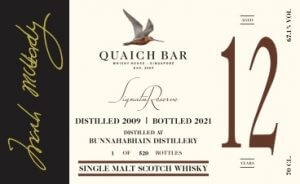 Nose: This has clear distillery character – gingerbread, mixed peel, light malt – but with an extra touch of sultana and fig on top. Sweet, thick and layered. Things develop into cooked cherry, and some sandalwood. Water brings out Oddfellows, incense, maraschino, grilled red pepper, oak and resin. What's not to love, eh?
Palate: While it's remarkably easy on the nose, there's a bit of a burn here, but you can get a hint of savoury elements, toasted red fruits, plus that gingerbread (now iced), then sweet chorizo giving an attractive burnt edge. It softens towards the back, adding an oiliness along with the cherries and spice. Water makes it slightly easier to cope with: there's camphor, paprika, dried fruits, and this meatiness which is unusual for Bunna'.
Finish: Great length. Quite meaty yet sweet. 
Conc: Some strength … Highly recommended. 
Rating: *****
Brand: Dailuaine 18 year old, Frank McHardy Series, 57.4%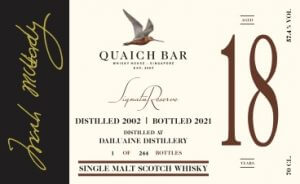 Nose: You never quite know what you're going to get with Dailuaine – meaty, fruity, grassy, waxy – or something in-between? There's some heft here but things are more on the herbal, grassy side with some gooseberry and kiwi. Water continues this leafy quality along with a little touch of brass/old coin.
Palate:A fresh start, with a brightness surprising for its age. The mid-palate has good sweetness with a little malt loaf as it dances between the two poles of sweet fruits and intense grassiness. There's good layering on show while water brings out a mix of daffodil, cinnamon, pot pourri, oak, pear juice, and melon.
Finish: Spice and light florals
Conc: A fascinating dram. Dailuaine usually is. Why isn't it better known?
Rating: ****
Brand: Glen Elgin, 14 year old, Watt Whisky, 51.3%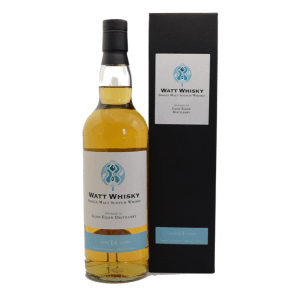 Nose: A pretty classic (and intense) Glen Elgin aroma of ripe fruits, lots of white peach, tinned pineapple, green banana, William pear, and tinned fruit salad – there's even a hint of basil. Just enough cask to stop it getting ridiculous. With water added, those fruits become a little greener but there's a light toffee note at the back.
Palate: Super-ripe, with a soft, silken texture. All of the fruitiness is retained along with honeydew melon and mango, and some retronasal pear-drop punch. By the middle you've got vanilla ice cream mixing in with the fruits. Water diminishes the impact making it more direct and focused.
Finish: Ginger and apple. 
Conc: You want to know what Glen Elgin is like? Look no further. 
Rating: ****(*)
Brand: Glen Grant, 23 year old, Frank McHardy Series, 53%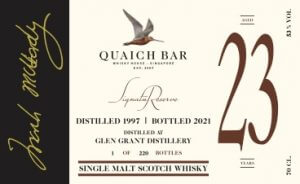 Nose: If Braeval was coconut confectionary, then this is coconut cream mixed with vanilla and Apple Danish. There's good maturity here as well, with a thicker and more honeyed quality and plenty of caramelised wood sugars and fruits. In time, the coconut shifts into polished wood. Water makes things more mead like, with a refreshing jag of lemon.
Palate: A soft start with more of the oak coming into play and the mix of mace (and coconut) sits on top of ripe sweet persimmon, and apple. Be careful with the water. A drop is all that's required to bring out a touch of chocolate without disturbing the mature fruit and oak balance. 
Finish: Long and elegant.
Conc: Glen Grant in perfect relaxed mode.
Rating: ****(*)
Brand: Linkwood, 13 year old, Watt Whisky, 59.3%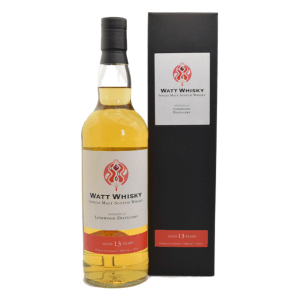 Nose: This is slightly hot, and firmer than you might expect from Linkwood making it slightly hard to get into when neat. The answer, as ever, is a judicious splash of water, which allows it to show its cards. Now things are heady and drowsy – chamomile, meadowsweet cordial, Bramley apple and with a refreshing tension.
Palate: This is more classical. Sweet grass, apple and peach blossom, lightly oily in feel, with a pinch of white pepper and nutmeg. The alcohol is slightly obtrusive when neat, but you'll be adding water anyway. Now there's whitecurrant, elderflower, soft white fruits, and a sprig of mint. The finish is bright.
Finish: Bracing and long.
Conc: Just a lovely dram. Simple as that.
Rating: ****
Brand Paul John, 4 year old, Watt Whisky 57.1%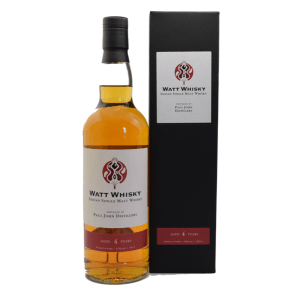 Nose: Four years in an underground cellar and already it's a deep amber colour. What starts off as being quite steely, softens into soft Muscovado sugar, malted milk, puffed corn, then some citrus peels and coriander seed. In time you get overripe melon, and a hint of overripe mango. Loses some of its definition with water, but remains fruit-filled.  
Palate: There's a lovely roasted/toasty quality to start, then lightly oily fruitiness –  blackcurrant, tayberry, then bergamot and peach. There's some good hot climate effects here pulling out sweet biscuit elements from the malt as well as concentrating the fruits. Water adds to the overall lushness.
Finish: Sweet oak and spice.
Conc:
Rating: ****
Brand: Port Dundas, 20 year old, Watt Whisky 57.1%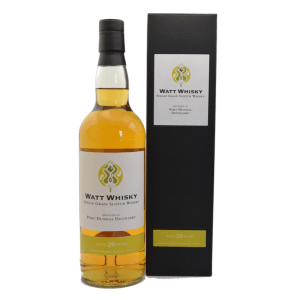 Nose: Big and chewy. Pineapple upside-down cake, apple sponge (slightly overdone), brown banana, Sugar Puffs and buttered popcorn. Water brings out that almost burnt, caramelised signature of Port Dundas adding richness, some red fruit, and orange bitters.
Palate: Powerful yet honeyed – almost Canadian whisky-like. It has a gentle feel, with some light oak, toffee, and foam banana. Things get slightly hot at the end. Water firms things up slightly, with the burnt toffee elements coming through.
Finish: Beefy and rich.
Conc: A rock-solid Port Dundas, showing that grain can have power. 
Rating: ****(*)
Brand: Speyside, 25 year old, Frank McHardy Series, 60.9%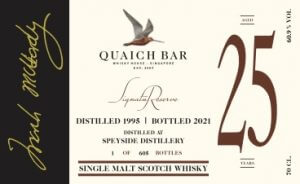 Nose: Sherried and mature. Comb honey, dried kumquat, dark chocolate and ginger. There's a little sweet oak and some browning meat at the back. Good weight, with some earthiness, a hint of struck match, and some mushroom. Keep neat.
Palate: A slightly oily texture is set against pretty assertive tannins giving it a robust quality with dried fruits, some chestnut, and cigar wrapper. Is that a touch of smoke? Water adds more roundness and a sweeter element : pistachio, praline then a mossiness. Well balanced and really rather good. 
Finish: Long, lightly bitter edge. 
Conc: Unafraid and old style. A surprise to be honest. 
Rating: *****