A rum roundup is long overdue. Here's a catch up on some of what's been happening. Rums from Jamaica, Barbados (and Mauritius), Martinique, Glasgow, and Orkney. There's a world out there to explore. Seek them out. 
Since I've got you here you may have heard of the flood which has seriously damaged Trailer Happiness. There's a gofundme page up and running. Sly and the team deserve our support
Brand: Barbados 13 year old (distilled at Foursquare), Watt Rum, 57.1%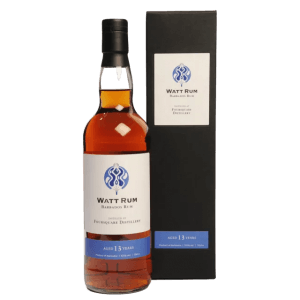 Nose: Full and deep with some lightly resinous cedary wood (with a little charred edge), dried peach, black banana peel/molasses, then comes the spicy elements: cumin and sumac. Water brings out pollen, bamboo, and a drier almost papery quality, then dried citrus peels and muscovado.
Palate: There's no sign of the spices as it enters the mouth. Sweetness dominates: heavy vanilla pod tempered by luscious tropical fruit syrups, light toffee, with the density of pot still adding weight and balance.
It's only after the half way point that you pick out the grip and those sweet spices. Water adds an extra creamy topping but smooths things out a little too much for me.
Finish: Lingering, and slightly drying. 
Conclusion: A beautifully balanced Bajan rum (though it spent its last two years away from its birthplace). Recommended.
Rating: *****
Brand: Cabal #1513, 43%

Nose: Runny toffee, masses of vanilla and pecan pie with some fried banana notes as well. Chewy soft and sweet with water there's some butterscotch Angel Delight and banoffie pie. 
Palate: No great surprise that this is sweet though now there is a little more black fruit, a tiny touch of treacle, then concentrated jamminess (rose and strawberry, hibiscus, blackcurrant), then raisin. Easy going and sweet There's a slight hollowness in the centre and for me at least it could do with more grip and acidity. With water, more cafe latte with butterscotch syrup, and fruit jellies.
Finish: Some sweet dried fruit
Conclusion: A blend of rums from Guatemala, Guyana, Trinidad, Panama and 'the Caribbean', aged in situ, then blended and finished in PX casks in Scotland. Maybe it's that last stage which rather than adding a subtle, binding layer has removed the complexities.
Rating: ***
Brand: Equiano Light, 43%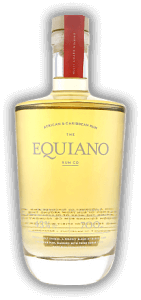 Nose: Fresh and lively, but not neutral. Rather you get citrus pith, finger lime, and cane sugar, with some white pepper that allies itself with a mineral quality. Water seems to up the agricole elements, adding a celery-like greenness and dry undertone.
Palate: The tip of the tongue is soft, with more of that vegetal element that moves to ripe apple and a balanced mix of sparkling spiciness, fruit sugars, and mellow cane syrup. It dries towards the back (Old Spice and vetiver). It really pops when diluted, pushing the fresh sugary fruits, but also adding length without becoming cloying.
Finish: Clean and zesty with some ginger syrup
Conclusion: Claimed to be the world's first Afro-Caribbean rum, Equiano is a blend of rums from Foursquare [Barbados] and Gray's [Mauritius] distilleries. Have this on its own, lengthened with a mixer, or as the base for a classy Daiquiri.
Rating: *****
Brand: Equiano Original 43%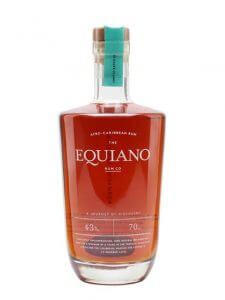 Nose: A sensual mix of thick toffee, then a mass of fruits – fresh and soft (raspberry/Tayberry), bright and citric (blood orange), dried (sultana) and cooked (stewed rhubarb). It also shares a similar resinous quality with the Watt Foursquare. Things continue to thicken into dark honey, molasses, hibiscus tea and flat root beer. Water shows a more serious mid-palate but the red fruits (and now ripe blueberry) persist.
Palate: A soft and easy flow between the varied elements, some fresh cut/charred oak, followed speedily by dry ginger, star anise, then the red fruits, molasses and a coffee element. The balance is exemplary with the tautness that appears towards the middle gently softened by glazed fruits. This density is lost a little when water's added, but the structure is enhanced, so take your pick.
Finish: more spiced
Conclusion: Named in honour of Olaudah Equiano, an enslaved man who bought his freedom by selling rum and whose memoirs (one of the first accounts of slavery) helped raise awareness of the evils of the trade. They, sadly, remain relevant. 5% of company profits and £2/$2 of every bottle purchased directly from the company will go to ground-level freedom and equality projects. Have it neat, with a block of ice or in an Old Fashioned, or Rum Manhattan – but have it!
Rating: *****
Brand: Foursquare Shibboleth 16 year old, 56%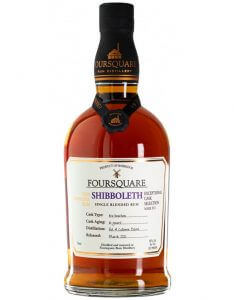 Nose: A shade darker than the Watt and with a similar fragrant wood element there's a shade more range here. An initial, complex mix of vanilla pod, acacia honey, sandalwood, and tobacco is given depth by black treacle, warm pain au chocolat, and candied fruits. As it opens, so a fascinating mix of oxidised fruits develops, alongside some charred notes giving a savoury quality. Water helps to bring out an incense-like quality, some pot pourri, then beeswax, and  crackling spiciness.
Palate: Thick and intense, with a silky texture that balances chewy tannins and some treacle-like molasses, black cherry and a mix of aloes-wood and cedar. Mature and elegant, this sits in a similar place to 20+ year old whiskies in refill cask – tropical fruits, honey. Wax a whiff of rancio but with added lemongrass. Some water amplifies the pot still weight and extends the length even further.
Finish: … and now the spices get their say. 
Conclusion: A complex, contemplative rum which is on a par with any other great aged spirit. Sadly as rare as hen's teeth and as flipping has started in rum as well it might be hard to get a tot, but please do try.
Rating: *****
Brand: J.Gow, Revenge, 43%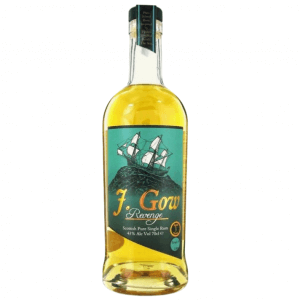 Nose: Here's a different take on rum's lifted, fresh side. Crisp and brisk, with bright aromatics, lemon and a light mineral quality, There's a biscuity quality (custard creams) then kiwi, and a treacle scone depth that has a liquorice-like depth and a light, funky, fermenting banana peel quality. There's butterscotch when water's added, but without losing the purity of the line.
Palate: Very gentle with light sweetness and an easy, natural grace. The tip is very soft, then comes light pineapple, lemon bonbons, a floral touch, that minerality, with the oak giving some light support. Water allows the molasses to give depth and depth to the mid-palate.
Finish: Grapefruit like acidity. Pulpy fruits. Slightly drying.
Conclusion: All the way from Lamb Holm on Orkney (making it the smallest rum producing island in the world). If you haven't tried it yet, please do. Orkney is no longer just about whisky.
Rating: ****
Brand: Jamaica 16 year old (distilled at Clarendon), Watt Rum, 57.1%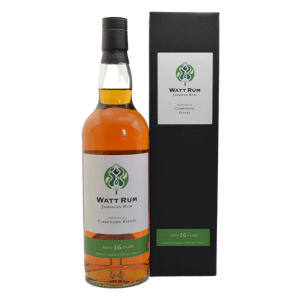 Nose: Well, this is as funked up as George Clinton. On rum's oily/leathery side with a little meatiness behind, some heavy-bodied cigar, roasted tea leaf, and calamus, but also dried citrus peels and dried pineapple showing that there is sweetness here. With water, there's some sweaty saddle (don't ask), and coriander powder
Palate: Full bodied with drying oak to start. Some spices and heat, but also some cooked red fruits, umeshu, then leathery blackstrap molasses adding lightly bitter edge to things – there's also some high cocoa solid chocolate in the mix. There's a slight astringency when water is added so I'd just brace myself and leave it neat.
Finish: Long, drying, molasses.
Conclusion: A serious rum and while it might be too dry for some is a great example of heavy Jamaican pot still with age on it. Watt Rum is on fire.
Rating: ****
Brand: Sugar House #2, 75%
Nose: Quite deep for an unaged rum, with an almost creamy element, some overripe pineapple, tomato leaf, and pumpkin-like sweetness that goes into honey and more unusual aromas that are reminiscent of wallpaper paste and milk bread. At the same time, there's a zippy citric sharpness. A lot for your money. Water dries things with some speckledy banana and a greater sense of precision at work.
Palate: Perfumed – there's lots of parma violet at the start, then comes the heat, but the thick and oily texture makes it far more approachable neat that you might imagine from the fearsome strength. I like the sweetness and the syrupy quality given to the soft, thick fruits (plus some green banana) and dark-toned molasses. A judicious amount of water softens things down. Now, there's a marshmallow softness, some strawberry sweets, candy floss, and liquorice allsorts.
Finish: Pineapple, molasses, length.
Conclusion: Glasgow's rum distillery hits the mark again. 
Rating: ****
Brand: Sugar House Cask 17-144, 56.4%
Nose: On the savoury rather than sweet side. Dry oak, light spice and then a fruitiness akin to (work with me here folks) single pot still – juiciness, currant leaf, tinned peaches, fresh but deep. This helps to keep what is a fairly substantial oak frame in order. Water does bring more of that cask-driven aromas to the fore (toasted vanilla, Mars bar).
Palate: Some oakiness on the tip of the tongue along with a molasses-induced phenolic element. Lightly funky. Rich, and generous with a distinctly oily, tongue-clinging feel. Caramelised fruits and wood sugars working together. There's a gentle grip. Gently fragrant when water is adde, with lemon blossom, fresh pineapple and nutmeg.
Finish: Sweet fruits, crunchy oak, orchid. 
Conclusion: Balanced and very impressive at three years.
Rating: ****(*)