Time to take a dip into a peaty pool and compare and contrast a selection of  some new ones, a couple of pre-releases in the form of the Kilchomans and, somewhat late to the party, the Raasay Inaugural which I intended reviewing late last year but… shit happened. 
Enjoy!
Brand: Arrrrrrrdbeg!, 51.8%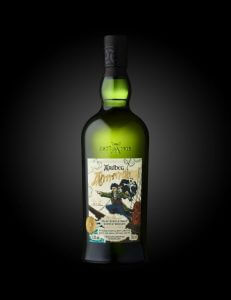 Nose: Light gold. There's no hiding from phenols here. Immediate lanolin-like aromas – a bemused sheep wandering towards a beach bonfire; dried seaweed, mussel shells on a peat fire, pork crackling. Opening up and you get a mossy element, then the reassuring warning smell of a steaming (peaty) mashtun. Add water for an extra later of dubbin and creosote but also a sudden lift into, pear, green apple, pepper, allspice, salt and yuzu.
Palate: Rounded, deep and smouldering. As you expect, massively smoky with some prickly heat, but really well controlled. There's a bitter chocolate-like depth then smoky hessian sacks. It pulses rather than flows – there's black pepper, tweed.  Water calms things down, but I'd keep it on the punchier side and, if possible, leave it for a while as you finally pick up the tang of rockpools, and drying seaweed, yuzu, and camphor.
Finish: Neat, it's slightly meaty (biltong?), With water, saltiness.
Conclusion: Powerful but complex. A hugely rewarding Ardbeg (matured in ex-rye casks) and a great tribute to the magnificence of Mickey Heads. 
Rating: ****(*) 
Brand: Caol Ila 12 year old (2008), TWE single cask series, 58.5%
Nose: Light gold. This has classic Caol Ila saltiness (salteen crackers) to start with, also Weetabix, pine, then fresh shellfish and samphire followed by a soft pear in cream. A judicious dilution brings forth a light louche and a slightly more lean element as well as neoprene and a lowering of the smoked element.
Palate: Great delivery. Even when it is fresh and crystalline, as this is, Caol Ila has a grace and ease to it driven as much by that slightly oily texture. I get a mix of salted herring, fresh herbs, then light edible seaweed then crisp salty bite and more of the smoky pine. Theres just a sensation of smoke when ewater is added with the top notes and the soft fruits taking charge.
Finish: Finally, the smoke is released.
Conclusion: Another lovely Caol Ila.. well, what did you expect?
Rating: ****(*)
Brand: Caol Ila 10 year old, single Malts of Scotland, 59.4%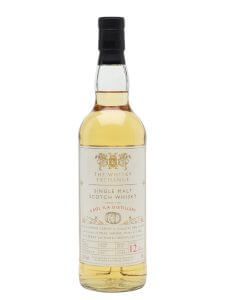 Nose: Similar to its stablemate in terms of colour, but this is in a punchier style with touches of silage and bready elements. If the Ardbeg was a mash tun this is the smell of a barley steep. Bolder, yet slightly less coherent than the 12 year old which gives it a slightly blunt character. With water it wraps itself up in a cashmere shawl and while there are light, milky elements underneath, it's slightly sulky. 
Palate: Any of that teenage moodiness is lost when you start to drink. There are whiskies which are simply palate performers. Fatter now, with the slightly abrasive edges smoothed off and more overt distillery elements emerging. There's cereal, the oiliness, the slightly crunchy cask with the smoke appearing to be laid back. Water brings out the sweetness, a melon touch, still hints of barley and a light earthiness.
Finish: at the end…smoke.
Conclusion: 
Rating: ****
PRE-RELEASE
Brand: Kilchoman Loch Gorm, 2021 release, 46% [launches March]
Nose: Rich amber colour. There's smoke, but also a distinct linseed/leather oil note, sticky dates, some raisin. It's the oils which dominate, lending it a slightly meaty element taking Kilchoman into Ledaig like territory, if you get my drift. Water brightens things up. There's less of the hot fat and more black tea, phenols and sherry.
Palate: A mix of dry, almost dusty fruits here, with dates also added into the mix. Then there's this lick of leather, some liquorice allsorts, embers, and dried fruit. Water doesn't diminish its breadth and clinging quality.
Finish: Bittersweet. Smoked pimenton.
Conclusion: Kilchoman in dominatrix gear. 
Rating: ***(*)
PRE-RELEASE
Brand: Kilchoman, PX matured, 47.3% [launches April]
Nose: A robust almost ruby colour. There's a sweeter tone here, mixing light but overtly peaty smoke, lilac, raisin/fruit cake. Rich and off-dry. There's also elements of this more bulked up style of Kilchoman. With water there's some red fruit, dark chocolate and integrated smoke. Balanced, rich. 
Palate: It immediately shows a clinging quality, but the cask has not been allowed to overwhelm and blur the distillery character (which is so often the case with PX). The   balance is excellent. Initially, the smoke is sitting underneath the sloe-like bitterness, black cherry, but this then reverses and the phenols start to charge. Now the balance is given by increasingly sweet black fruit syrup. You lose this luxuriousness with water so I'd leave it on the side.
Finish: Smoke and plum skin. 
Conclusion:  Sweet, smoky, and balanced. A goodie. 
Rating: ****(*)
Brand: Raasay Inaugural Release, 52%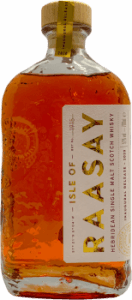 Nose: It's pink, OK? Get over it. There's lovely smoke in there, the power of which is slightly unexpected, mixing with cranberry, marzipan and ripe red fruits (raspberry). There is decent weight with the fruits and smoke balanced by as hay-like note and a sharper rhubarb/crab apple element. Water calms down the smoke, there's some pine sap, sweet potato cooking in embers, and green peppercorn.
Palate: As you might expect with a young whisky there's a real immediacy to the delivery – everything rushing out at the same time to try and please. The smoke is discreet, adding to the overall balance . There's more of a piquant edge now – blueberries, then cherry pie with caramelised juices. The oak is a little more spicy and prominent and while there's a light heat, the balance at this age is excellent.
Finish: Sweety raspberry juice.
Conclusion: A great opener from Raasay and a great bridge between the 'While We Wait' series and what will come next which I can tell you will be well worth said wait. 
Rating: ****
Brand: Torabhaig 2017, Inaugural Release, 46%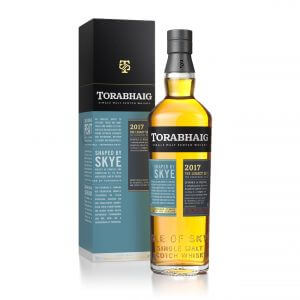 Nose: Light straw. There is light oiliness, and a real juicy melon-like sweetness melon. Behind this is smouldering smoke, and light mint leaf. Overall it comes across as cool and airy… and balanced with a poise belying its youth. The herbal side then comes through – sweet cicely, and green fern mixing with fresh mint, and then some dried beans that morphs into fresh barley. With a little water added, you get salt-washed rock, grapefruit, light smoke and potato starch.
Palate: A sweet start smoke with touches of salted liquorice, violet and soft smoke. The mid-palate is beautifully textured, rounded and lightly clinging. It's unusual to have such concentration so early in maturation. In the middle of it all is prickly smoke, gentle fruit, light brine. Water shows the balance beautifully and the lack of any green edginess, or hollowness. There's also more cereal now.
Finish: Blooms in to fresh fruits, and salt/smoke.
Conclusion: Love the fact that the label has listed residual phenols (16ppm for the geeks out there) rather than just the oft-misunderstood in-grain level (55ppm). Barley variety? Concerto. Yeast type? Pinnacle MG+. A new star is born. Talisker.. you've got serious competition. If you manage to get a bottle, for Christ's sake open it.
Rating: *****
Brand: Torabhaig 2017 single cask #307, 61.67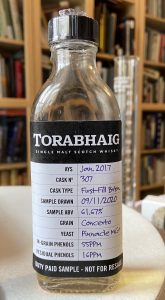 Nose: Slightly fuller colour and a little more cask in evidence. Theres mint once more though this time it's more pandrop rather than leaf. As is often the case with cask strength peated whiskies the smoke seems to hand back. There's a little more hay-like elements. Quiet and undemonstrative. Water changes things dramatically. A pungent hit of smoke, crisp barley and vanilla as well as an intriguing waxed note and cooked apple. In time, the smoke pulls clear. Spent ashes.
Palate: Comes alive on the palate. The texture is remarkably hefty. There is weight here, the oils a pressing down and this textural element balances the peppery spiciness and building smoke. Water added you get kiwi, green melon, apple skin, grapefruit, and a growing salinity. Superb balance. Impressive.
Finish: The brininess picks up. 
Conclusion: The same spec as the inaugural release. Style? Think of Caol Ila as your starting point, but it is already its own beast. Recommended.
Rating: ****